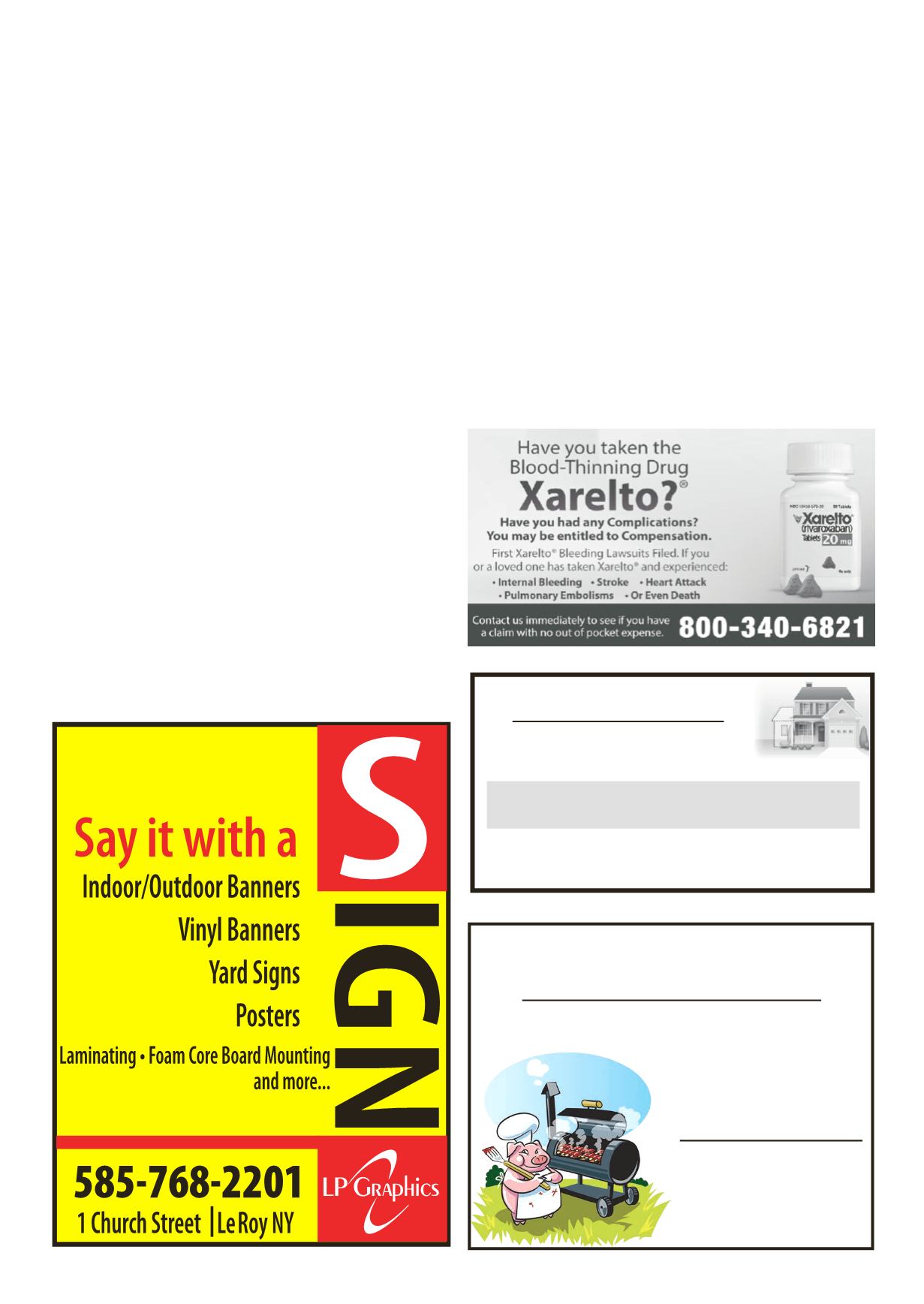 LEROYPENNYSAVER&NEWS -MARCH 6, 2016
1) 46 year old ToddA. Berkemeier of 61Walnut Street, Batavia
was arrested by the LeRoy Police Department on 2/25/2016 and
chargedwithonecountofEndangering theWelfareofaChild, aclass
A-Misdemeanor. It is alleged that on or about 12/16/2015, Berke-
meier knowingly acted in amannerwhichwas likely tobe injurious
to thephysical,mental ormoralwelfareof achild less than17years
of age by allegedly sending an inappropriate Facebookmessage to
thevictim.Berkemeierwas issueanAppearanceTicket toappear in
2) 28 year old Joshua J. Nilsen of Hilltop Drive, LeRoy, was
arrested by the LeRoy Police Department on February 28, 2016,
and charged with DrivingWhile Intoxicated, Aggravated Driving
While Intoxicated; having a BAC of .18% or more, and Drivers
ViewObstructed.Nilsenwas arrested followinga traffic stopafter a
witness allegedNilsen's vehiclewas operating erratically onSouth
Street Road. Patrols located the vehicle on Route 19 in the Village
and initiateda traffic stoponCraigieSt. for allegedlyhavingdrivers
view obstructed. After a brief investigation Nilsen was allegedly
found to be intoxicated. Nilsenwas issuedTrafficTickets to appear
in theLeRoyTownCourt onMarch 21, 2016.
BriyanaL.Tydell,16ofLeRoywasarrestedonThursday,February
25, 2016 and chargedwith Criminal Mischief, 4th; Menacing, 2nd
andHarassment,2nd; followingadomestic incident ather residence.
Ms. Tydell was arraigned at LeRoy Town Court and held on $500
bail. She is scheduled to appear (as possible youthful offender) in
LeRoyTownCourt onMarch 7, 2016 at 1:00 pm.
03/02/2016 -Adomestic incidentwhichoccurredduring theearly
morninghourson2/21/2016 involvingallegeddamagingofproperty
and allegedly one person being run over has led to felony arrests of
Saturday,March 12th
PavilionHigh School Bus Entrance
Tobenefit the
LeRoy-Pavilion-Stafford
Kiwanis Scholarship Fund
PickUp from11:30 to4:30
Call 584-8795
formore info.
"CompleteCarpentry Service"
M
ILLER
B
ROTHERS
B
UILDERS
CustomHomes •Remodeling•Additions
Roofing• Siding
DANIEL
MICHAEL
bothparties.The incident startedwhen23year oldRebeccaL.Rose
of 28 North Street, LeRoy and 33 year old Jeffrey W. Scott of 1
Walnut Street,Bataviamet at anaddressonRobbinsRoad inLeRoy
to talk about their relationship. The discussion became heated and
Scott allegedly damaged the inside of Rose' vehicle amounting to
$1,643.48. Rose then,while leaving the location,backedhervehicle
up, allegedly running over Scott the first time then drove forward
away from the sceneallegedly runningover and/or draggingScott a
second time.Scott suffered injuriesconsistingofpainandnumerous
abrasions about numerous areas of his body. Scott was treated at a
local hospital and released.
Scott was charged with one count of Criminal Mischief in the
3rdDegree, a classE-Felony andRosewas chargedwithone count
ofAssault in theSecondDegree, aClassD-Felony andLeaving the
Scene of a Personal Injury Accident. Both were arraigned before
the Hon. Michael Welsh of the LeRoy Town Court and both were
lpgraphics.net