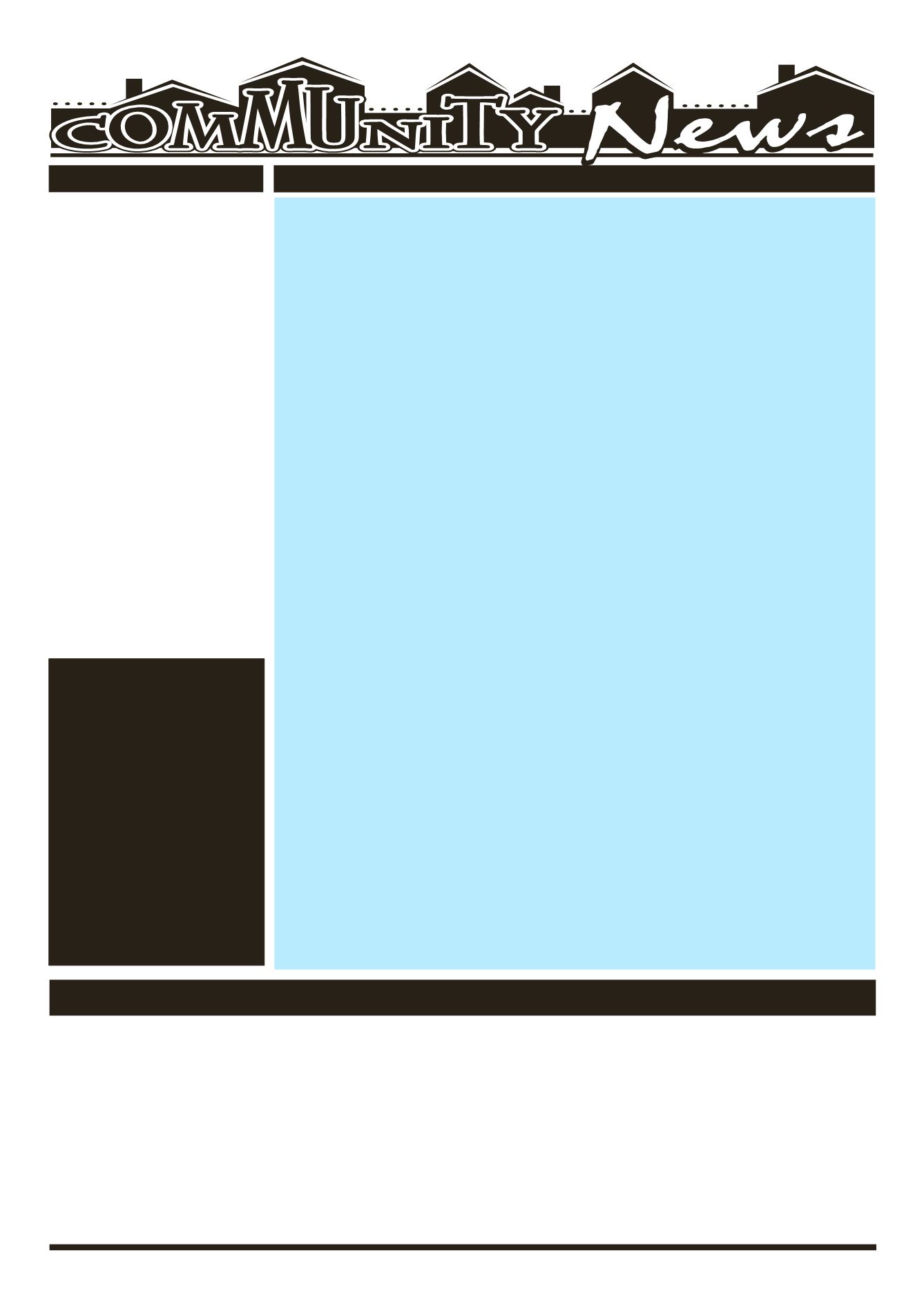 LEROYPENNYSAVER&NEWS -MARCH 6, 2016
All GeneseeCounty residents, 60andolder, can takepart in thisweek'sactivitiesat theBataviaSenior Center, 2BankSt., Batavia. Formore information, call 343-1611.
SENIORCITIZENSACTIVITIES (March 7th -March 11th)
WEEKLYEVENTS
OBITUARIES
TaxPreparation
AvailablebyAppointment Only 9:00 a.m. to 3:00p.m.;
Arthritis Exercise
is scheduled tobegin at 9:30 a.m.;
Bridge
is scheduled tobeginat11:30a.m.
Cribbage
is scheduled tobeginat1:00p.m.
TaxPreparationAvailable
byAppointmentOnly9:00a.m. to3:00p.m.;
Ombudsman
isscheduled tomeetat9:00a.m.;
Quilter's
Group
is scheduled tobeginat9:00a.m.;
Euchre
is scheduled tobeginat1:00p.m.
TaiChi
is scheduled tobeginat 9:30a.m.;
GentleFitness
is scheduled tobeginat 10:30a.m.;
ElderwoodMeeting
Cribbage
isscheduled tobeginat1:00p.m.;
Bridge
isscheduled tobeginat1:00p.m.
Art Class
is scheduled tobegin at 10:00 a.m.;
ARepresentative fromUnivera Insurance
will be available from 10:00 a.m. to
LineDancing
is scheduled tobeginat10:00a.m.;
Euchre
is scheduled tobeginat1:00p.m.
SUNDAY,MARCH6
KonnectYouthGroupatLivingWatersChurch,
from 6:30 to 8:30 pm for ages 12-18. "BringDown all theWalls! Connectwith
GodandConnectwithothers." Formore information, checkus out onlineat: liv-
ingwatersleroy.org/konnect-youth-ministry/
MONDAY,MARCH7
TOPS(TakeOffPoundsSensibly)
meetsMondayeveningsattheLeRoyPresby-
terianChurch, cornerof Clay&MainStreets.Doorsopenat6:00pmandmeeting
is from 6:30-7:15 pm. Visitors are alwayswelcome. Call 585-768-7103 formore
TUESDAY,MARCH8
PreschoolStorytime :
EveryTuesdayat11am featuringstories,craftandsongs
atPavilionPublicLibrary, 5WoodrowDr., Pavilion. For info: 584-8843.
LCCP's GRACE'S KITCHEN:
(WILL BE CLOSEDMARCH 8th&WILL REOPEN THE
FOLLOWINGTUESDAY,MARCH15th)AFREEdinnereveryTuesdayevening,5-6:30
pmat theMasonicCommunityCenter on12BankSt. Plentyof parking.Takeout
&delivery are available. Formore info. contact SelbyDavis at 585-738-8882 or
GRACE'S CLOSET: A clothinggiveawayprogram
Methodist Church, 10 Trigon Park, Le Roy, 9:30 am to 11:30 am every Thursday.
We have clothing for all ages. We need bedding of all kinds especially blankets.
Donations canbedroppedoffat thehousenext to the church. Pleaseput all bags
INSIDE on the back porch. NO ELECTRONICS, COMPUTERS,DISHES, etc.
Open
Tuesdays5-6:30pm.
Anyquestions call theoffice768-8980.
AXISStudentMinistryatLivingWatersChurch
from 6:30 to 8:30 p.m. for 7th to 12th grade. Our goal is for teens' lives to be
impacted, and radically changed. Formore information, checkusout at:
WEDNESDAY,MARCH9
Wednesdaysfrom6:30pmuntil8:00pm-
FirstBaptistPavilionwillbehaving
theiryouthprogram. titled"JOYCLUB". It isopen tochildren in thePre-schoolage
up to 6thgrade. Itwill be held at the church 10956 S. Lake Road, Rte. 19. It is
a fun timeof Bible stories, game time, refreshments andmemorywork. Call for
further information585-584-3179ext.12.Leaveyournameandnumberandthe
secretarywill call youback.
TheLeRoyTown&CountryGardenClub
will hold itsmonthlymeetingat
7:00 pm at LeRoy Presbyterian Church. Ashort businessmeetingwith 2016
committee signupswill be followedby ademonstrationof flower arranging
byTammy fromTopsfloraldepartment.ContacteitherAnnat768-8130orLucy
arch2nd so that therewill be enough
flowersandmaterials foreveryone. Visitorsarewelcome.ContactAnnWalters
at737-9481or768-8130 formore information.
TheWoodwardMemorial LibraryBoardof Trustees
at the community center at SouthPonteVedra, Floridaandat theWoodward
VillageofLeRoyBoardMeeting
, 7pmat theVillageHall, 3WestMainSt.
TheSenior Citizensof LeRoyandStafford
meet the thirdWednesdayof
themonth fromMarch throughDecember fordinner andaplannedprogram.
Wemeet in the Knights of Columbus Hall behind Save-A-Lot onWest Main
Street. Eachpersonattendingbringsagenerousdishtopassorpays$4.00each
for anicebuffetmeal and social. Bringyour ownplace settingandbeverage.
Coffee, teaanddessert areprovided.Dinner is servedat6:00pm followedby
aprogram.Please joinus foranenjoyableevening.Thismonth'sprogramwill
bebingo. Anyquestions, pleasecontact JudyRidley,Director@768-2001, or
THURSDAY,MARCH10
SunflowerNoodleArtat theWoodwardMemorial Library
ingradesK-6, from3:15–4:15p.m. Createapictureofflowersusingnoodles
andpipecleaners.Registration isappreciated! Call768-8300orregisteronline
Town of LeRoy BoardMeeting,
7 pm at the Town Hall Board Room, 48
FRIDAY,MARCH11
PenuelChristianFellowship,
OneSteptoFreedomaddictionsministry,aChrist
CenteredAddictions program, aweeklymeeting every Friday at 7pm. Call the
Church formore informationat768-6901or594-9575.
PenuelChristianFellowship
isorganizingayoungadult fellowshipandBible
study. Ages: 12andup, Time: Fridays from7-9pm, Study: thebookof Romans
(a16week course), taughtby JosiahGariboldi.Place: 7115WestMainStreet.
SATURDAY,MARCH12
LeRoy UnitedMethodist Church
Hosts its 4th "Ides of March"Corned Beef
&CabbageDinner&SilentAuction, FollowedbyaFREECelticConcert byCuisle
MoChroi &Dancingexhibitionby students ofMGOSAcademyof IrishDanceof
Rochester, NY.TheDinner andConcert areat10TrigonPark inLeRoy. Following
dinner is the FREE Concert from 7 to 8:30 pm. You do not need to attend the
dinnertocomeandenjoytheconcert!Wearehandicappedaccessible. Formore
information, please call the churchofficeat585-768-8980.
VeteransOnlySocial Club -
GeneseeVeterans SupportNetworkannounces
anewmeeting locationatScooter'sFamilyRestaurant,3711WestMainStreet
Road, Batavia, NY - for theonceamonthVeteransOnlySocial Club.Meetings
areheld the secondSaturdayofeachmonth from7:00 to8:30PM.Veteransof
all eras are invited toattend. GVSN is locatedat 3837WestMainStreet Road,
Batavia, NY. For more information, contact GVSN, PO Box 541, Batavia, NY
UPCOMINGEVENTS
TheGeneseeValleyCivilWarRoundtable
presentsEarlMcElfreshon"Custer's
CivilWar",Wednesday,March16that7:00pm.ThemeetingwilltakeplaceatLeRoy
UnitedMethodistChurch,3rddooron rightendof longsidewalk,10TrigonPark,
LeRoy,NY.Discussionperiodwill followprogram.Newmembersarewelcome.
Tempting Turkey Dinner
with homemade sides!! Sat., March 19 starting at
RigaCongregationalChurch
,7057Chili-RigaCntr.Rd.(Rts.33A@36)
First of our SPRING dinners, all made from scratch ! Pies for dessert too! Take
LivingWatersChurch
hasbeenblessingareateenagegirlswith
freedressesfortheprom.
Donationsofgentlyuseddressescanbereceived
until March 27th at the Church office. Tues, Thurs& Fri from 8 am to 3pm.
Pleasecall thechurchofficeat768-7570 ifadifferentdropoff time isneeded.
CommunityCalendarSubmissions shouldbe sent to:
WYOMING -C.KennethHenderson,Age
89, diedFebruary24, 2016at theUnited
MemorialMedical Center inBatavia.Do-
nations in Ken's honor may bemade to
theWyomingHook&LadderCo.,POBox
36, Wyoming, NY 14591 or Crossroads
House, POBox403, Batavia,NY14021.
BERGEN - Gary W. Heimlich, age 76,
of W. Bergen Road, passed away sud-
denly onMonday (February 29, 2016) at
StrongMemorial Hospital. Contributions
in Gary's memory are suggested to
either the LeRoy Sports Boosters, c/o
Marianne Witkowski, 4 Platt Avenue,
LeRoy, NY 14482 or to a charity of the
Jacqueline K. Pope, 71, formerly of Pa-
vilion, passed away peacefully, Monday,
February 29th at the Wyoming County
Nursing Facility where she resided. In
lieu of flowers, donations may be made
toAtticaSPCA, 808CreekRoad, Attica,
NewYork14011or toacharityof donor's
Le Roy
Pennysaver