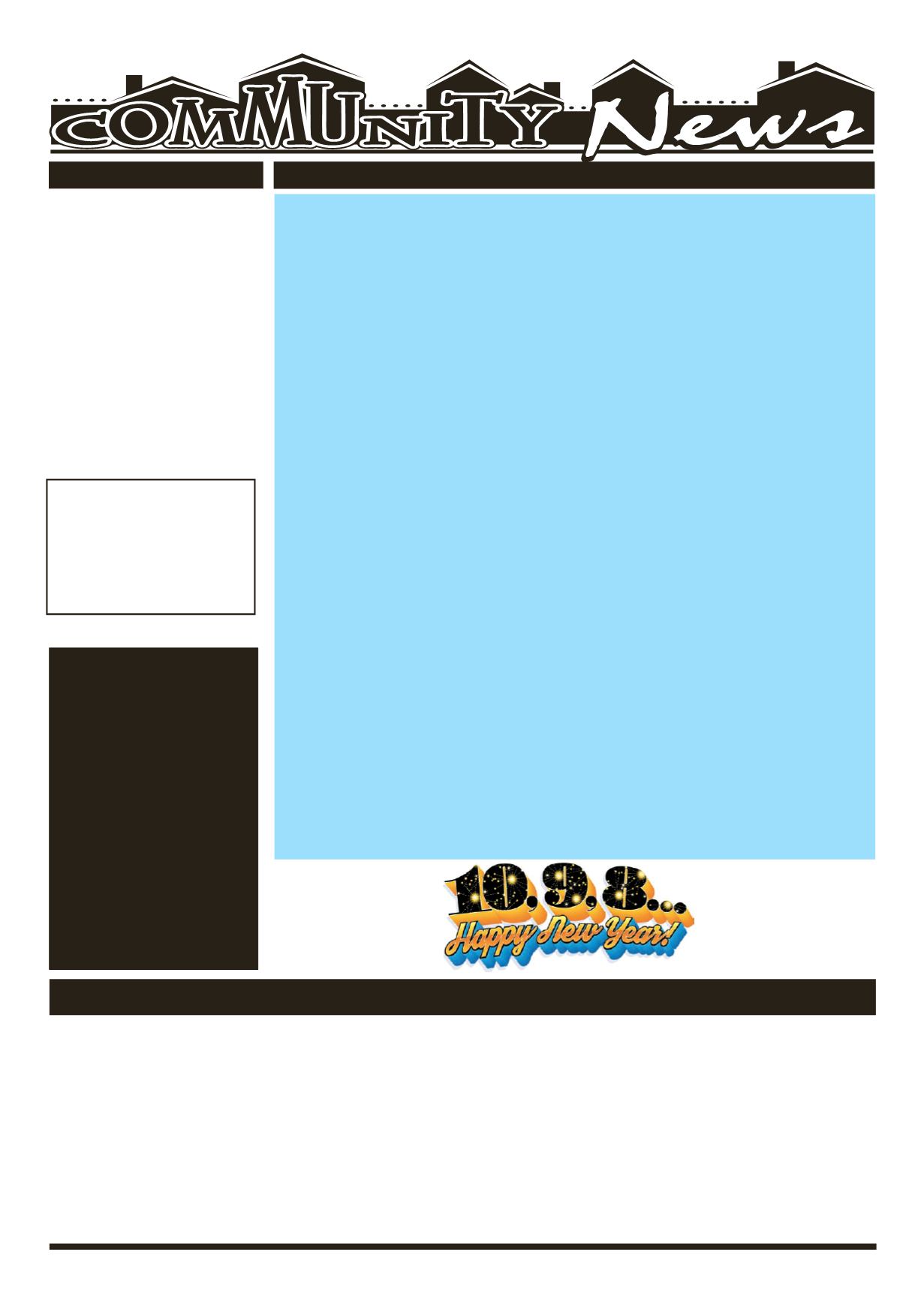 LEROYPENNYSAVER&NEWS -JANUARY 3, 2016
All GeneseeCounty residents, 60andolder, can takepart in thisweek'sactivitiesat theBataviaSenior Center, 2BankSt., Batavia. Formore information, call 343-1611.
SENIORCITIZENSACTIVITIES (January 4th - January 8th)
WEEKLYEVENTS
OBITUARIES
IncomeTaxTraining
is scheduled tobegin at 8:30 a.m.;
ArthritisExercise
is scheduled tobegin at 9:30 a.m.;
Bridge
IncomeTaxTraining
isscheduled tobeginat8:30a.m.;
LineDancing
isscheduled tobeginat9:45a.m.;
Cribbage
isscheduled tobeginat1:00p.m.
IncomeTaxTraining
is scheduled tobeginat 8:30a.m.;
Euchre
is scheduled tobeginat 1:00p.m.;
OFAAdvisoryMeeting
IncomeTaxTraining
is scheduled tobeginat 8:30a.m.;
Cribbage
isscheduled tobeginat1:00p.m.;
Bridge
isscheduled tobeginat1:00p.m.
IncomeTaxTraining
is scheduled to begin at 8:30 a.m.;
Legal Services (For Appointments ONLY)
is scheduled to take place this day;
A
Representative fromUnivera Insurance
will beavailable from10:00a.m. to12:00p.m.;
ArtClass
is scheduled tobeginat 10:00a.m.;
Euchre
scheduled tobeginat 1:00p.m.
SUNDAY, JANUARY3
Konnect Youth Group at Living Waters Church,
St. LeRoy. Sundays from6:30 to8:30pm for ages 12-18. "Bring
Downall theWalls! ConnectwithGodandConnectwithothers."
For more information, check us out online at: livingwatersleroy.
org/konnect-youth-ministry/
MONDAY, JANUARY4
TOPS (TakeOffPoundsSensibly)
the LeRoy Presbyterian Church, corner of Clay &Main Streets.
Doors open at 6:00 pm and meeting is from 6:30-7:15 pm.
Visitorsarealwayswelcome. Call 585-768-7103 formore infor-
TUESDAY, JANUARY5
Preschool Storytime:
EveryTuesdayat 11am featuring stories,
craftandsongsatPavilionPublicLibrary,5WoodrowDr.,Pavilion.
LCCP'sGRACE'SKITCHEN:
AFREEdinnereveryTuesdayevening,
5-6:30pmattheMasonicCommunityCenteron12BankSt.Plenty
ofparking.Takeout&deliveryareavailable.Formore info. contact
SelbyDavisat585-738-8882or
GRACE'SCLOSET:Aclothinggiveawayprogram
LeRoyUnitedMethodistChurch,10TrigonPark,LeRoy,9:30am to
11:30ameveryThursday.Wehave clothing for all ages. Weneed
beddingofallkindsespeciallyblankets.Donationscanbedropped
off at thehousenext to the church. Pleaseput all bags INSIDE on
thebackporch. NOELECTRONICS, COMPUTERS,DISHES, etc.
Open
Tuesdays5-6:30pm.
Anyquestions call theoffice768-8980.
AXISStudentMinistryat LivingWaters Church
LeRoy.Tuesdays from6:30 to8:30p.m. for 7th to12thgrade. Our
goal is for teens' lives tobe impacted, and radically changed. For
more information, check us out at:
WEDNESDAY, JANUARY6
Wednesdays from 6:30 pm until 8:00 pm -
Pavilionwill behaving their youthprogram. titled"JOY CLUB". It
is open to children in thepre-school ageup to6thgrade. Itwill
beheldat the church10956S. LakeRoad, Rte. 19. It isa fun time
ofBiblestories,game time, refreshmentsandmemorywork.Call
for further information 585-584-3179 ext. 12. Leave your name
andnumber and the secretarywill call youback.
THURSDAY, JANUARY7
Townof LeRoyBoardMeeting,
FRIDAY, JANUARY8
Penuel ChristianFellowship,
OneStep toFreedomaddictions
ministry,aChristCenteredAddictionsprogram,aweeklymeeting
every Friday at 7 pm. Call the Church for more information at
Penuel Christian Fellowship
is organizing a young adult
fellowship and Bible study. Ages: 12 and up, Time: Friday from
7-9pm,startingJanuary8th,Study:thebookofRomans(a16week
course), taughtby JosiahGariboldi.Place:7115WestMainStreet.
SATURDAY, JANUARY9
Veterans Only Social Club -
Genesee Veterans Support Net-
work announces a new meeting location at Scooter's Family
Restaurant, 3711West Main Street Road, Batavia, NY - for the
once amonthVeterans Only Social Club. Meetings are held the
secondSaturdayofeachmonth from7:00 to8:30PM.Veteransof
all eras are invited toattend. GVSN is locatedat 3837WestMain
Street Road, Batavia, NY. For more information, contact GVSN,
PO Box 541, Batavia, NY 14021-0541
UPCOMINGEVENTS
CommunityCalendar Submissions shouldbe sent to:
Le Roy
Pennysaver
LEROY~Deanna L. Heale, age 51, of
RobbinsRoad,passedawaypeacefully
early Wednesday morning (Dec. 23,
2015)athome.Memorialsaresuggest-
ed toDeanna's family at 9280Robbins
OAKFIELD/LEROY – David "DJ" Bee-
hler, Jr., 37, of Oakfield, passed away
onTuesday,December22,2015. In lieu
of flowers,pleaseconsidermemorials to
the Elba FireDepartment, POBox 58,
Don't waste precious time