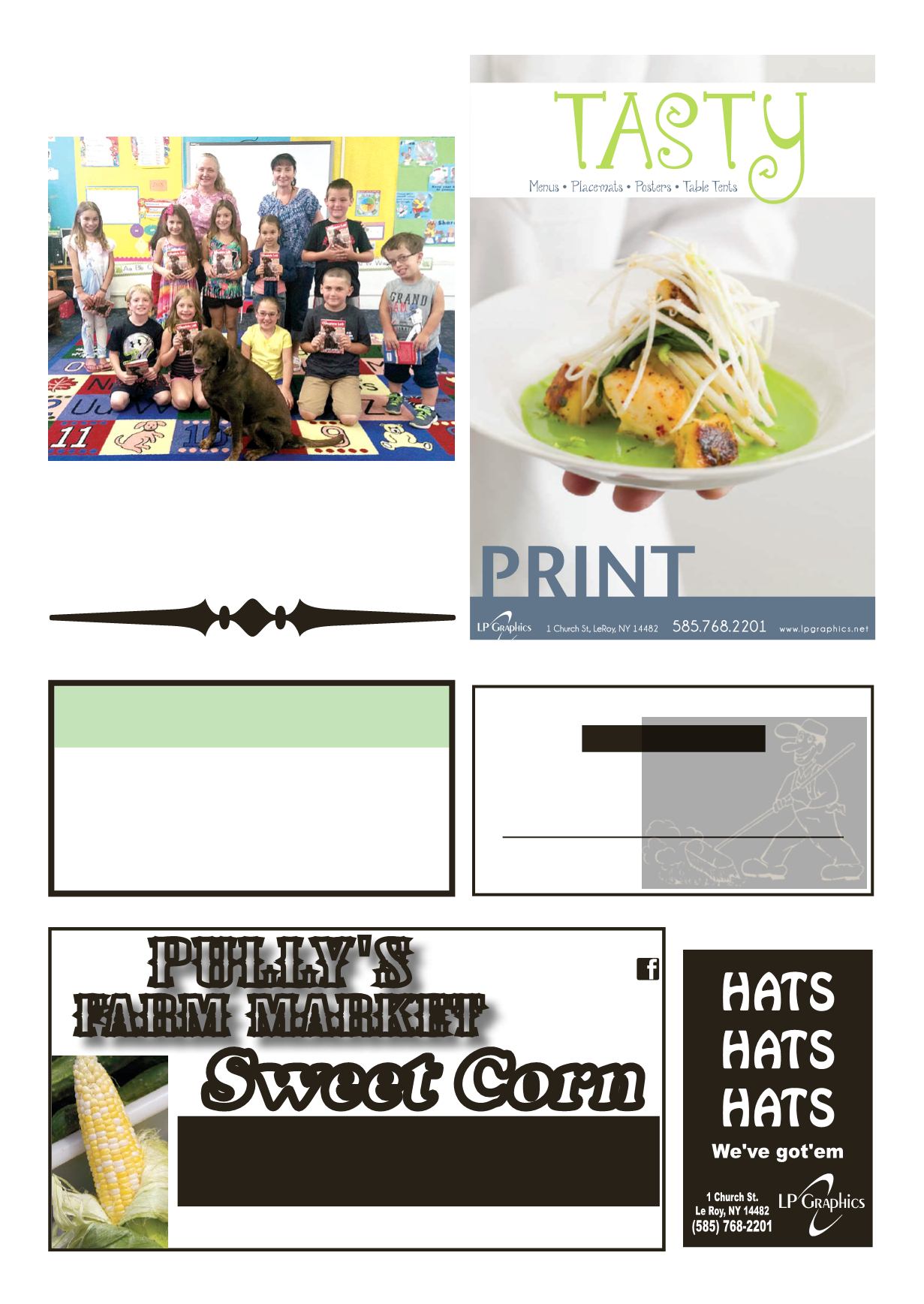 LEROYPENNYSAVER&NEWS -AUGUST 2, 2015
ALLWORKMANSHIP GUARANTEED • INSURED
297-9097 • 768-7737
• InteriorPainting
• Plaster/LathRestoration
•Drywall&DrywallRepair
•TextureRemoval
• Floors Stripped
&Refinished
•OldCeilings&Walls
MadeLikeNew!
MikeDarby'sPatch&Paint
CleaningService
•Carpet &UpholsteryCleaning
•Spot Cleaning&Odor Removal
•Tile&WoodFloor Cleaning&Waxing
•Complete Janitorial Services
LoveBugsPreschoolhostedareadingcamp thissummer forold-
er children.The campwas leadbyDr.VerginiaZoccoandMrs.
Nancy Pabros. The children read "The Chocolate Lab: Cocoa
is cookingupTrouble." Eachday thechildrenreadachapterof
thebookanddidan excitingactivity that related to the chapter.
The campwas such fun and very educational for all!
SummerBugs
ReadingCamp
Peaches •Cantaloupes •Watermelon •Zucchini
SummerSquash •Watermelon
Cucumbers • Pickles •Cherries •Tomatoes
8160LakeRd. (Rt. 19)
LeRoy, NY
1/2mile south of Thruway
768-2280 • 704-1157
Hours:Mon.-Sat. 9-6, Sunday 9-5
pullysfarmmarket.com
Jams • Jelly •Honey • Syrup
Gift Certificates
Available!