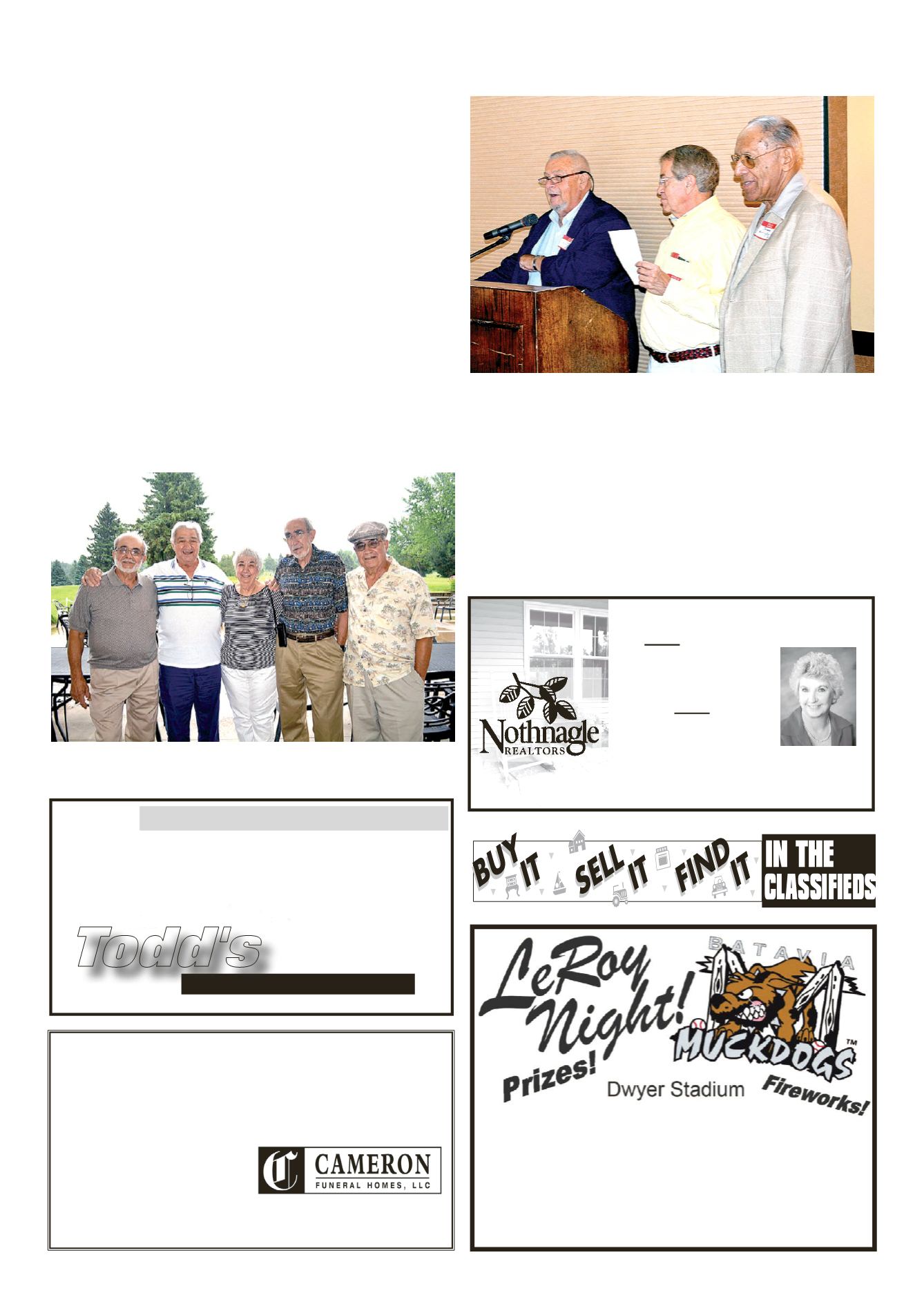 LEROYPENNYSAVER&NEWS -AUGUST 2, 2015
HelpingFamiliesCelebrateaLifeLived
"Our FamilyServingYours Since 1907"
Trusted•Honest •Proven
Cameron, Brady&Steuber
FuneralHome
111Wolcott Street
LeRoy,NY14482
(585) 768-6800 •
Likeus onFacebook
BataviaMuckdogsvs. Lowell Spinners
Available at TompkinsBank of Castile or Town of LeRoy
Joinus for a funfilled evening for the entire family!
Batavia
585-343-6750
NOW is theBEST time
toBUYwith the interest rates
at their lowest!
Don't wait
toBUY -
call
LindaBeaumont
for all your real
estateneeds.
LindaBeaumont
Home (585) 768-6315
LicensedReal Estate
Salesperson
Multi-MillionDollar Producer
NewHomes •Additions •Garages •PoleBarns
ToddCarli • Phone 703-0964
Todd's
Decks •Windows •Doors
Kitchens •Baths
CeramicTile
Basement Finishing
CustomShelves/Built-Ins
Siding •Remodeling
Roofing • SnowPlowing
FULLY INSURED
On Friday July 17, 2015 the
Le Roy High School Alumni
held their18thannual reunionat
There were 171 former class-
mates and guests in attendance
who gathered together sharing
welcoming greetings and hugs.
Aftersnackingonsomemunchies
and buying 50/50 raffle tickets
and Chinese auction tickets the
group was asked to take their
seats next to other classmates at
the tables marked with the year
The program started with a
tribute to deceased class mem-
bers. Following a wonderful
luncheon buffet, a music video
of yearbook photos and senior
class photos from 1940 to 1965
wasshown.ThenJoeRiggi,LHS
Alumni Committee Chairman,
gave an informal presentation
on the history of theMainStreet
Bridge over Oatka Creek from
1900 to date. Toward the end of
the program Riggi called the 3
former Drum Majors in atten-
dance to the podium. They hap-
pily lead the group in theLeRoy
High School's Alma Mater; the
crowdstoodandsang their tribute
The highlight of the afternoon
was collecting for the "Strength-
en theArmofLibertyFund."This
noble fund is slated to refurbish
the tired and damaged Statue of
Libertyon thebanksof theOatka.
Alumni Banquet
ThreeDrumMajors from the1940's&1950's led thegroup in the
LHSAlmaMater:DonAntinore,EdBattagliaandJimArrington.
Therewere fivemembers of the Iannello family present:Augie,
Guy,Mary, Raymond& Joe.
The Reunion Committee stated
they would match donations up
to $500. They were elated to
collect $780 from the alumni
present for a total donation of
$1,280 to be presented toLynne
Belluscio, Town Historian and
If you or someone you know
has graduated fromLeRoyHigh
School 50 years ago or more
andwould like to be included in
the next LHS Alumni Reunion
contact Rose Scott at 768-7534,
she will be happy to add you to
the list for next year's gathering