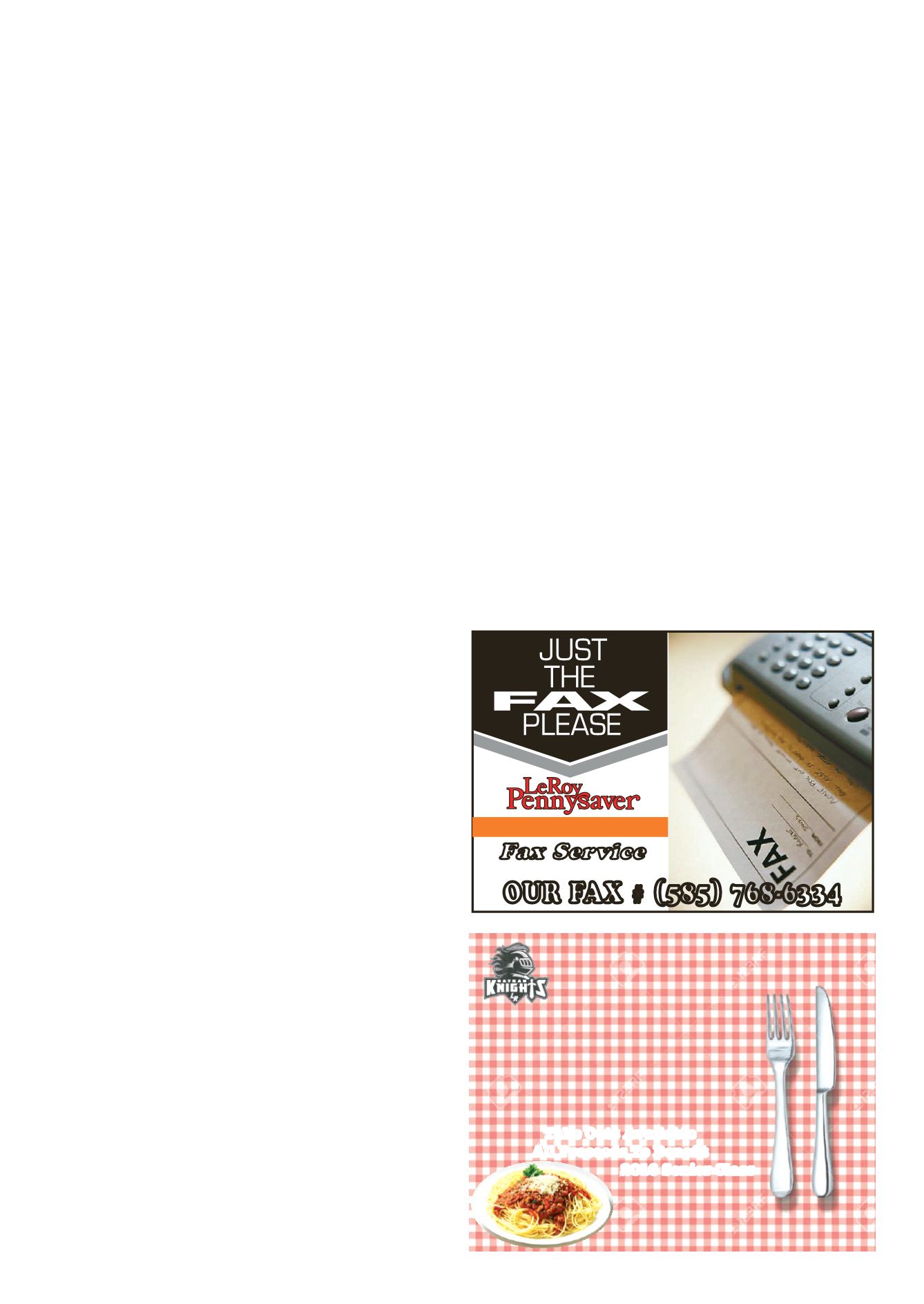 LEROYPENNYSAVER&NEWS -AUGUST 2, 2015
1ChurchSt., LeRoy, NY • (585) 768-2201
1ChurchSt., LeRoy, NY • (585) 768-2201
LeRoy's 9&10 Year Old All
Stars won the District 3 title
against Batavia and were win-
nersof 4 straight gamesheading
into Sectional play. Sectional
play is double elimination and
LeRoy would face Gowanda in
Game 1 (7/17/15):
LeRoy –11,Gowanda – 10
Jason LaSage would start on
themound forLeRoy. Gowanda
would strike in the top of the
1st inningwith a run. Gowanda
would score 4 more in the 2nd
and1more run in the 3rd to take
a6-0 lead. LeRoywouldbegin to
rally in thebottomof the3rdwith
one out. Gianni Ferrara would
double. Maveric McKenzie,
John Panepento, Tyler Strollo,
Luke Caccamise, CoryWallace,
andJasonLaSagewouldallwork
walks plating 4 runs. LeRoy
would continue to chip away at
the lead in the next inning scor-
ing 2 runs on a single by Tyler
Strollo. With the score tied at 6,
Gowandawould scoreone in the
5th and 3more in the top of the
6th to take a 10-6 lead. Down 4
runs, LeRoy had the top of the
order coming to the plate in the
bottomof the6th. GianniFerrara
would beat out an infield single
to the second baseman to set the
tone. McKenzie and Panepento
would earnwalks again. Strollo
andCaccamisewouldeachsingle
putting 2 runs across with each
hit. Ryan Higgins would walk.
Withnoouts, JacksonFixwould
approach the plate. Fix would
swing at the first pitch he saw
driving it toward the shortshtop.
Caccamisewouldbreak from3rd
base on contact. The Gowanda
shortstopwould throwhome, but
Gowandawasunable toholdonto
the throwallowingCaccamise to
score the winning run. LeRoy
wouldhave itsfirst7batters reach
safely and score 5 runs towin in
Hitting for LeRoy was Gianni
Ferrara (single, triple), Maveric
McKenzie (2 singles), Tyler
Strollo (2 singles), Luke Cac-
camise, Jackson Fix, and Drew
Strollo. Pitching in thewinwere
Jason LaSage, Luke Caccamise,
Game 2 (7/18/15):
LeRoy –20,Wellsville – 7
In thismatchupwithWellsville,
visitingLeRoywouldscore in the
1st inningon anRBI single from
Tyler Strollo scoringGianni Fer-
rara. In thisgame, LeRoywould
become very disciplined at the
plate andwould end up drawing
13walks fromWellsville. LeRoy
wouldalsocollect11hits toplate
a total of 20 runners. Gianni
Ferrarawould score 5 times and
RyanShirleywouldscore4 times
in this game. Hitting for LeRoy
was Gianni Ferrara, Maveric
McKenzie (2singles), JohnPane-
pento (2 singles), Tyler Strollo,
Luke Caccamise, Jackson Fix,
JasonLaSage, andRyan Shirley
(2singles). Pitching forLeRoy in
thewinwereGianniFerrara, John
Panepento, andRyanShirley.
Game 3 (7/19/15):
LeRoy–8,OrchardPark–4
LeRoy, winners of 6 straight
games, would face their tough-
est competitor to date. After a
scoreless1st inning,OrchardPark
would strike first in the bottom
of the 2nd inning. LeRoywould
come right back in the topof the
3rd scoring 3 runs with an RBI
single from Jackson Fix. And
with 2 on and 2 out, Jason La-
Sagewouldcome throughwitha
double scoring Luke Caccamise
and Jackson Fix. LeRoy would
continue to put up runs in the
topof the 4thwithDrewStrollo,
MavericMcKenzie,TylerStrollo,
LukeCaccamise,andJacksonFix
drawing walks. With the bases
loaded and2outs, RyanHiggins
would belt a double down the
left field line driving in 3 runs.
This would make the score 8-1
at thispoint. OrchardParkwould
score 1 in the 4th and 2more in
thebottomof the6th tomake the
final 8-4. LeRoywouldwork11
walks and collect 7 hits in the
game. Hitting for LeRoy was
JohnPanepento (single, double),
Luke Caccamise, Jackson Fix,
JasonLaSage (double), andRyan
Higgins (single, double).
Luke Caccamise was brilliant
on the mound for LeRoy. Cac-
camise would keep the Orchard
Park offense off balance all
afternoon. Caccamise would
scatter 5 hits and allow 2 runs
over 5 innings. John Panepento
wouldshutOrchardParkdown in
thefinal inning to secure thewin
This win put LeRoy in the
Championship game from the
winner'sbracket. WithGowanda
out of the competition, LeRoy
wouldwait thenext 2days to see
whowouldcomeouton top from
the loser's bracket…Orchard
Park, Penfield, orWellsville.
Sectional Championship
Games
Game 4 (7/22/15):
LeRoy - 1,OrchardPark - 11
Things looked promising for
LeRoy right out of the gate as
Gianni Ferrara would double
to lead off the game and would
later scoreona single fromTyler
Strollo. Thishowever,wouldall
the run support LeRoywould be
able to produce in thismatchup.
Orchard Park's bats came alive
scoring 5 runs in the 1st and 4
more in the 2nd. LeRoy would
lose 11-1, but would live to
fight another game. Pitching for
LeRoy was MavericMcKenzie,
Gianni Ferrara, and Tom Con-
didorio. Hitting for LeRoy was
Gianni Ferrara, John Panapento,
andTyler Strollo (2 singles).
Game 5 (7/23/15):
LeRoy -1,OrchardPark -11
In a game that nearlymirrored
the one from the day before, Or-
chard Parkwould once again hit
well. Theywould score5 runs in
the 1st again. LeRoywould get
in the board in the topof the 2nd
inning after a lead off triple by
Tyler Strollo, driven in by Luke
Caccamise. But once again, that
would be all the offense LeRoy
couldmuster. Hitting forLeRoy
was Gianni Ferrara, and Tyler
Strollo (single, triple). John
Panepento and Luke Caccamise
wouldpitch forLeRoy in the loss.
run, winning 7 games in a row,
beating Batavia for the District
Championshipandapowerhouse
like Orchard Park in Sectional
play. LeRoy made it to the top
16 teams inNewYork state! Or-
chard Parkmoves on to play for
theStateChampionship theweek
LeRoy's 9& 10YearOldAll StarsEnterSectional Play
SpaghettiDinner
&ChineseAuction
August15th, 2015
LeRoy
FamilyMooseCenter
3-6pm
TakeOutsAvailable
AllProceedsToBenefit
2016SeniorClass
PurchaseTicketsAtTheDoor
$6.00PerPerson