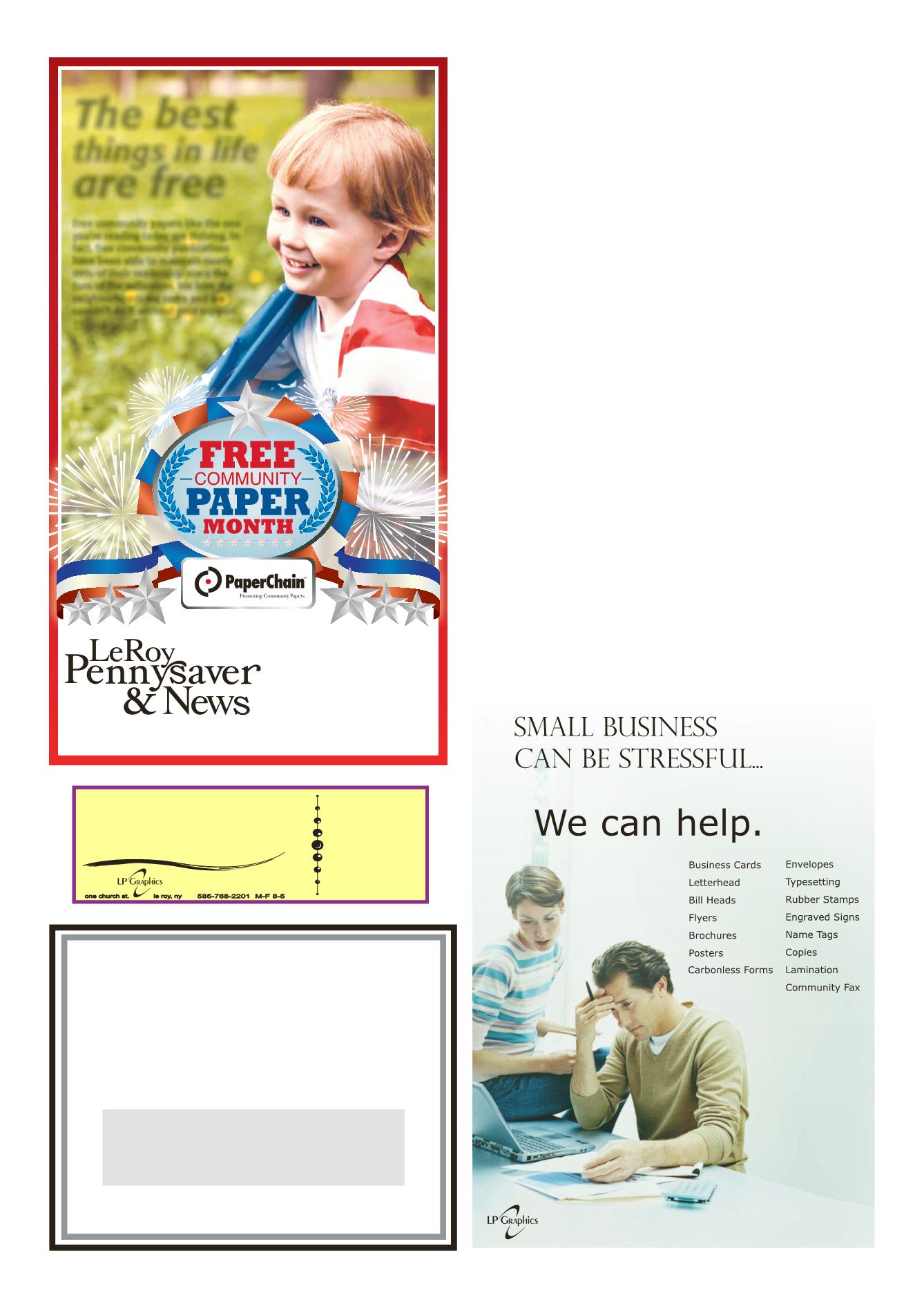 LEROYPENNYSAVER&NEWS -AUGUST2, 2015
07/27/2015 -A 25-year-oldAmherstmanwas chargedwithDWI
following a report of a vehicle on the sidewalkwhich had hit a fire
hydrant onMainStreet in theVillage onFridaymorning, July 24th
at about2:50am. MatthewJ.Pasternakof480North IvyhurstRoad,
Amherstwas allegedlywestbound onMainStreet when he became
involved in an altercationwith theoccupants of his vehicleover his
ability to operate amotor vehicle in a safemanner. This altercation
led toPasternakbecoming involved in thepropertydamageaccident.
Pasternakbecameabusivewithofficerswhen theyattempted to take
him intocustody. Inaddition to theDWI charge, Pasternakwas also
charged with DWI-.08%or more, moving from lane unsafely and
Pasternak was arraigned in the Town of LeRoy Court by Justice
Darryl Sehmwho committed Pasternak to theGeneseeCounty Jail
in lieuof $1,500cashbail. Pasternak is to return tocourt onAugust
7/27/2015 - 22 year old Beth G. DeLaVergne of 7796 Kendall
Road, Pavilionwas arrested on 7/26/2015 by theLeRoyPoliceDe-
partment andchargedwithonecount ofEndangering theWelfareof
aChild, anA-Misdemeanor. The arrest stems from an investigation
which started onTuesday 7/21/2015 after the parents of a one year
old child foundwhat appeared tobe reddishhandprints onboth the
shoulder blades of the child after the child returned home from a
daycare center in theVillage. After the investigation, DeLaVergne
was charged as itwas alleged that she knowingly acted in amanner
likely to be injurious to the physical, mental or moral welfare of a
child less than 17 years of age. Specifically, while carrying for the
one year old child, DeLaVergne allegedly grabbed the child under
botharmsexcessivelyhardcreating the redmarks.DeLaVergnewas
arrestedand issuedanAppearanceTicket andwas released toappear
inLeRoyTownCourt on 08/17/2015.
Free community papers like the one
you're reading today are thriving. In
fact, free community publications
have been able tomaintainnearly
99%of their readership since the
turnof themillenium.We love the
neighborhoodswe serve andwe
couldn't do it without your support.
Thank you!
The best
things in life
are free
CIRCULATION VERIFICATIONCOUNCIL DATAMEASURINGPAPERSAUDITED INBOTH 1999 AND 2013.
Visit paperchain.com to learnmore
[MEMBER PUBLICATION LOGO&CONTACT INFO]
foodlink's
will present hermonthlyprogramat
MasonicCommunityCenter
August 4that 4:00pm
Please come to learn ideas, trygoodies
1ChurchSt., LeRoy, NY14482
585.768.2201
one church st. le roy, ny
one church st. le roy, ny