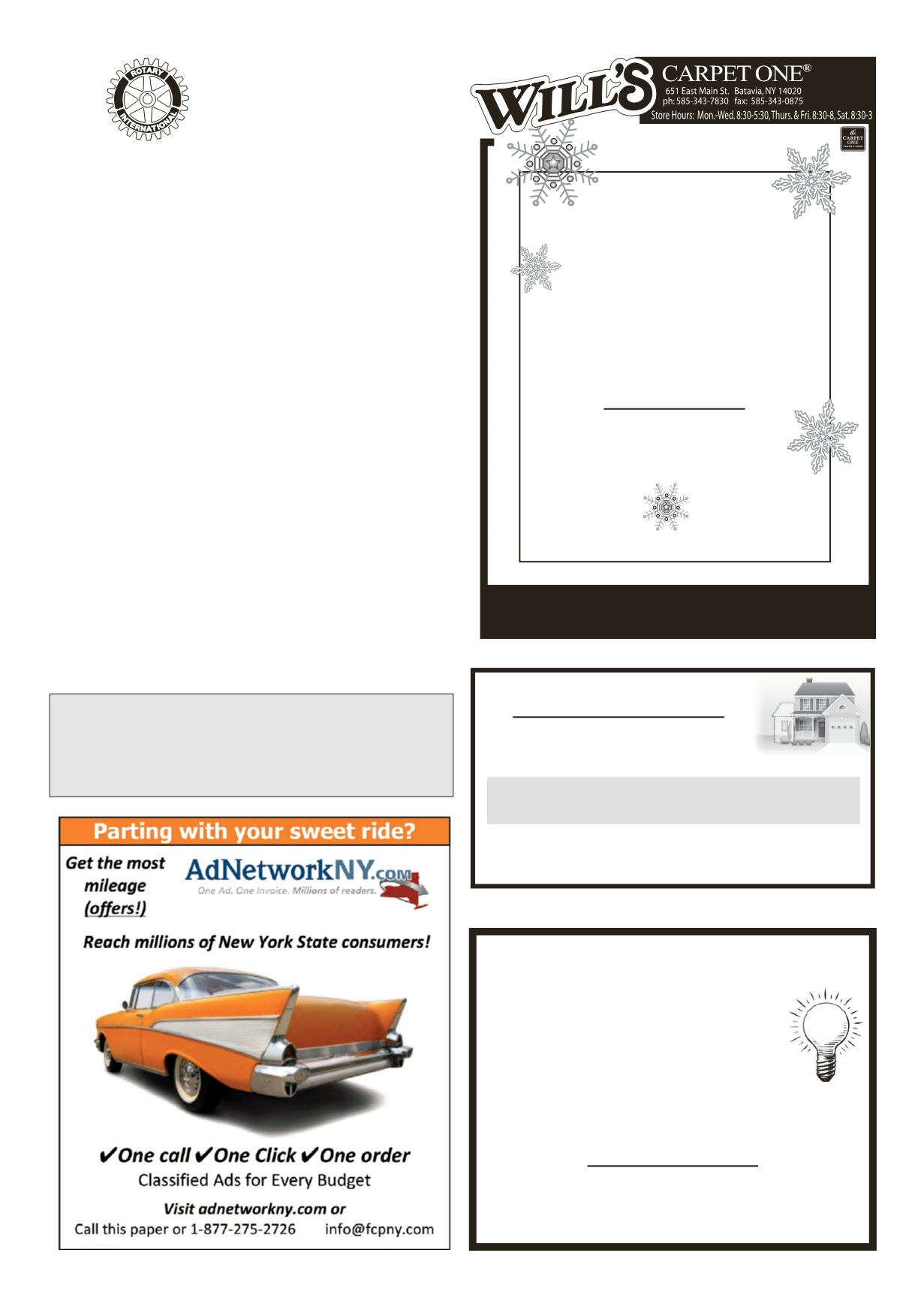 LEROYPENNYSAVER&NEWS - FEBRUARY 8, 2015
TheONE store for your perfect floor.
"CompleteCarpentry Service"
M
ILLER
B
ROTHERS
B
UILDERS
CustomHomes •Remodeling•Additions
Roofing• Siding
DANIEL
MICHAEL
SUPPORTYOUR LOCALADVERTISERS!
They help sponsor the local news section of the Le Roy Pennysaver.
THANKS FORYOUR SUPPORT!
FLOOR
&HOME
Remnants!
Remnants!
Remnants!
LargeSelection ofCarpet Remnants
Small andLargeSizesAvailable.
Remnants6'WideandUnder -25¢sq. ft.
We canmake area rugs to your size.
Binding available orwe can installwall-to-wall.
LeRotary
Notes
Itwasachillywinterafternoon
at The Greens of the LeRoy as
PastPresidentSamVagg took the
podium inplaceofPresidentRan-
dy this week. After the Pledge,
Prayer, and Four Way Test, our
Weweredelighted towelcome
our guests, LeRoy High School
Seniors: Clinton Nickens, Jon
Pierce, andAveryMalibar. Also
inattendancewasourprogram for
today, Pat Privatera fromLeRoy
PhysicalTherapy/VillageFitness.
There is an initiative to restore
theStatueofLibertyon theCreek
Bank, stay tuned formoredetails.
TheLeRoyHistoricalSocietywill
becelebrating their75thbirthday,
and their Annual Dinner will be
March 7th. President Randy is
looking for historical items for
our Club, please submit to him.
Bob Bennett announced there
willbeaLeRoyBusinessCouncil
Meeting on February 2, 2015 at
theAmericanLegionat 5:30pm.
BobBennett was called on for
amissedmeeting and our fining
session began. Lynne Belluscio
was fined for acquiring some
newcats.PhilWeisepaidup fora
riskypictureof himat camp, and
finallyBobCarlsenwasdelighted
to pay for the 101st Anniversary
Pat Privatera presented a very
informativeprogram todayof the
past, present, and futureof phys-
ical therapy. Physical Therapy
plays an ever-increasing role in
today'shealthcarescene.LeRoy
Physical Therapy offers hands-
on, cost-effective and efficient
alternative for many people
- young or old - with recent or
chronic musculoskeletal pain or
disability. Most of their patients
are referred to them by doctors,
surgeons, podiatrists, or dentists.
However,NewYorkStatepassed
Direct Access in 2006, which
allows patients to see qualified
physical therapists without a
physician's prescription.
Please like theRotaryClub of
"ODDLOT"
$
1.00
Cash&CarryOnly
SaleEnds Feb. 28th
FREE
(Limit 6)
Great forDogBeds,
Boots orCarMats
Save Energy - Save Dollars
Home Energy Savings
Tuesday,March 3
7-8:30PM
LeRoy Jr.-Sr.HighSchool Library
free
workshop focuses on how both
renters and homeowners can reduce energy bills
via low-cost, no cost energy conservationmethods.
Pre-registration required
Call LyndaLowe at 768-8131 or