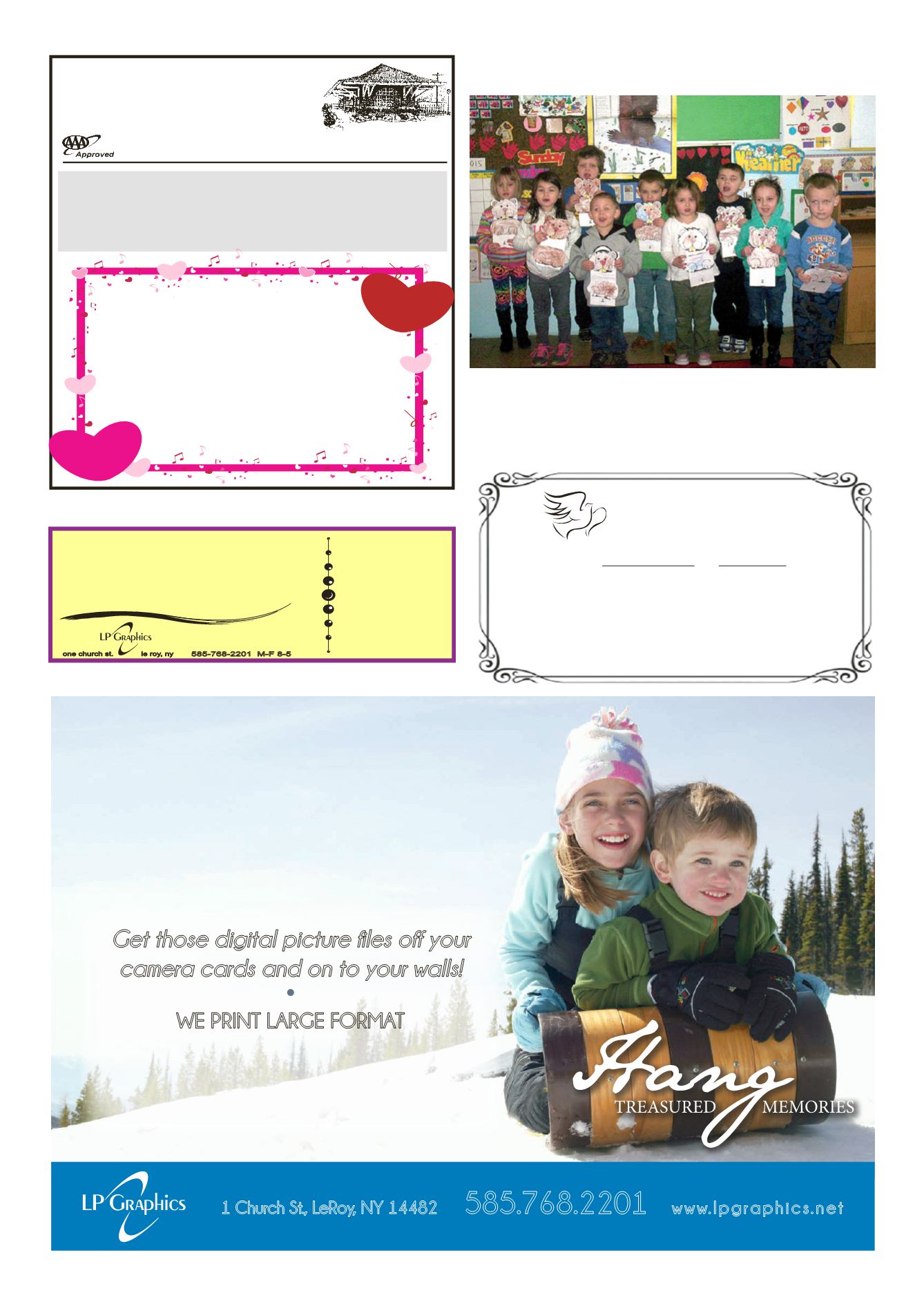 LEROYPENNYSAVER&NEWS -FEBRUARY 8, 2015
D&RDepot
63LakeSt. (Rt. 19), LeRoy• 768-6270
Let'sMeetAt The ...
OpenForBreakfast, Lunch&Dinner - 7DaysAWeek 7am-9pm
Director /Owner
FuneralDirector
F
ALCONE
F
AMILY
Funeral&Cremation Service, Inc.
Director/Owner
"ALOCALFAMILY
CARINGFORLOCALFAMILIES"
As crispas theday
they weremade.
1ChurchSt., LeRoy, NY14482
585.768.2201
raphics.net
Get thosedigital picture files off your
cameracards andon to your walls!
WE PRINT LARGE FORMAT
Our state-of-the-art wide format color
printer allows prints up to42" wide
by any length youdesire!
LeRoyNurserySchool learnedaboutGroundhogDay,February
2nd . The children also learned about puppets so theymade a
Groundhog bag puppet. They heard stories and the legend of
Groundhog Day. They were happy to hear they'll be six more
weeks ofwinter. Picturedhere is the 2DayClass.
GroundhogDay
Thursday, Feb. 12th-Sunday, Feb. 15th
VALENTINE'SWeekendDinnerSpecial
FILET andSHRIMPLOVERS'DINNER
includes soup or salad, a tenderBaconwrapped
FiletMignonwithShrimpScampi, Coconut Shrimp
andDeepFriedShrimp, potato, beverage
and ourDecadent Delight dessert for $26.99
Our regulardinnermenu
will alsobe available.
Sunday, February 8thDinner Special
BEEFSTEWwithAmy's bakingpowderbiscuit - $16.99
Includes soup or salad, rolls andmuffins
andLemonMeringue pie
one church st. le roy, ny
one church st. le roy, ny