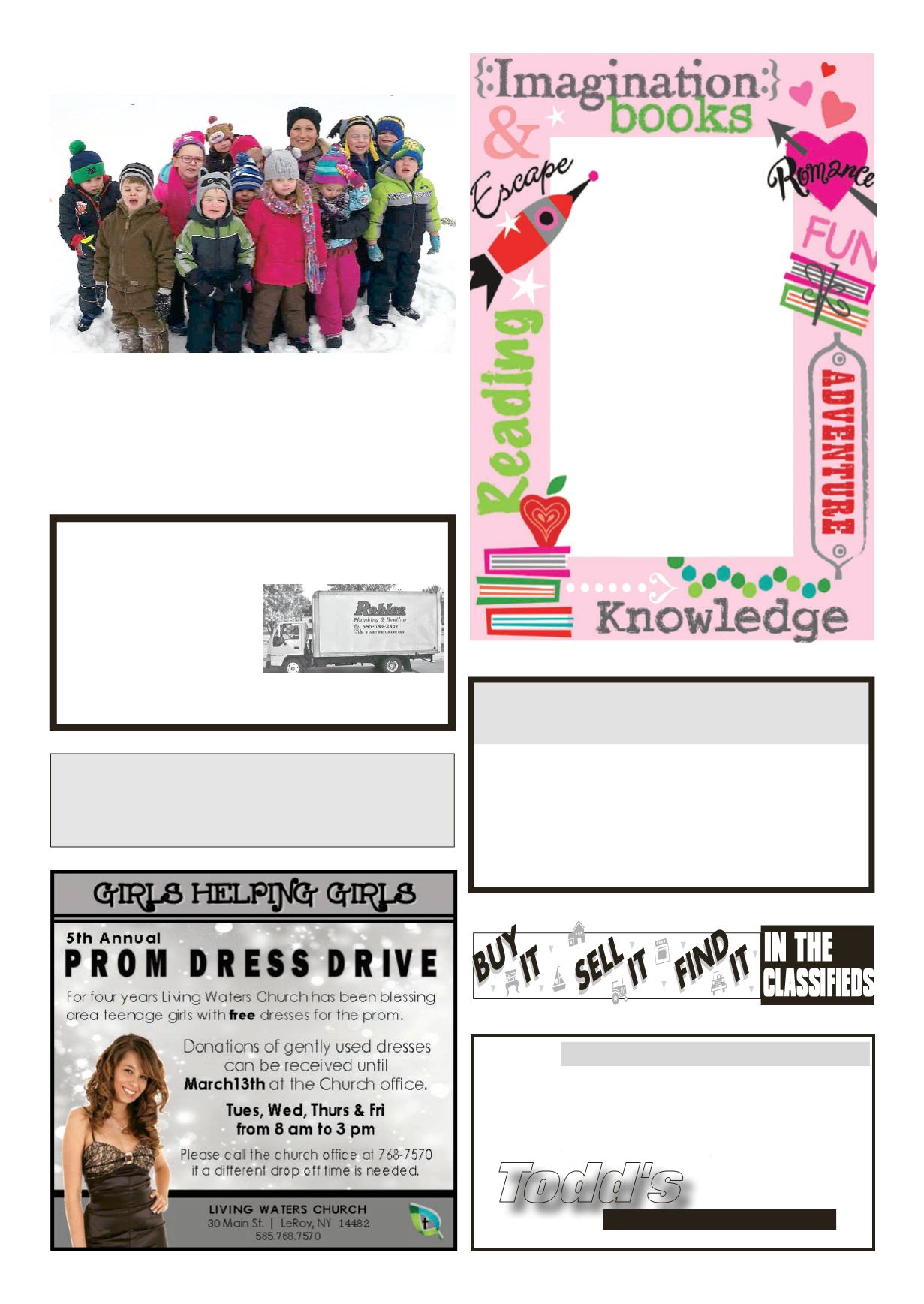 LEROYPENNYSAVER&NEWS - FEBRUARY 8, 2015
SUPPORTYOUR LOCALADVERTISERS!
They help sponsor the local news section of the Le Roy Pennysaver.
THANKS FORYOUR SUPPORT!
NewHomes •Additions •Garages •PoleBarns
ToddCarli • Phone 703-0964
Todd's
Decks •Windows •Doors
Kitchens •Baths
CeramicTile
Basement Finishing
CustomShelves/Built-Ins
Siding •Remodeling
Roofing • SnowPlowing
FULLY INSURED
ROBLEE
Plumbing&Heating, LLC
10991LakeRd., Pavilion • (585) 584-3841
Full Insured
LUXAIRE
GOULD
NYSCertifiedBackflowTester
Water&Sewer Lines •Water Treatment&ConditioningSystems
ALLWORKMANSHIP GUARANTEED • INSURED
297-9097 • 768-7737
• InteriorPainting
• Plaster/LathRestoration
•Drywall&Drywall Repair
•TextureRemoval
• Floors Stripped
&Refinished
•OldCeilings&Walls
MadeLikeNew!
MikeDarby'sPatch&Paint
The Nursery children at Love Bugs Preschool have been busy
learningall about the seasonofwinter.Oneday theydecided to
venture outside for amorning of fun. All bundled up, they ex-
plored their school grounds looking for signs ofwinter animals.
After theirexploration, theyspent timeenjoying thesnow. Some
friendsmade snow angels, somemade forts and little snowmen
andothers just enjoyed runningaround in the snow together. A
funwinterdaywas hadby all!
AWinterDayAt LoveBugs
UsedBook Sale
Saturday, February14 -
Saturday, February21 at Noon
Paperbacks&Children'sBooks: 50 cents each
Sale Hours
Saturday, Feb. 14 - 10 a.m. to 4 p.m.
Monday, Feb. 16 –Closed for Presidents' Day
Tuesday-Thursday, Feb. 17, 18& 19
Friday, Feb. 20 - 9 a.m. to 5 p.m.
Saturday, Feb. 21 - 10 a.m. to 12Noon
(BagSale – a bag of books for $1.00)
Friends of theWoodwardMemorial Library
may purchase items early on
Friday, February 13 from 3:30 to 5:00 p.m.
Friendsmemberships are available the day
of the sale for only $5.00!