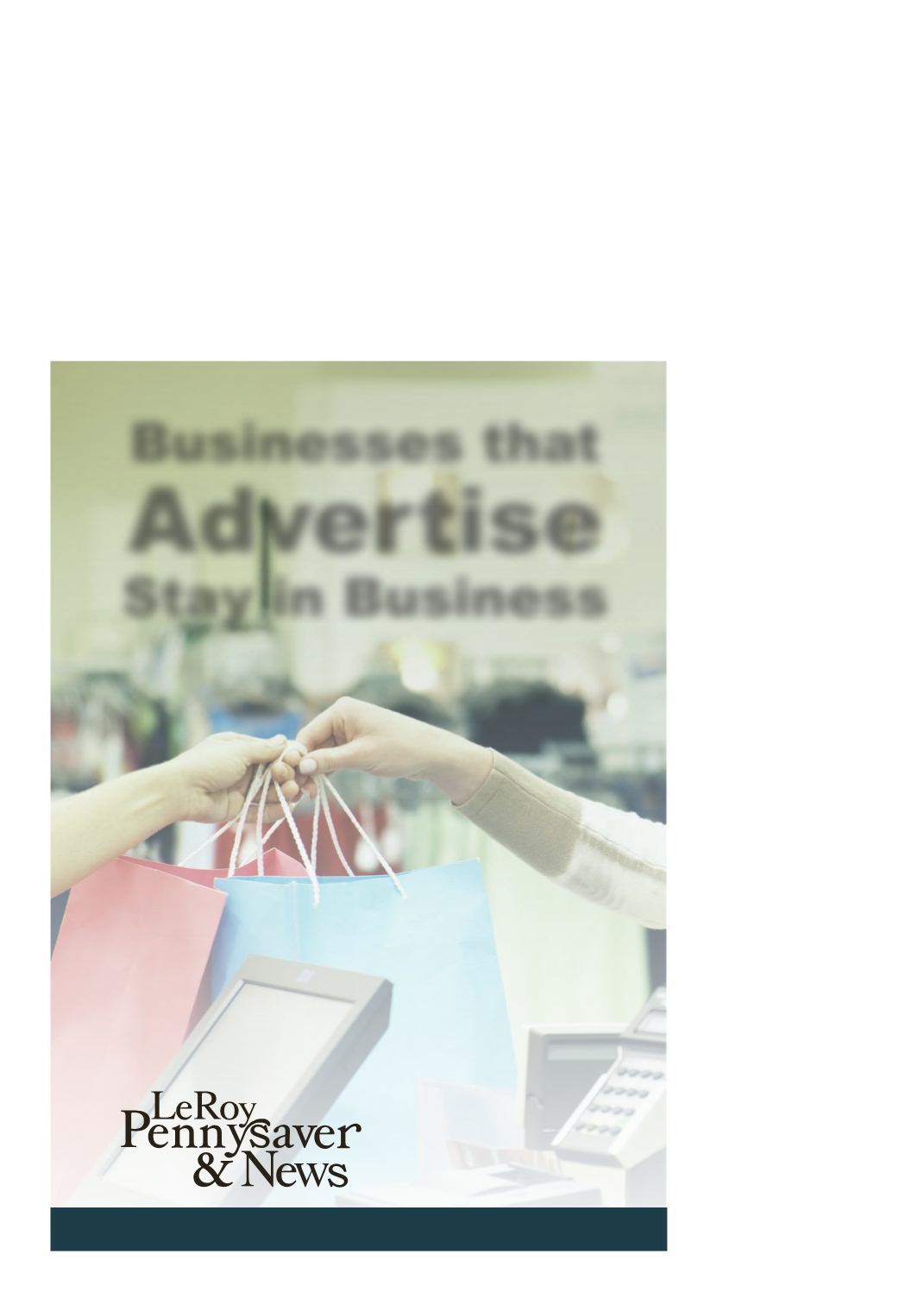 LEROYPENNYSAVER&NEWS -FEBRUARY 8, 2015
Advertise •Classifieds •News •HelpWanted •CommunityCalendar
585.768.2201
1ChurchSt., LeRoy, NY14482
yny.com
The Dean's List at Genesee
Community College recognizes
studentsenrolledeitherpart-timeor
full-timewho have earned a grade
point average of 3.50 to 3.74.
that the following are among
366 students whowere named
to the Dean's List for the Fall
Kristen Maggiulli, Nathan
Reiner, Brian Stamp
students and residents ofBergen.
Marymagdalen Gabalski,
Courtney Oderkirk
students and residents ofByron.
Matthew Cray, Aaron Fal-
kowsky,SkyeGregory,Kathryn
Krautwurst, Rebekah Miller,
Kristi Miller, Nicole Moody,
Brooke Ortiz, Camille Par-
rish, Kristen Stalnecker, Jacob
Sullivan
KarisaMcKeown
student and resident of Pavilion.
Daniel Smith
dent and resident of Stafford.
Brittany Schmitt
student and resident of Bergen.
Margery Fitzsimmons, Da-
kotaLonghini
Audrey Dollinger, Joshua
Hotze
part time students and res-
BenjaminWerner
student and resident of Pavilion.
The followingstudenthasbeen
named to the Dean's List at the
UniversityofNewHampshire for
the fall semesterof the2014-2015
SarahEhrmentraut
Students with a 3.65 to 3.84
average are awarded high honors
and students whose grade point
average is 3.5 through 3.64 are
NazarethCollegeannounces its
Dean's List for the Fall of 2014
CourtneyTaylor
BroganO'Halloran
HeatherHolland
AlexandraWalker
HannahGreen
WilliamA.Callanan
ford, NY., a junior majoring in
computer engineering and elec-
trical engineering was named to
the Dean's List for the fall 2014
semester at ClarksonUniversity.
Dean's List students must
achieve a minimum 3.25 grade-
point average and also carry at
Several area residents have
beennamed to theDeans'List for
the fall 2014 semester at SUNY
Oswego. To be included on the
Deans'List, studentsmust have a
semester gradeaverageof 3.30 to
3.79. The President's andDeans'
lists represent the top 31 percent
of theOswego student body.
CourtneyM.Brooks
a senior inpublic justice.
ConnorM. Clark
a junior inbusinessadministration.
Samuel J. Rodgers
ion, a freshman in geology.
Alanna Driscolle
hasbeenplacedon thePresident's
List for the fall 2014 semester at
theStateUniversityofNewYork
College at Cortland. To be eligi-
ble, a student must be full-time
andhaveearnedat least anAinall
courses. Collegemajor is speech
Ashley Webb
Freshman at ElimBible Institute
andCollegepursuingherAssoci-
ates inAppliedScience inBiblical
andTheologicalStudies,hasbeen
named to the President's list for
To make the President's List,
their top honor, you must have
attained a cumulativegradepoint
average of 3.80 or above; having
been a full time student with-
out having withdrawn from any
classesandwithout receivingany