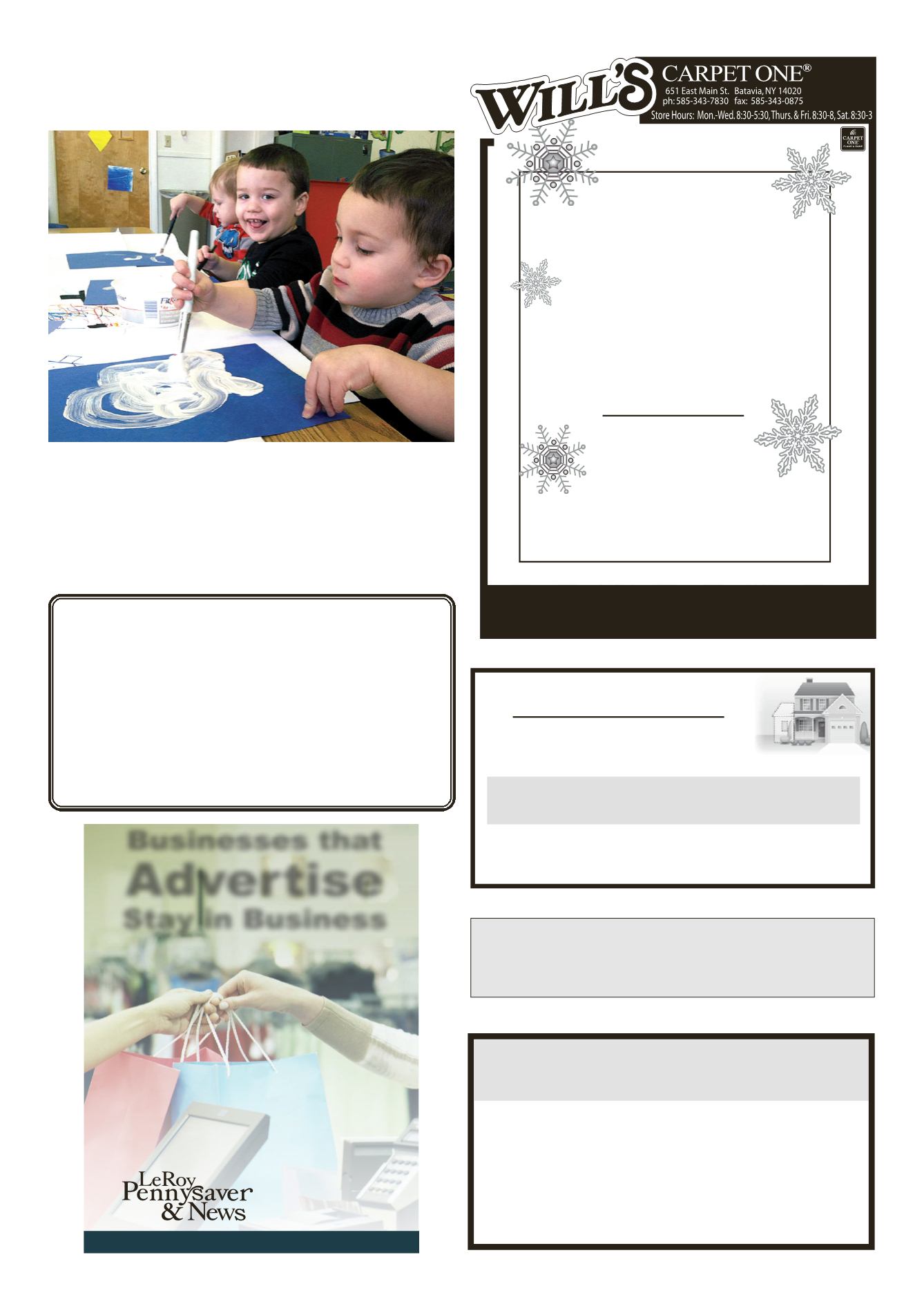 LEROYPENNYSAVER&NEWS - JANUARY 25, 2015
TheONE store for your perfect floor.
"CompleteCarpentry Service"
M
ILLER
B
ROTHERS
B
UILDERS
CustomHomes •Remodeling•Additions
Roofing• Siding
DANIEL
MICHAEL
SUPPORTYOUR LOCALADVERTISERS!
They help sponsor the local news section of the Le Roy Pennysaver.
THANKS FORYOUR SUPPORT!
ALLWORKMANSHIP GUARANTEED • INSURED
297-9097 • 768-7737
• InteriorPainting
• Plaster/LathRestoration
•Drywall&Drywall Repair
•TextureRemoval
• Floors Stripped
&Refinished
•OldCeilings&Walls
MadeLikeNew!
MikeDarby'sPatch&Paint
FLOOR
&HOME
Remnants!
Remnants!
Remnants!
LargeSelection ofCarpet Remnants
Small andLargeSizesAvailable.
We canmake area rugs to your size.
Binding available orwe can installwall-to-wall.
FREE
Discontinued Carpet Samples
(Limit 6)
Great forDogBeds, Boots orCarMats
CampgroundMaintenance
PersonWanted
Full time, seasonal work.Must have construction,
electrical, plumbing, landscape skills, and ability
to use equipment.Weekends amust.
Send resume to:
Dept. 761, c/oGVPS, POBox 340, Avon,NY 14414
The Nursery and Playgroup children at Love Bugs Preschool
spent a week having funwith snowmen. The Nursery children
createdbeautiful andunique snowmenwith scissors andpaper
and thenwent outside tomake one in the snow. The Playgroup
childrenstayed insideandmadesnowoutof toiletpaperandsoap
and thenpainted special snowmen tobringhome! Picturedhere
are some children in thePlaygroup class!
DoYouWantToBuild
ASnowman?
Advertise •Classifieds •News •HelpWanted •CommunityCalendar
585.768.2201
1ChurchSt., LeRoy, NY14482