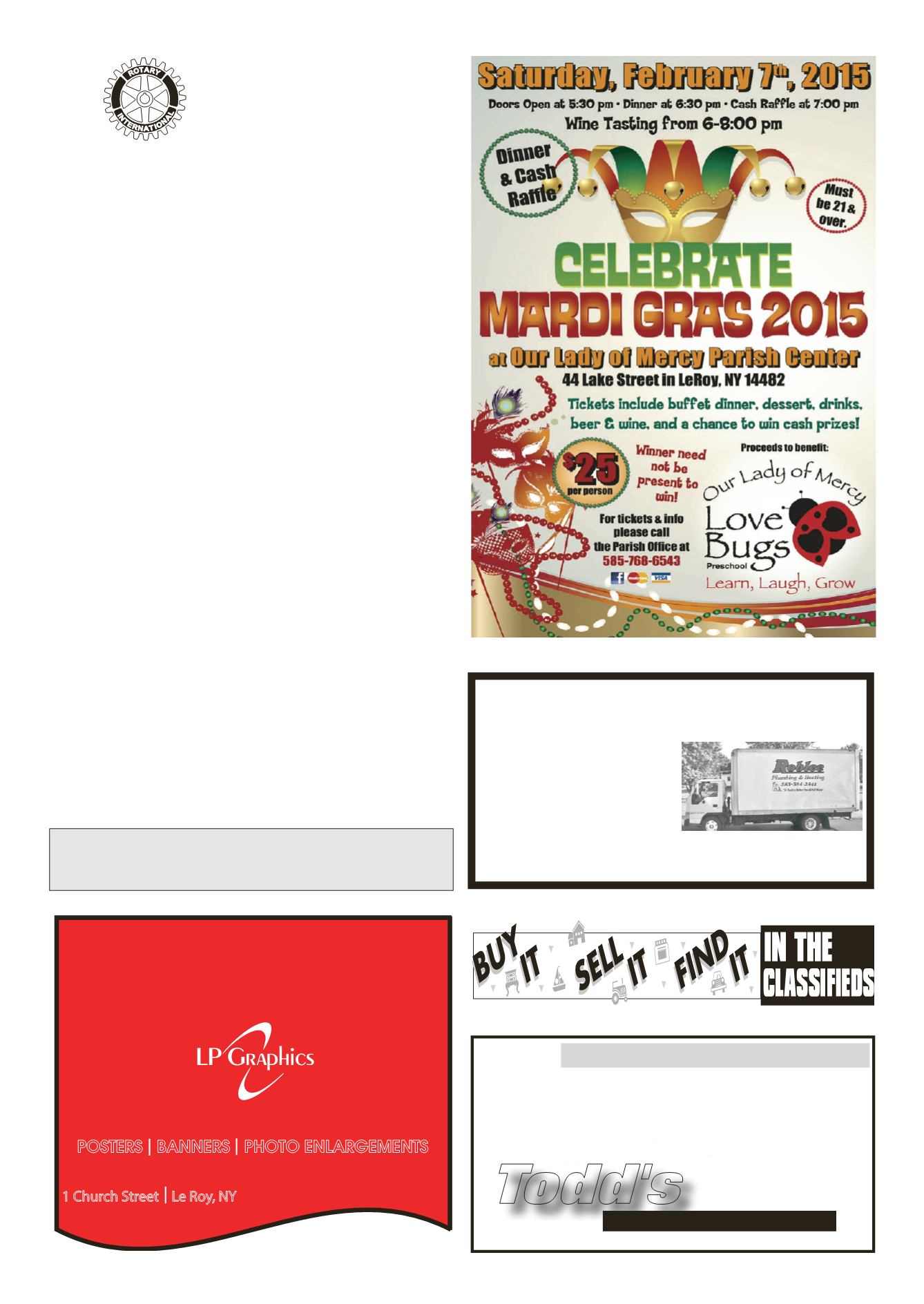 LEROYPENNYSAVER&NEWS - JANUARY 25, 2015
SUPPORTYOUR LOCALADVERTISERS!
They help sponsor the local news section of the Le Roy Pennysaver.
THANKS FORYOUR SUPPORT!
NewHomes •Additions •Garages •PoleBarns
ToddCarli • Phone 703-0964
Todd's
Decks •Windows •Doors
Kitchens •Baths
CeramicTile
Basement Finishing
CustomShelves/Built-Ins
Siding •Remodeling
Roofing • SnowPlowing
FULLY INSURED
LeRotary
Notes
ROBLEE
Plumbing&Heating, LLC
10991LakeRd., Pavilion • (585) 584-3841
Full Insured
LUXAIRE
GOULD
NYSCertifiedBackflowTester
Water&Sewer Lines •Water Treatment&ConditioningSystems
Notes – 1/14/15
Todaywas a brisk, but delight-
ful sunny day at the Greens of
LeRoy. Visiting high school
seniors Briannah Birch, Anasta-
sia Landen and Jessica Vaughan
joined us to learn about Rotary.
BataviaRotarianGaryChurchill
Upcoming announcements
include the Valentine's Day
Tea and Dance at the American
Legion on February 14th from 1
pm-4pm.Light lunch for only$5
andentertainment by theBatavia
SwingBand. President Randy is
still looking for historical Rota-
ry items. Please give to Lynne
Tracy Ford is heading up the
annualBigGameTVRaffle. Just
in time for the Super Bowl. See
anyRotarian to buy your tickets
for a chance to win a 55" TV.
Drawing to be held on January
31st at theAmericanLegion. TV
deliveredwithin30milesbyBob
Bennetthimself!SpeakingofBob
Bennett, he announced theGCC
Campaign kick- off will be held
at theGCCForum, January 21st
at 4:30 pm. Samantha has given
a tentative date for our Milne
Scholarship Fund-raiser as May
15th. Remember high school se-
niors to fill out your application
LeRoy Central School District
was recognizedon the5thannual
AP Honor Roll. One in four in
our region chosen, with only a
total of 28 in New York State.
MissedMeetings:
luscio, Joe Giannnetino and Jim
Ellison. All had great reasons.
Fines:KimCox for theAPHonor
Roll,MarciaMcKenzie foranew
FiveStarbranch???Oops….Prez
Randy goofed, he pays. Tracy
Program:
troduced Mark Massey from
GCEDC. Mark is fromStafford
andgraduated fromLeRoy.He is
the VP of Operations. The Gen-
eseeCountyEconomicDevelop-
mentCorporationworksonbusi-
nessexpansionandgrowth.They
areaonestopshop thru thewhole
process.Dealingwithpilots, loan
programs, work force develop-
mentandshovel readyparks.Our
areahasseenadecrease inskilled
trades. Facilities in the works or
upand runningareAgribusiness,
Nano technology,manufacturing
and advanced manufacturing.
Theywork tokeepbusinesses in
our area and to encourage more
to chooseGeneseeCounty. Like
uson facebookatRotaryClubof
POSTERS BANNERS PHOTO ENLARGEMENTS
lpgraphics.net