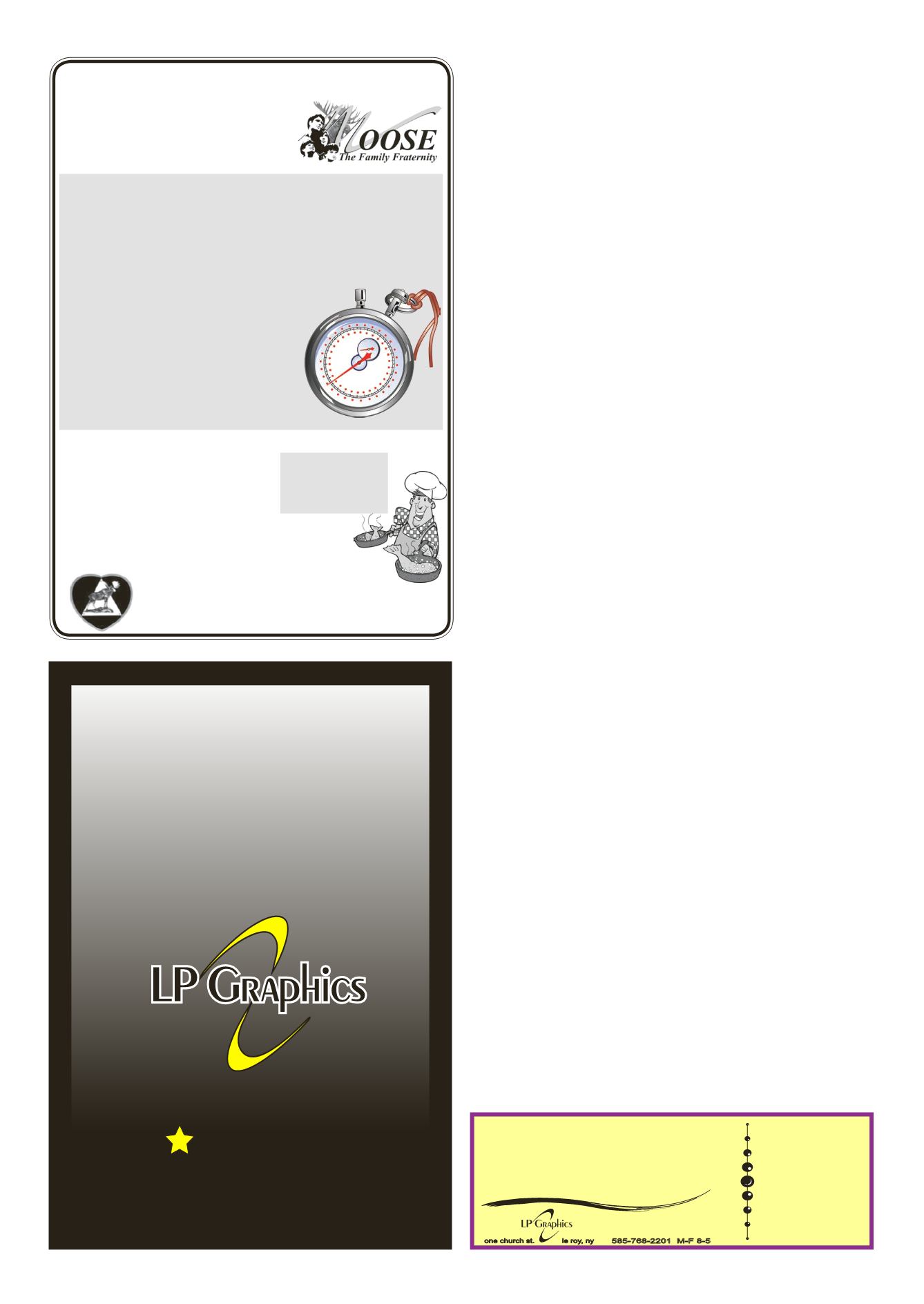 LEROYPENNYSAVER&NEWS - JANUARY 25, 2015
Sat., Feb. 28th
1:00 pm - ?
ForMore InfoCall
ChrisP. at 330-3576
Events Sponsored byWomanOf TheMoose, Chapter #370
FamilyCompetition
LeRoyMooseFamilyCenter
21BankSt.
768-6170
Member&QualifyingGuest Events
Sat., Feb. 14th
CakeWalk -AfterDinner, DJ
AshWednesday (Feb. 18th) FishFry
bySenatorRanzenhofer
January, 2015
Later today,GovernorAndrew
Cuomo will present his 2015
Stateof theStateAddress, along
with the release of the 2015-16
ExecutiveBudget. In thecoming
days andweeks, I will be going
over the Executive Budget pro-
posal with a fine-tooth comb.
Generally, my priorities are
pushing for more broad-based
tax relief, spending restraint and
initiatives to spur private-sector
The budget won't be the only
agenda item for this year's Leg-
islative Session. The State Leg-
islature must answer another
importantquestion:What should
New York do with the over $5
billion windfall from numerous
Thesesettlement fundspresent
uswithanunprecedentedoppor-
tunity to keep New York State
moving forward, andwe cannot
afford to allow it to be squan-
dered. These funds should be
strategically invested to address
Onemajor issue isNewYork's
crumbling infrastructure. There
are 114,709 miles of roads and
17,442 bridges in our State. Ac-
cording to theAmericanSociety
of Civil Engineers, 23 percent
of thosemajor roads are in poor
condition, and about 12 percent
of bridges are considered struc-
turally deficient. That is why a
significant amount of the $5 bil-
lionwindfall shouldgo to repair-
ing our local roads and bridges.
Committing most of the set-
tlement funds for critical infra-
structure improvementswillhelp
create thousands of jobs, aswell
as short and long-termeconomic
benefits.Addressing thisproblem
sooner, rather than later,willhelp
toprevent futurebudget shortfalls
due to the expensive nature of
theseprojects.Lastly, theseproj-
ectswill keepmotoristsand their
passengers safe, and save them
money on costly vehicle repairs.
Thedefinitionof infrastructure
should extend beyond roads and
bridges. Iwouldsupport expand-
ing broadband internet access in
ruralcommunities. Localcollege
campuses and environmental
initiatives, such as clean water
projects and sewer upgrades,
should be considered too.
Overall, it is important that
funds for these types of projects
be regionallybalanced all across
the State. Given the one-time,
non-recurring nature of the set-
tlement funds, these proposals
avoidwasteful,newandrecurring
Another major issue which
could be addressed with the
settlement funds is accelerating
the complete abolishment of the
Gap Elimination Adjustment
(GEA). TheGEA–amulti-year,
multi-billion dollar budget-cut-
tingschemeenactedbyNewYork
City Democrats– has negatively
impacted school districts and
Lastyear'sfinalbudget includ-
ed$602million tohelpdiminish
the GEA's impact. Fulfilling the
commitment to eliminate the $1
billion left of thisunfair draconi-
anmeasurewouldprovidecritical
resources to school districts,
allowing them a possible option
to freeze or reduce school taxes
Whether making strategic in-
vestments in our infrastructure
orschools, thesesettlement funds
should be delivered promptly to
taxpayers, ensuringabrighter fu-
ture forallWesternNewYorkers!
Invest In
InfrastructureProjects
With $5BillionWindfall
one church st. le roy, ny
1CHURCHST, • LEROY, NY • lpgraphics.net
WEHANDLEALLASPECTSOFPRINTING...
PROGRAMS
LETTERHEADS
BILLHEADS
FLYERS
BROCHURES
POSTERS
CARBONLESSFORMS
ENVELOPES
RAFFLETICKETS
NEWSLETTERS
RESUMES
TYPESETTING
RUBBERSTAMPS
ENGRAVEDSIGNS
NAMETAGS
COPIES
LAMINATION
COMMUNITYFAX
NEWSANDPICTURES
ADVERTISING
BUSINESSCARDS
HOURS: Monday thruFriday 8:00 to 5:00