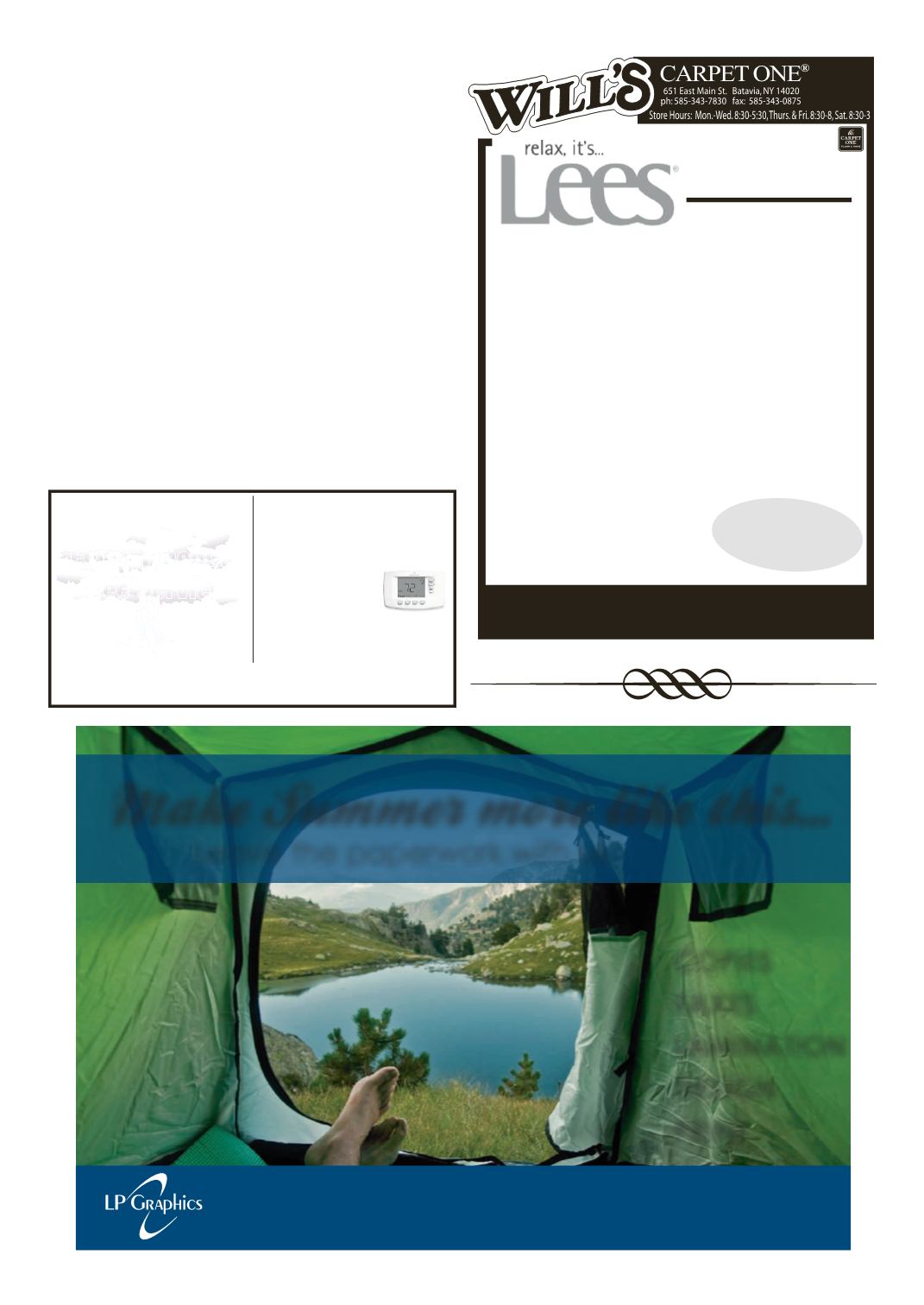 LEROYPENNYSAVER&NEWS -AUGUST 17, 2014
FLOOR
&HOME
TheONE store for your perfect floor.
•NOExclusions - Stain& SoilWarranty
• 25YearPet StainWarranty
• FreeEstimates
• FinancingAvailableTo
QualifiedBuyers
Malovich
Environmental
Tree Service
•TreeTrimming
•TreeRemoval
•StumpGrinding
FreeEstimates • Fully Insured
24Hour Service
• Residential
•MobileHomes
• ServiceRepairs
•New Installations
•ChimneyCleaning/Repairs
•ChimneyLiners
• Plumbing&Electrical
585-409-6509
Hurry
LimitedTime!
CARPET
ENTIRELINEOFLEE'SONSALE
InstalledWith a 6#Pad
50%
OFF
TheGeneseeCountyOffice for
the Aging announced that they
are critically short of volunteers
to take individuals to medical
appointments and delivermeals-
Currently there are individuals
inneedof help through theMed-
ical Transportation Program, but
there are not enough volunteers
to provide this service. Courtney
Iburi, Specialist,AgingServices,
noted that this shortage of vol-
unteers, "may mean that one of
our seniors will miss a medical
appointment, putting their health
at risk." The Program is free for
individuals inGeneseeCounty,60
years of age and older, who need
transportation tomedicalappoint-
ments outsideGeneseeCounty.
Additionally, the Meals-On-
WheelsProgramwhichprovides
a noon-timemeal to homebound
individuals five days a week is
short-handed. Currentvolunteers
arehelpingbydoing twoor even
three routes a day to ensure de-
Supplemental liability insur-
ance isprovided toall volunteers
andmileage reimbursementmay
be available. Individuals inter-
ested in more information may
contact Dorian Ely, Director of
the RSVP Volunteer Placement
Program at the Office for the
SeniorCitizens
AwaitingHelp
MakeSummermore like this...
Leave thepaperworkwithus.
COPIES
FAXES
LAMINATION
DESIGN
PRINT
1ChurchSt., LeRoy, NY14482
585.768.2201
raphics.net