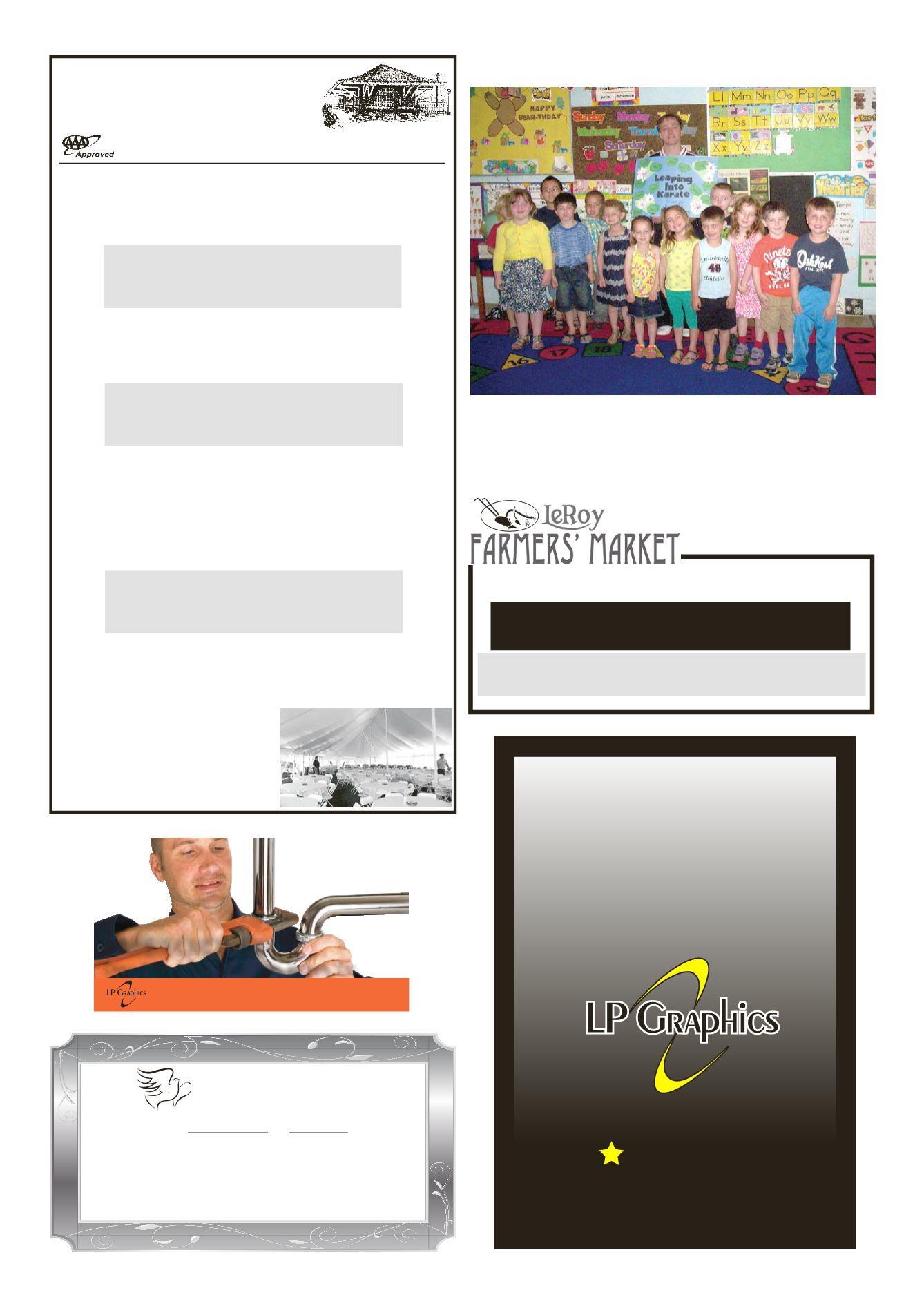 LEROYPENNYSAVER&NEWS -AUGUST17, 2014
D&RDepot
63LakeSt. (Rt. 19), LeRoy• 768-6270
Let'sMeetAt The ...
OpenForBreakfast, Lunch&Dinner - 7DaysAWeek 7am-9pm
F
ALCONE
F
AMILY
Funeral&Cremation Service, Inc.
Director/Owner
Director /Owner
FuneralDirector
SUNDAY,AUGUST17thDINNERSPECIAL
BARBECUEDBEEFBRISKETDINNER - $15.99
(includes soup or salad, macaroni salad, fresh fruit
andMandarin orange JELL-O) dessert)
SPECIALEVENT–AUGUST16, 17
Old-TymeFiddler'sFair
at theGeneseeCountryVillage andMuseum
SUNDAY,AUGUST24thDINNERSPECIAL
BEEFn'SEAFOODKABOBS over rice - $16.99
(includes soup or salad, beverage, and a banana split dessert)
SPECIALEVENT–AUGUST23
VictorianDay at the
GeneseeCountryVillage andMuseum
SUN.,AUG. 31st/MON., SEPT. 1st LaborDayWeekend
SOUTHERNFRIEDCHICKENDINNER - $15.99
(includes soupor salad, mashed potatoes, beverage
and lemonmeringue pie)
TheDepot is open regularhours
LaborDayWeekend – 7AM – 9PM
SPECIALEVENT - SEPTEMBER 1
HopsPickingParty at the
GeneseeCountryVillage andMuseum
TheDepot's new sister company, DoubleLRentals - offering tables, chairs,
heaters, bars, linens, dishes& catering supplies for your special occasions!
10%Discount
when youuseboth the
D&RCateringServices and
DoubleLRental
foryour event.Visit doublel-
rental.com
or call us at (585) 344-0023
Jams, jellies, eggs, gluten free baked goods,Yancey'sFancyCheeses, Tracy's Teas,
Natural DogTreats byEva, NundaMustards, OnceAgainNut Butters,
First Light CreameryCheeses andYogurts, baked goods, organic produce, honey,
maple syrupand fresh, locally grown produce.
eRoyFarmer'sMarket onFacebook
TRIGON PARK
Saturday, Aug. 23rd
9:00 am-12:30 pm
LOCAL • FRESH•DELICIOUS •NUTRITIOUS
More variety arrivingweekly as the growing season progresses. Support your neighbor! Buy Local!
8/
dy Dodge will be in our Music Tent and The
ll have their inflatable obstacle course.
8/23Market -
TheWastrelswithHughMaterwill be in ourmusic tent.
LeRoyNursery School learned life skills with a visit fromDan
Bauer fromBauerKarate.Hevisits everyyearanddoes agreat
review of manners and self help skills. He teaches the children
aboutrespect foreachother, focusingandselfdiscipline.Allvery
important essentials forday today life.
LNSTeachesLifeSkills
Dress Shirts, Polos, Vests, Hats, Jackets, Etc.
1ChurchSt.
LeRoy, NY14482
585.768.2201
1CHURCHST, • LEROY, NY • lpgraphics.net
WEHANDLEALLASPECTSOFPRINTING...
PROGRAMS
LETTERHEADS
BILLHEADS
FLYERS
BROCHURES
POSTERS
CARBONLESSFORMS
ENVELOPES
RAFFLETICKETS
NEWSLETTERS
RESUMES
TYPESETTING
RUBBERSTAMPS
ENGRAVEDSIGNS
NAMETAGS
COPIES
LAMINATION
COMMUNITYFAX
NEWSANDPICTURES
ADVERTISING
BUSINESSCARDS
HOURS: Monday thruFriday 8:00 to 5:00