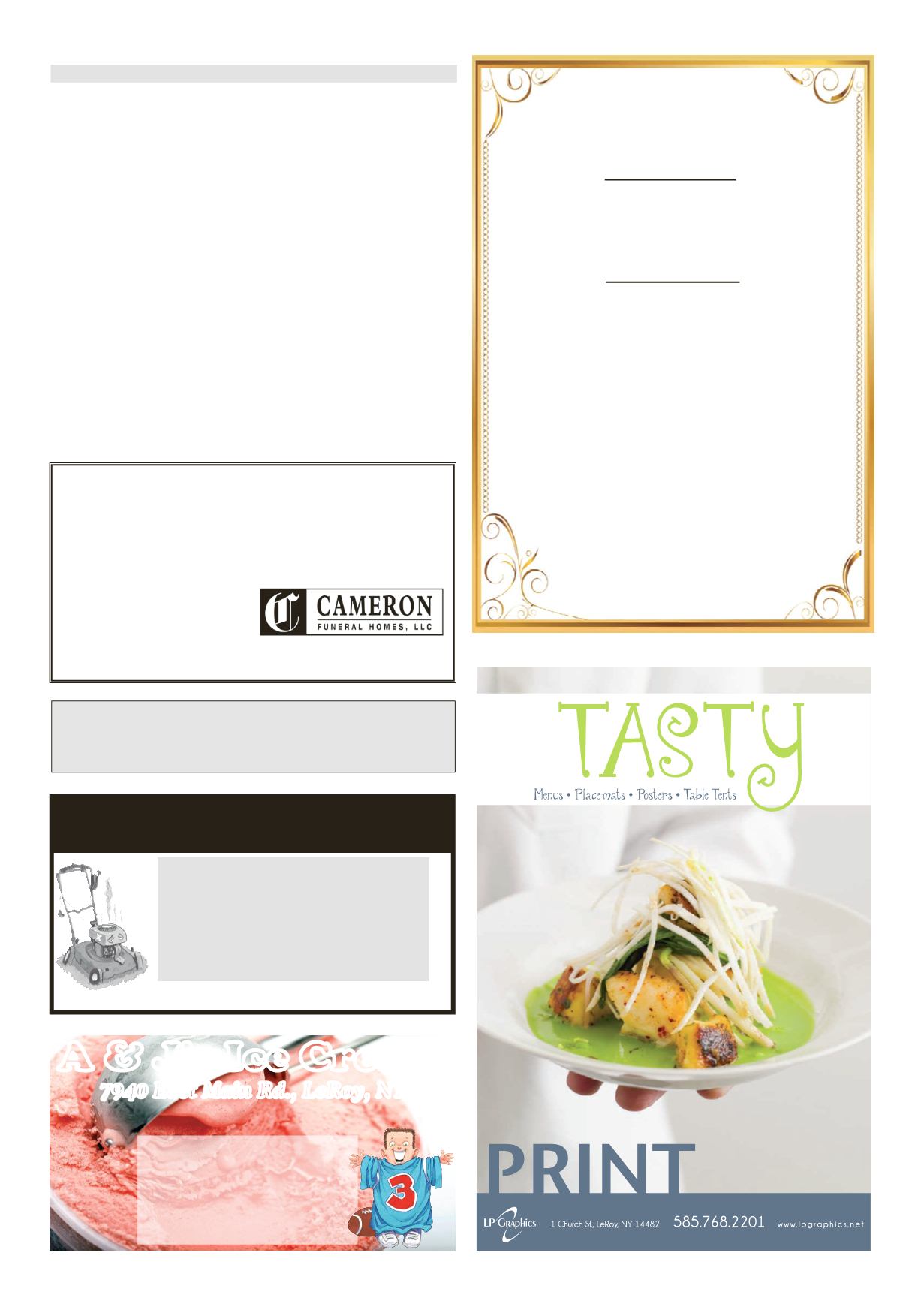 LEROYPENNYSAVER&NEWS -AUGUST 17, 2014
HelpingFamiliesCelebrateaLifeLived
"Our FamilyServingYours Since 1907"
Trusted•Honest •Proven
(585) 768-6800•LeRoyFuneralHome.com
Cameron, Brady&Steuber
FuneralHome
111Wolcott Street
LeRoy,NY14482
SUPPORTYOUR LOCALADVERTISERS!
They help sponsor the local news section of the Le Roy Pennysaver.
THANKS FORYOUR SUPPORT!
• Engine andTransmissionRebuilds
• Lawn andGardenEquipment
• PickUp andDeliveryAvailable
7940EastMainRd., LeRoy, NY
Wear your practice jersey
byGreg "Porp"Rogers
Mayor
It was my intent in my last
column to give the reason for
the taking down of the trees on
Wolcott Street, in front of the
school and Library. These trees
had a disease that was killing
them from the topdown, causing
the trunks to become hollow. It
wasfelt that theyposedapossible
danger to the students andwalk-
ers.While they are gone now, it
does bring in to view some of
thenice trees on the campus you
mayhavemissedor forgotten.As
well provideabetter viewof our
waterfront property on awalk.
My friend,GedBradyhasgiv-
enme thenameof a tree consul-
tant, to help with trees that may
bediseasedandhewouldbeable
to identify theappropriate tree for
the area. Iwill be contacting that
Main Street is starting to look
better, thanks to theDOTproject,
I received many compliments
on thework, but theDOT really
deserves the credit, they got this
Enjoy the last couple ofweeks
ofsummer. TheFarmers'Market
should be filling up with all the
local produce. Please try to stop
by and support it onSaturdays.
"It's not what you look at that
matters, it'swhat you see"
Notes From TheMayor's Office