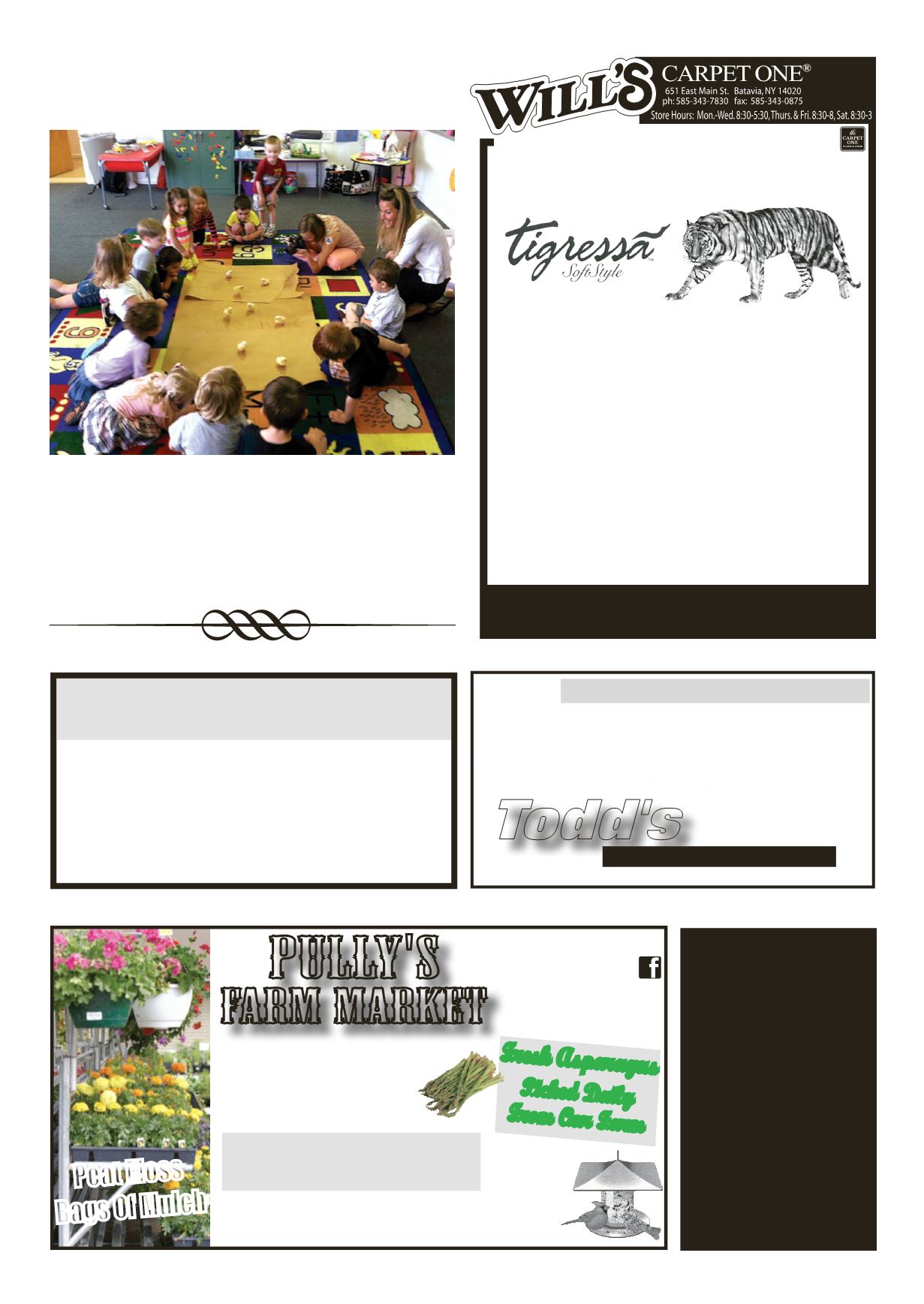 LEROYPENNYSAVER&NEWS - JUNE 8, 2014
FLOOR
&HOME
TheONE store for your perfect floor.
NewHomes •Additions •Garages •PoleBarns
ToddCarli • Phone 703-0964
Todd's
Decks •Windows •Doors
Kitchens •Baths
CeramicTile
Basement Finishing
CustomShelves/Built-Ins
Siding •Remodeling
Roofing • SnowPlowing
FULLY INSURED
• 18MonthFinancingAvailableForQualifiedCustomers
•FreeEstimates
Select Styles
StartingAt $2.69 sq. ft. • Installedw/a 6# pad
Hurry! LimitedTimeOnly!
ALLWORKMANSHIP GUARANTEED • INSURED
297-9097 • 768-7737
• InteriorPainting
• Plaster/LathRestoration
•Drywall&DrywallRepair
•TextureRemoval
• Floors Stripped
&Refinished
•OldCeilings&Walls
MadeLikeNew!
MikeDarby'sPatch&Paint
8160LakeRd. (Rt. 19)
LeRoy, NY
1/2mile south of Thruway
768-2280 • 704-1157
Hours:Mon.-Sat. 9-6, Sunday9-5
pullysfarmmarket.com
Jams • Jelly • Seeds
SeedPotatoes
StrawberryPlants
AsparagusRoots
PottingSoil&TopSoil
FreshAsparagus
PickedDaily
FromOur Farm
HangingBaskets
Annuals • Perennials •VegetablePlants
(grown inour owngreenhouse)
BIRD
SEED
and
FEEDERS
Gift CertificatesAvailable!
Le Roy
Pennysaver
For21days, thechildrenatLoveBugsPreschoolpatientlywaited
fortheirchickeggs tobeginhatching. Theyall took turns turning
theeggsandwhen the timecame, thePre-Kclassgot thebrooder
box all ready. Theywere all so excitedwhen they saw the first
chickbegin topeckout if it's egg! Theywere fascinatedbyhow
fast the rest of the chicks came! Here is the morning Nursery
classmeeting theirnew chicks!
LoveBugs
ChicksHaveArrived