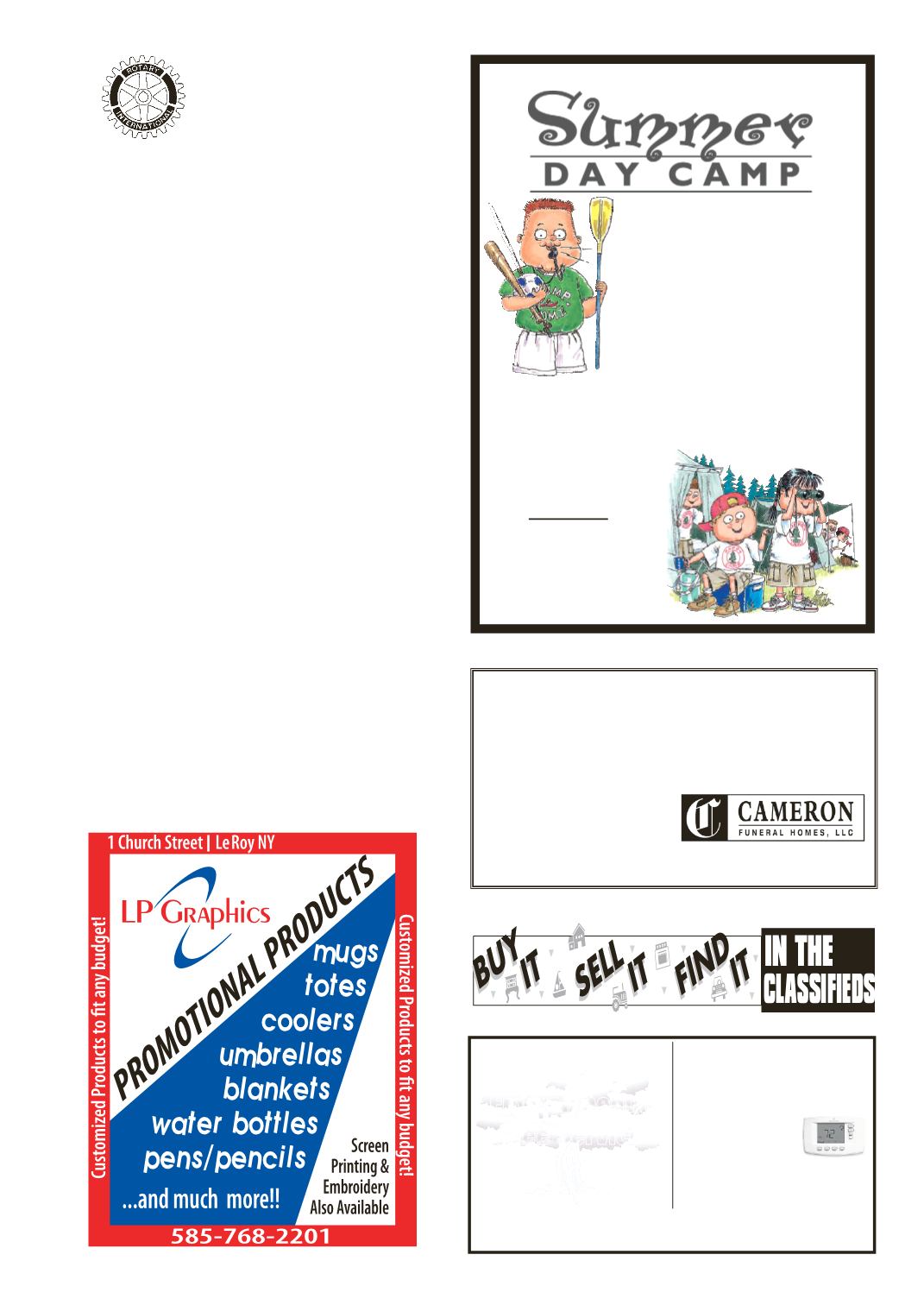 LEROYPENNYSAVER&NEWS - JUNE 8, 2014
HelpingFamiliesCelebrateaLifeLived
"Our FamilyServingYours Since 1907"
Trusted•Honest •Proven
(585) 768-6800•LeRoyFuneralHome.com
Cameron, Brady&Steuber
FuneralHome
111Wolcott Street
LeRoy,NY 14482
Malovich
Environmental
Tree Service
•TreeTrimming
•TreeRemoval
•StumpGrinding
FreeEstimates • Fully Insured
24Hour Service
•Residential
•MobileHomes
•ServiceRepairs
•New Installations
•ChimneyCleaning/Repairs
•ChimneyLiners
585-409-6509
•What: Arecreationaldayprogram
for children. We will provide
supervision and recreation. Each
week will have a theme with a
varietyofactivitiesfor thechildren
4 Pleasant Street
field trips to the parks, the library
Children going into gradesK-6
Monday - Friday, 8:00 am - 4:00pm
Theweek of June 30th-theweek ofAug. 15th
Questions:
Call 768-7540 or
Scholarships are available
call for details.
LeRoyChristianCommunityProject
It was a pleasure to be hosted
by the LeRoy Country Club as
President Tracy rang the bell
to begin the weekly meeting of
the LeRoy Rotary Club. Guests
today included Brittany Kram-
er-Shultz, a senior at LeRoy
HighSchool. Also inattendance
were Don Eichenauer, CEO of
Hospital and Marilyn Werner,
MarketingConsultantatWCCH.
a number of worthwhile com-
munity activities. Bob Bennett
announced that the annual Golf
Outing with be on June 11th at
the LeRoy Country Club. The
event,which is aBestBallTour-
nament, will begin at 1:00 pm.
hosting their annualWheels and
Heels fund raiser. Proceeds will
go to support the Y's Domestic
Violence programs. Jim Ellison
reminded Rotary members that
theannual InstallationBanquet is
June 24th. Jimwould appreciate
your sign up by June 7th.
ChristineGephartannounced
that the Planter Project is going
very well. There is still time
for businesses to get on board
and purchase a planter. Rotary
members expressed an interest
in purchasing polo shirts with
theRotary logo.MaryYoungwill
take orders at the nextmeeting.
There were several members
with missed meetings. Lynne
Belluscio, Bob Bennett, Bob
Carlson, Joe Gentino, David
allcited,andmanyhadmake-ups.
Fines were minimal this week
with TomMcGinnis being fined
forcellphoneusage.Hewasasked
to reiterate the Club cell phone
policy. Anil Sawhney was fined
for going to theGreens and com-
ing in late to themeetingatLeRoy
Country Club despite the many
reminders fromPresident Tracy.
MarketingConsultant atWCCH
presented a very informative
overview of the Hospital. Don
spoke about their recent 31mil-
liondollarbuildingproject.There
has been a beautiful transforma-
tionof the physical plant includ-
ing the completion of their new
ED in January2014. Don spoke
about the mission of WCCH to
provideoutstandinghealthcare to
thecommunity. In recognitionof
our guest speaker's contribution
to LeRoy Rotary Club, funds
were given to provide polio im-
munizations to 25 children.
Don't forget to Like us on
Facebook at "Rotary Club of
LeRotary
Notes