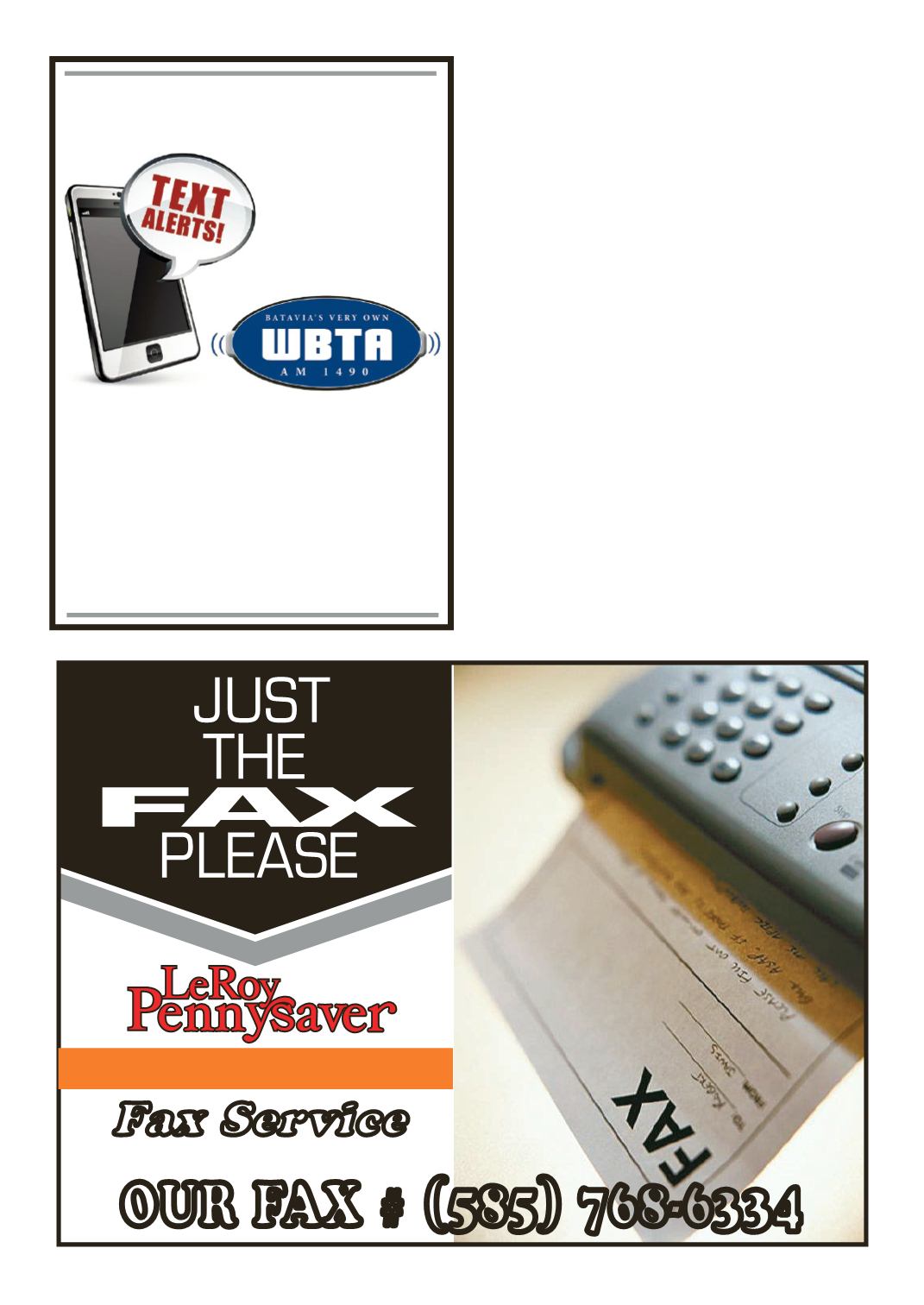 LEROYPENNYSAVER&NEWS - JUNE 8, 2014
SIGNUP TODAY!
GET ONLY THE
NEWS YOU
CHOOSE
FROM
New! Signup for TEXTALERTS.
Get only thenews you choose!
Be the first to know about SevereWeather,
BreakingLocal News, TrafficAdvisories&dSchool Closings.
Signup today forWBTATextAlerts.
Youneed to only supply your cell phone number
and select the services youwant to receive.
Wewill never sell your information toanyone.
WBTAi.com
1ChurchSt., LeRoy, NY • (585) 768-2201
Le Roy, resident Julie A.
Conlon
versity student majoring in In-
ternationalAffairs, was recently
named to theUniversity's dean's
list for thespringsemester,which
To achieve the dean's list dis-
tinction, studentsmustcarryafull
program of at least four courses,
have a quality point average of
3.5orgreateroutofapossible4.0
and carry no single grade lower
than a C- during the course of
theircollegecareer.Eachstudent
receivesa letterofcommendation
and congratulation from their
TheUniversityofPittsburghat
Bradfordhasnamed304students
to its springDean's list.
MackenzieLynn
Heale,
a senior criminal justice
Dean's list status is awarded
to full-time students who have
earned a grade point average of
Julie M Savage
New York, earned a master of
sciencedegree inhealth,physical
education and recreation.
LucasAudsley
genHighSchoolwasawardedan
Outstanding Scholar Award in
Genesee's Communty College's
across Western NewYork were
the finalists for Outstanding
Scholar Awards in Genesee
CommunityCollege'sAdvanced
Studies program. TheAwardees
were honored at a ceremony and
reception, Wednesday, May 28,
2014 in theStuartSteinerTheatre
atGenesee'sBatavia campus.
Nazareth College announces
its Dean's List for the Spring of
Heather Holland
KarisaKobel
CourtneyTaylor
AlexandraWalker
BriannaWorthington