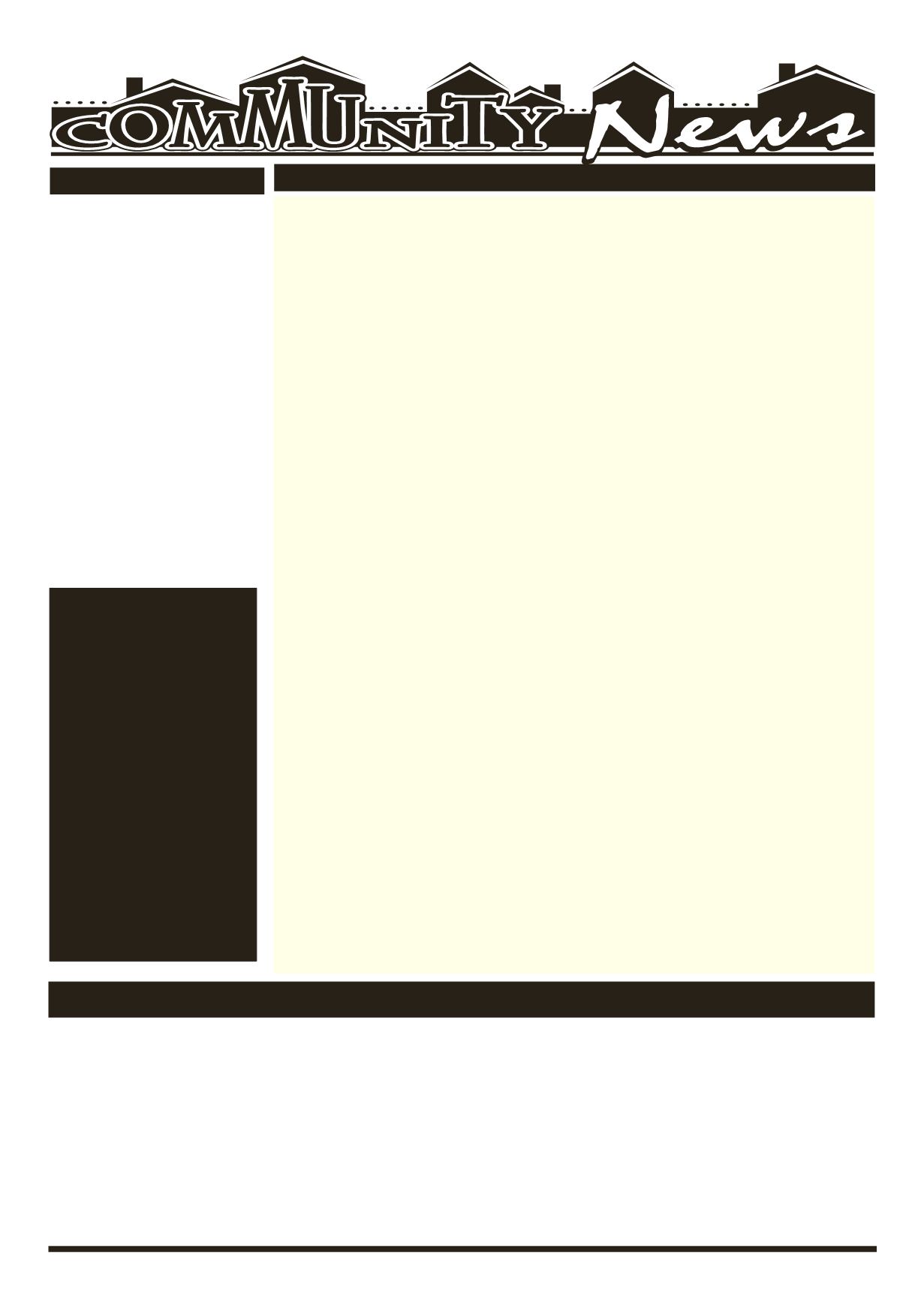 LEROYPENNYSAVER&NEWS - JUNE 8, 2014
All GeneseeCounty residents, 60andolder, can takepart in thisweek'sactivitiesat theBataviaSenior Center, 2BankSt., Batavia. Formore information, call 343-1611.
WEEKLYEVENTS
OBITUARIES
ArthritisExercise
is scheduled for 9:30a.m.;
Bridge
Alzheimer'sAssociation
is scheduled for 8:30a.m. ;
TheRSVPWorkshop
is also set to takeplacebegin-
Cribbage
Quilters
are scheduled tomeet at 9:00a.m.;
Euchre
is scheduled tobeginat 1:00p.m.
CribbageandBridge
MusicalKeyboardLessons
arescheduled tobeginat2:30p.m.
Legal Services
are scheduled for this date
BYAPPOINTMENTONLY!;
ArtClassandLineDancing
Tai
Chi
SUNDAY, JUNE8
AWANAProgramatPenuelChristianFellowship.
Sundays12:15 to1:45pm. Ages5-17broken intogroups. Developing
friendships.Having fun. LearningaboutGod. Safeenvironment.
Konnect Youth Group at Living Waters Church,
LeRoy. Sundays from 6:30 to 8:30 pm for ages 12-18. "BringDown
all theWalls! ConnectwithGodandConnectwithothers." Formore
information, check us out online at: livingwatersleroy.org/kon-
MONDAY, JUNE9
TOPS (Take Off Pounds Sensibly)
meets Monday evenings from
6:30-7:15pmat theLeRoyPresbyterianChurch, cornerofClay&Main
Streets.Visitorsalwayswelcome. Call 768-2933 formore info.
TUESDAY, JUNE10
LCCP'sGRACE'SKITCHEN:
AFREEdinnereveryTuesdayevening,5-7
pm at the LeRoy UnitedMethodist Church, 10 Trigon Park. Parking
availableonTrigonPark& the lots to the left andbackof theChurch.
Handicapped Entrance in the back of the Church. Takeout &delivery
are available. Formore info. contact SelbyDavis at 585-738-8882or
WEDNESDAY, JUNE11
TheTown&CountryGardenClub
of LeRoy isholding theirannual
PLANTAUCTION
at6:30PMat thePresbyterianChurchon thecorner
ofRt5(MainStreet)andRt19. It isfreeandopentothepublic.Wewill
beauctioningperennials,bulbs,houseplantsandothermiscellaneous
garden items. Therewillbefreerefreshments! Comeoutand joinusfor
agreatnightoffun! Proceedsareusedforcivicbeautification inLeRoy.
Villageof LeRoyBoardMeeting
, 7pmat theVillageHall, 3West
THURSDAY, JUNE12
GeneseeVeterans SupportNetwork
(GVSN) supports thedevel-
opment ofVeterans focusedAAmeetings everyThursday, 6-7pm at
the First Baptist Church, 306 E. Main St., Batavia. Meetings led by
MikeW.&areopen tonon-veteransaswell.Handicapaccessible. For
additional information call 585-302-0825.
GRACE'S CLOSET: A Clothing Giveaway Program
LeRoyUnitedMethodist Church, 10TrigonPark, LeRoy. 9:30 am to
11:30 am every Thursday. We have clothing for all ages. Spring &
Summer clothing now being put in place. We are in need of light-
er coats, clothing, shoes, pajamas, bedding, sheets in all bed sizes.
Weaccept donationsbedroppedoffat thehousenext to the church.
Please put all bags INSIDE on the back porch. No electronics, TV's,
computers, dishes, etc. Anyquestions call theoffice768-8980
Town of LeRoy Board Meeting
, 7 pm at the Town Hall Board
Beginner's Guide toMeditationat theWoodwardMemorial
Library
6:30 - 8:00 p.m. Ledby: TracyMartorana, Nutrition and
Wellness Consultant. This class is designed for thosewishing to add
morepeaceand serenity into their lives. Wewill discusswhatmed-
itation is, the benefits of doing it, and how to do it. Youwill learn
several simplebuteffectivemeditationsandwewill trya fewduring
class. Learning to meditate is one of the simplest and rewarding
things you can do for your well-being. Registration is required. Call
768-8300or registeronlineat
FRIDAY, JUNE13
Penuel Christian Fellowship,
One Step to Freedom addictions
ministry, a Christ Centered Addictions program, a weekly meeting
every Friday at 7 pm. Call the Church formore information at 768-
TheStaffordUnitedMethodistChurch ishavingaFREEGIVE-
AWAY
on June13th fromnoon to6pmand June14th from11am to
2pm. All items areFREE!Therewill beassorted clothing, household
items, books, holiday decorations andmuchmore and all FREE. The
church is locatedat6134MainRd., Stafford. Comeandprepare tobe
SATURDAY, JUNE14
LCCPSpringCelebration:
11am - 4pm@TrigonPark, LeRoyRec-
reation's Inflatable Obstacle course is scheduled from 2-4 Chicken
BBQ, FREE& LowCost Children's Activities,Vendor Fair, FREENY Life
ChildSafety ID's, LiveMusic&MUCHMUCHMORE!
UPCOMINGEVENTS
LCCP's Mommy & Me Playgroup: Every 2nd & 4th Friday,
12:00-1:30, Le Roy Physical Therapy (in the back gym). Anymoms
and their birth-kindergarten children are welcome to come enjoy
socialization, lunch, coffee, structuredgames& freeplay.
The Genesee Valley Civil War Roundtable
Zimmerman Robinson on "Captain Erwin Bowen of the 28th NY
Volunteers - 151stNYVolunteers"on June18, 2014at 7:30PM .The
meetingwill takeplaceat the LeRoyUnitedMethodist Churchat 10
TrigonPark inLeRoy.Pleaseuse the frontdooron the rightat theend
of the long sidewalk. Discussion periodwill follow. Newmembers
welcome.Marywill bediscussinghergreatgreatgrandfather. Itwill
The JuneMeetingOfTheLeRoy-StaffordSenior Citizens
Be Held OnWednesday, June 18, 2014 At 6:00 P.m. At The K Of C
Meeting Hall OnWest Main St. Behind Save-A-Lot. ThisWill Be A
PotLuckSupperAndYouShouldBringYourOwnPlaceSettingAndA
GenerousDishToPass. DessertWillBeFurnished. MusicianGeoffrey
CloughWill PresentTheProgram.
CommunityCalendar Submissions shouldbe sent to:
BYRON—AllanFerguson, 85, ofByron
diedThursday (May29, 2014) at home.
Memorials may bemade to North Ber-
gen Presbyterian Church, 7068 North
BergenRd., Bergen, NY14416.
BERGEN—RobertS.Long,91,ofLake
Road, Bergen, died Monday (June 2,
2014) at Strong Memorial Hospital in
Rochester. In lieuof flowers,memorials
may be made in memory of Robert to
theStoneChurchPresbyterianChurch,
7549 South Lake Rd., Bergen, NY
14416; or to a charity of your choice.
BATAVIA — Helen Krzewinski, 89,
of Batavia, formerly of Le Roy, died
peacefully Monday evening (June 2,
2014)at theBataviaHealthCareCenter.
Memorials inhermemoryaresuggested
to a charity of the donor's choice.
Le Roy
Pennysaver