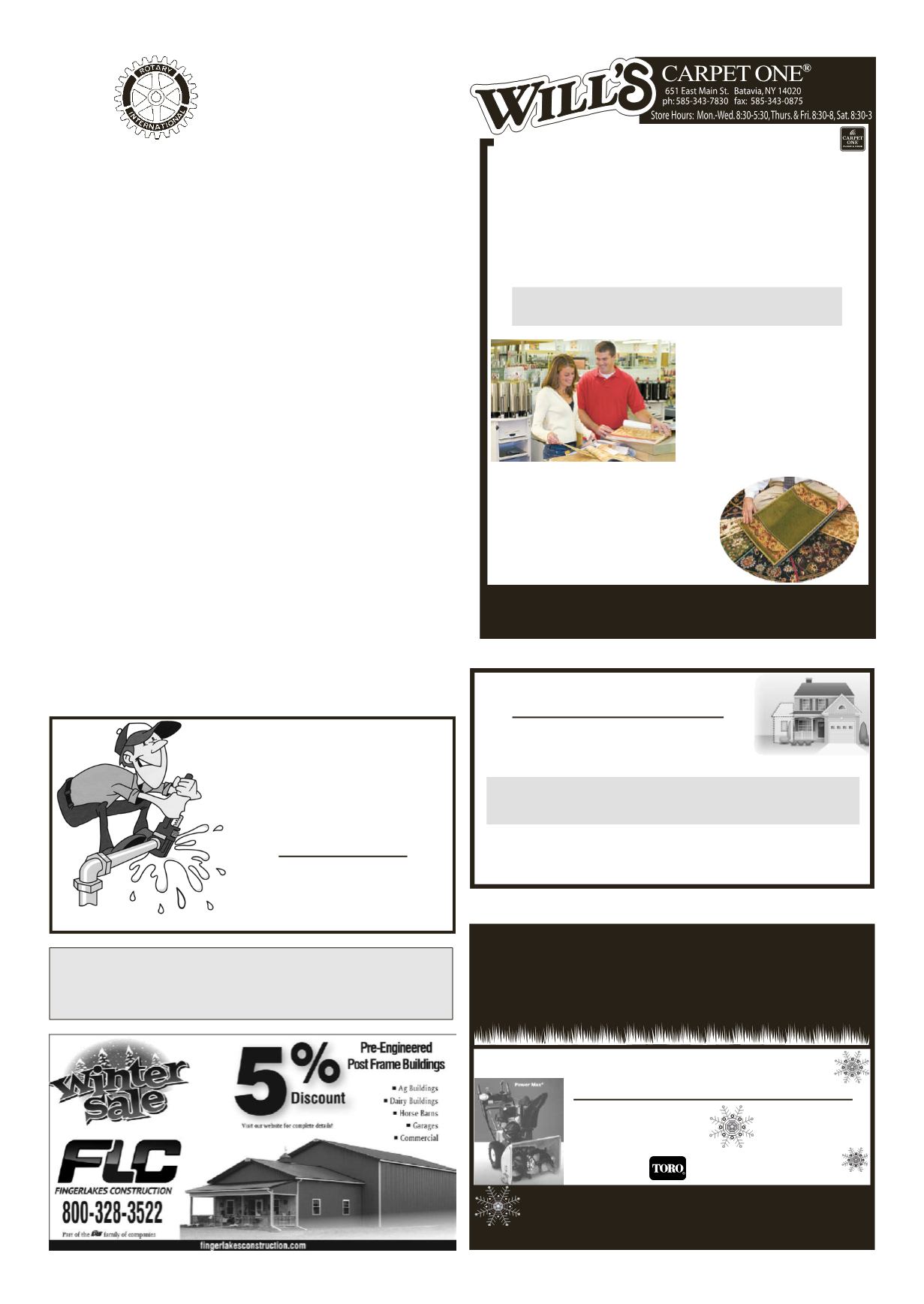 LE ROY PENNYSAVER & NEWS - FEBRUARY 16, 2014
LeRotary
Notes
We've got way too many
CARPET SAMPLES!
We're Giving Them Away
For FREE! (limit 6) Great For
Dog Beds, Boots or Car Mats.
"Complete Carpentry Service"
M
ILLER
B
ROTHERS
B
UILDERS
Custom Homes • Remodeling • Additions
Roofing • Siding
DANIEL
MICHAEL
Wallpaper
selection.
REMNANTS! REMNANTS!
REMNANTS!
We have a large selection of
Remnants in a variety of sizes.
Purchase a Remnant and get
25 feet of binding FREE!
"Service Is Our Specialty"
1818 Linwood Rd., Linwood, NY
HOURS: Mon.-Fri. 8 am-5:00 pm, Sat. 8 am-12:00 noon
LINWOOD
585.584.3122 •
0
%
Financing
Available!
Parts • Sales • Service -
We Service ALL Brands!
End Of Season Clearance
On ALL Remaining Snowblowers!
SUPPORT YOUR LOCAL ADVERTISERS!
They help sponsor the local news section of the Le Roy Pennysaver.
THANKS FOR YOUR SUPPORT!
Dave Salway
Plumbing LLC
7100 Quinlan Road
Le Roy, NY 14482
Cell Phone: 585-721-8446
Home Phone: 585-768-8446
When you call Dave, you get Dave!
It was a stormy wintry day on
February 5th in Le Roy, which
led to a sparsely attended meet-
ing. President Tracy rang the
bell, Jim Ellison led our prayer,
and after the Four Way Test our
President Tracy announced
sign-ups for our Rotary Dodge-
ball Team for the LCCP Tourna-
ment on March 22nd. Sam Vagg
announced the upcoming week
of fundraising events for Honor
Bob Bennett, Jim Ellison, Tami
Torrey, and Steve Zocco were all
called on for missed meetings.
They all had valid make ups.
Tom Cox, Chris Biviano, David
Grayson and Scott McCumis-
key all played Rotary Trivia,
and all lost. They each had to
take a spin on the Rotary Fin-
ing Wheel. Tami Torrey paid up
for announcing the birth of her
4th grandchild. Her daughter
gave birth to a beautiful baby
girl, Madeline, on January 24th.
Christine Gephart was fined for
leaving an important Rotary
document at her seat at our pre-
vious meeting. President Tracy
fined Past President Sam Vagg
for the Broncos' first quarter
safety in the Super Bowl which
led President Tracy's beautiful
pool numbers into the drain, and
led Sam's numbers to victory
... again. President Tracy then
had her first spin on the Rotary
wheel courtesy of Bob Bennett
and Sam Vagg, and her luck was
about as good as her Super Bowl
President Tracy then gave a
very informative program of
The Rotary Club of LeRoy, and
some of our international proj-
ects we support. President Tra-
cy spoke about our Guatemalan
Water Project, Shelter Box, and
Bishop Masereka's Christian
Foundation. President Tracy also
reminded the Club that February
23rd, 2014 is World Understand-
ing and Peace Day. She then in-
formed the group of ways we
can participate in that day. End
Polio is the largest public health
Please like us on Facebook at