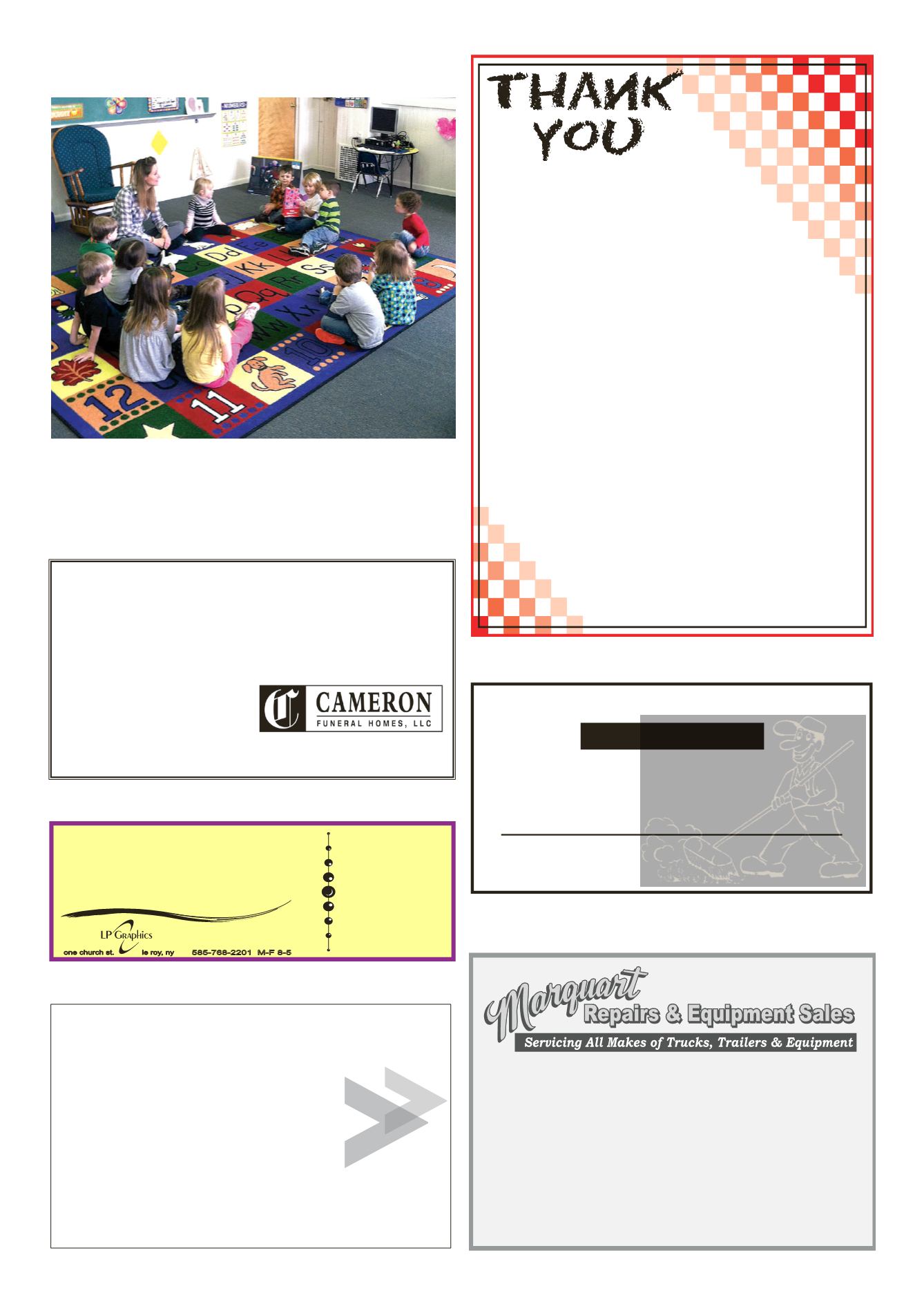 LE ROY PENNYSAVER & NEWS - FEBRUARY 16, 2014
Move
Medical & orthopedic
Helping Families Celebrate a Life Lived
"Our Family Serving Yours Since 1907"
Trusted • Honest • Proven
(585) 768-6800 • LeRoyFuneralHome.com
Cameron, Brady & Steuber
Funeral Home
111 Wolcott Street
LeRoy, NY 14482
Cleaning Service
•Carpet & Upholstery Cleaning
•Spot Cleaning & Odor Removal
•Tile & Wood Floor Cleaning & Waxing
•Braided & Area Rug Cleaning
•Complete Janitorial Services
9300 Warsaw Road, Le Roy, NY
to the Restaurants,
Caterers and Bakeries
who donated to Dessert in the Stacks 2014
Woodward Memorial Library
Rye, Blueberry Brown Sugar, White, and Black
Breads with Homemade Jellies
Scratch Bakery, Le Roy
FAT-MAN-DU BBQ, Le Roy
Sammy Hill's, Le Roy
D & R Depot Restaurant, Le Roy
Sweet Pea's Cupcakery, Batavia
Peanut Butter Mousse and Chocolate Lush Pies
Red Osier Landmark Restaurant, Stafford
Raspberry Tart Bars and Caramel Crunch Bars -
Le Roy Country Club
Bohn's Restaurant, Batavia
Susan Presher, Le Roy
Ultimate White Cake, Lemon Torte, and Almond
Wegmans of Brockport
Tops, Le Roy
Village Inn, Caledonia
Oliver's Candies, Batavia
Sweet Ecstasy Bakery, Batavia
Carrot and Coconut Cakes -
BJ's Wholesale Club, Batavia
Swamp and Kentucky Derby Pies -
Greg'ry's Bakery, Bergen
THANKS TO VOLUNTEERS:
Larry and Pat Allen, Sandy Brady, Kori Cigno,
Julie Coleman, Betsy Collins, John and
Lisa Compton and Cindy Frisch.
5195 Route 19 • Gainesville • NY
585-493-5174 or 585-493-2522
M-F 8:00 am - 5:00 pm; Sat. 8:00 am to 12:00 noon
Has A & B-Shift opening for a qualified
technician for Semi Truck and Trailer repairs
Must have experience in maintenance and repairs of all types of Trucks and Trailers.
Diagnostic software knowledge, NYS Inspectors License and CDL is a plus.
Competitive wages with uniforms and benefits.
Contact Mark Davis at 585-493-5174 between 8 am & 5 pm Monday through Friday.
The Nursery children at Love Bugs Preschool sat down together
for a fun number recognition game. Each child had a chance
to pick a heart out of a Valentine's bag and try to identify that
number. Once everyone knew what the number was, they blew
that number of kisses to their friends!
Counting Valentine Kisses
one church st. le roy, ny
one church st. le roy, ny