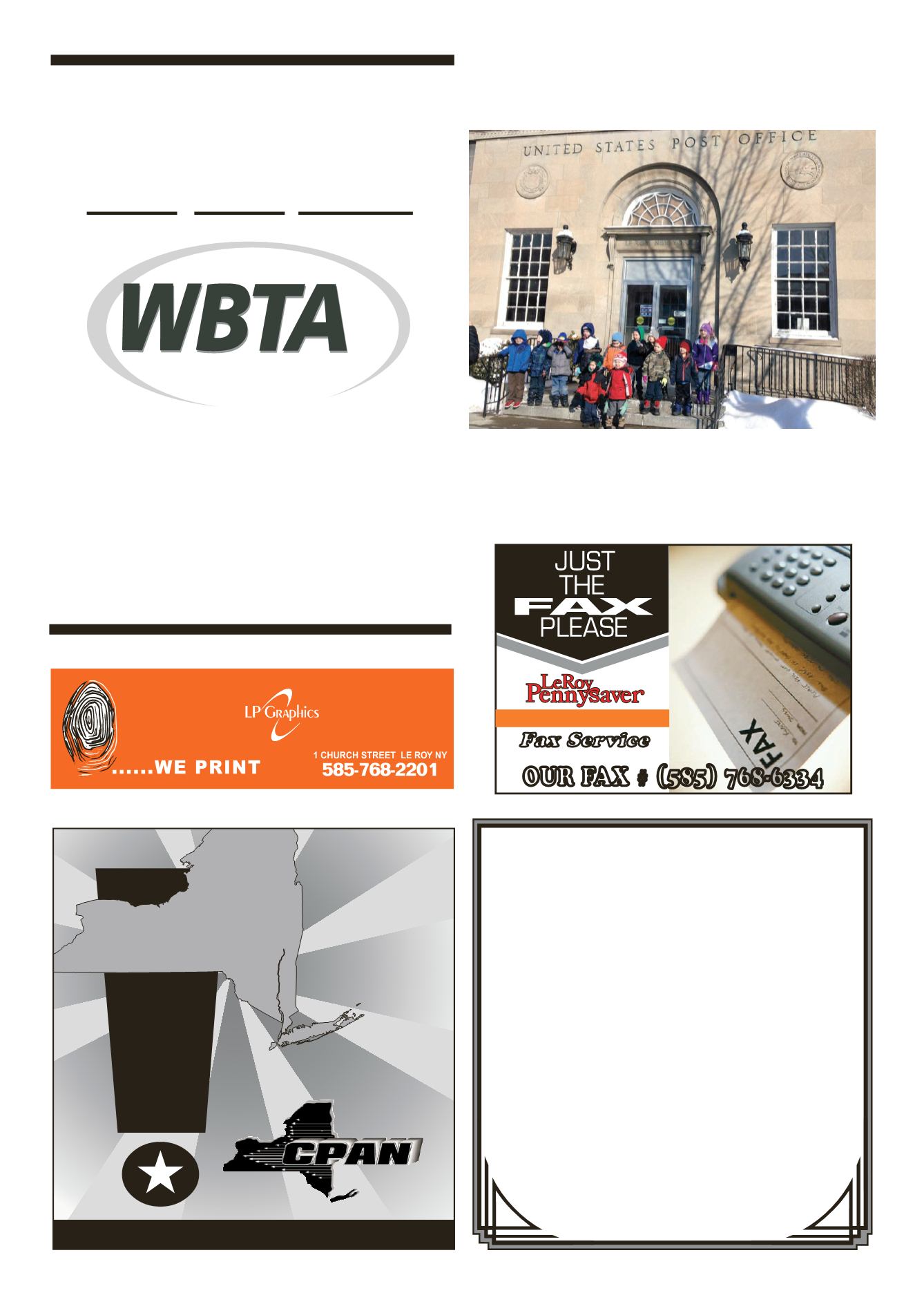 LE ROY PENNYSAVER & NEWS -FEBRUARY 16, 2014
SUBMIT
YOUR AD
HERE
ONE
ONE
*$490 for 15 words. $15 for each additional word.
A Great Deal to Reach the Whole State!
1 Church St., Le Roy, NY • (585) 768-2201
1 Church St., Le Roy, NY • (585) 768-2201
i
WBTA Radio - 113 Main St., Batavia, NY - (585) 344-1490
Eleanor A. Whitmore
88, of Le Roy died Sunday (Feb. 9, 2014).
Eleanor enjoyed time with her family, gardening and she will
be long remembered by family and friends for her love of the
She is survived by her daughter, Sandra (Michael) Waldron
of Le Roy; sons, Steven (JoAnn) Whitmore of East Bethany and
Daniel (Pamela) Whitmore of Batavia; 9 grandchildren; 12
great-grandchildren; several nieces and nephews.
She was predeceased by her parents Michael and Amelia
Stasel; husband, Lemar Whitmore in 1971; daughter Donna
Whitmore in 1995; brother and sister-in-law, Red & Louise Stasel;
and sister and brother-in-law, Anna and Walter Kral.
Calling hours were held from 4 to 8 p.m. Wednesday (Febru-
ary 12, 2014) at the Cameron, Brady & Steuber Funeral Home,
111 Wolcott St., Le Roy. Her funeral Mass was held at 10 a.m.
Thursday (February 13, 2014) at Our Lady of Mercy-St. Peter's
Church, Lake Street, Le Roy. Spring interment will be at St. Mi-
chael's Cemetery, Warsaw.
Genesee Cancer Institute, 16 Bank St., Batavia, NY 14020
or Le Roy Volunteer Ambulance
PO Box 56, Le Roy, NY 14482.
Sunshine Nursery School's Pre-K class bundled up and took an
adventurous walk to the United States Post Office. They were
given a tour of the building and learned how the mail is sorted
and delivered. They even had the chance to put mail in the mail
slot ... a handmade valentine for a loved one!
A Special Delivery
From Sunshine
lpgraphics.net