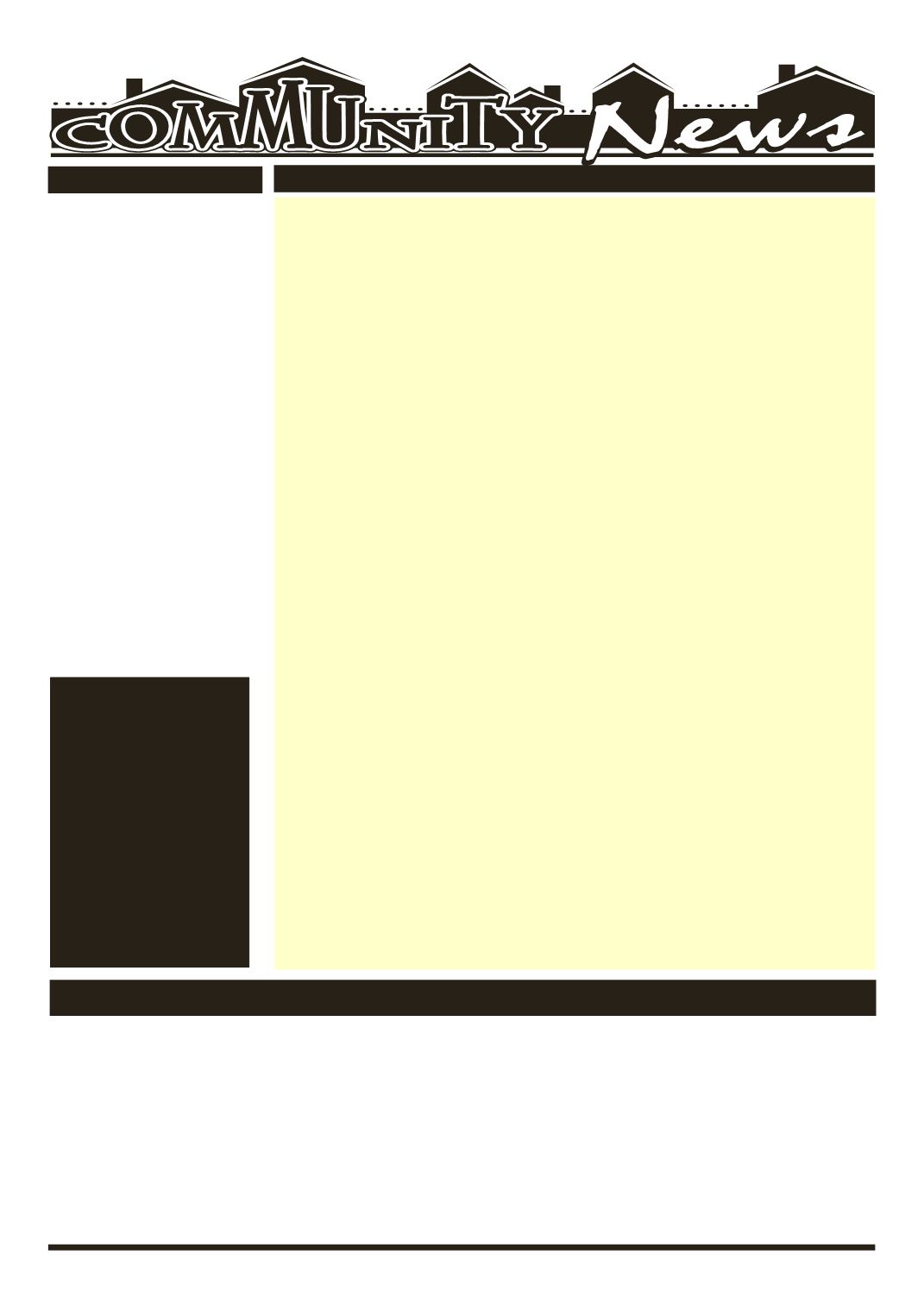 LEROYPENNYSAVER&NEWS -AUGUST21, 2016
Le Roy
Pennysaver
All GeneseeCounty residents, 60andolder, can takepart in thisweek'sactivitiesat theBataviaSenior Center, 2BankSt., Batavia. Formore information, call 343-1611.
SENIORCITIZENSACTIVITIES (August 22nd -August 26th)
WEEKLYEVENTS
OBITUARIES
ArthritisExercise
is scheduled tobeginat9:30a.m.;
Bridge
is scheduled tobeginat11:30a.m.
Cribbage
is scheduled tobeginat1:00p.m.
Quilter'sGroup
is scheduled tobeginat9:00a.m.;
Euchre
is scheduled tobeginat1:00p.m.
Cribbage
isscheduled tobeginat1:00p.m.;
Bridge
isscheduled tobeginat1:00p.m.
Art Class
is scheduled to begin at 10:00 a.m.;
LineDancing
is scheduled to begin at 10:00 a.m.;
Euchre
scheduled tobeginat1:00p.m.
SUNDAY, AUGUST21
MONDAY,AUGUST22
TOPS (Take Off Pounds Sensibly)
nings at the LeRoy Presbyterian Church, corner of Clay &
Main Streets. Doors open at 6:00 pm andmeeting is from
6:30-7:15 pm. Visitors are alwayswelcome. Call 585-768-
7103 formore information.
TUESDAY,AUGUST23
Preschool Storytime :
EveryTuesdayat 11am featuring
stories,craftandsongsatPavilionPublicLibrary,5Woodrow
Dr., Pavilion. For info: 584-8843.
LCCP's GRACE'S KITCHEN:
A FREE dinner every Tuesday
evening, 5-6:30pm at theMasonic Community Center on
12BankSt.Plentyofparking.Takeout&deliveryareavail-
able. Formore info. contact Selby Davis at 585-738-8882
GRACE'S CLOSET: A clothing giveaway program
sponsored by Le Roy UnitedMethodist Church, 10 Trigon
Park, LeRoy, 9:30am to11:30ameveryThursday.Wehave
clothing for all ages. Weare inneedof boy's clothing sizes
0-3T.Donations canbedroppedoffat thehousenext to the
church. Please put all bags INSIDE on the back porch. NO
ELECTRONICS, COMPUTERS,DISHES, etc.
Open Tuesdays
5-6:30pm.
Anyquestions call theoffice768-8980.
LeRoyZoningBoardofAppealsMeeting
7:30pmat theTownHall, 48Main St., For further info. call
WEDNESDAY,AUGUST24
The Stafford Historical Society
monthlymeeting,at7:00P.M.attheTownHallat8903Rt
237.Thewell-known local speaker, GregoryP. Kinal,will
begivingapresentationcalled"DaysThatShookAmerica:
Aprogram that touches on themajor news stories from
1900topresent. This information includesthemultitude
of triumphsand tragedies inAmerica.
TheStaffordUnitedMethodistChurchisworkingin
partnershipwithFoodlinkofRochester
theFoodlinkFreeMobileFoodPantry. Itwillbeheldfrom
4to5:30p.m.atEmeryPark, locatedat6061Rt.5 inStaf-
ford. Theexact items arenot known, but freshproduce
is always available. Food is distributed on a first-come,
first-servedbasiswhile supplies last.There isno income
or IDrequirement,butrecipientsmustbeat least18years
of ageandprovide theirownbagsand transportation.
THURSDAY,AUGUST25
TownofLeRoyBoardMeeting,
FRIDAY,AUGUST26
Penuel Christian Fellowship,
addictionsministry,aChristCenteredAddictionsprogram,
aweeklymeetingeveryFridayat7pm.Call theChurch for
more informationat768-6901or594-9575.
Penuel Christian Fellowship
adult fellowship and Bible study. Ages: 12 and up, Time:
Fridays from 7-9 pm, Study: the book of Romans (a 16
weekcourse), taughtbyJosiahGariboldi.Place:7115West
SATURDAY,AUGUST27
UPCOMINGEVENTS
The"PavilionClothingCloset"hasmoved
PavilionHighSchool to thePavilionFirstBaptistChurch,
10956 Lake Rd.(Rt.19), Pavilion. The Clothing Closet
will be open August 27 and Sept. 3 from 9-12, and by
appointment. For an appointment call Hope Speechley
at585-483-1858or584-3727. DoNot Leaveamessage
just try to call again. Todonate there isagreendropoff
boxat the frontdoorof the church.
CommunityCalendarSubmissions shouldbe sent to:
LEROY ~ Everette J. Bridgeman, age
58,ofGilbertStreet,passedawayearly
Monday morning (August 15, 2016) at
Highland Hospital in Rochester. Me-
morials are suggested to the Center
for Liver Disease, Strong Memorial
Hospital,601ElmwoodAve.,Rochester,
BERGEN ~ Alissa A. Fodge, age 26,
of W. Bergen Road, passed away on
Tuesdayafternoon,August16,2016. In
lieuof flowers,memorialsmaybemade
to the family to establish an education
fund forAidenc/oPaulaOlds, 20Tudor
BERGEN - Howard A. Janas, 91, of
Bergen,passedawayTuesday, (August
16, 2016) at NewYork State Veteran's
Home, in Batavia, following a brief ill-
ness. In lieuof flowers,memorialsmay
be made to the Bergen United Meth-
odistChurch, POBox216, Bergen,NY
14416 or the Bergen FireDepartment,
POBox 248, Bergen, NY 14416.