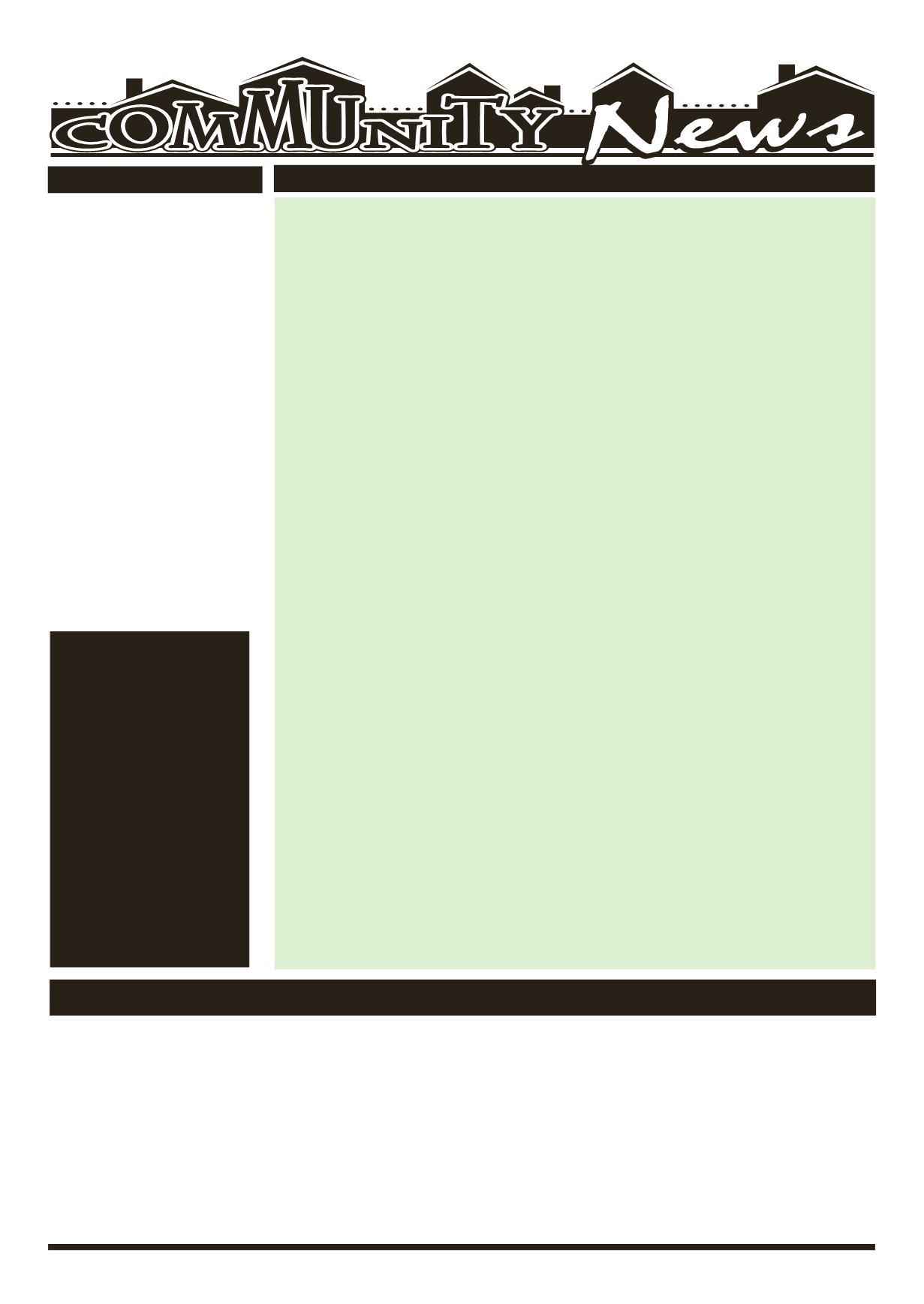 LEROYPENNYSAVER&NEWS -AUGUST7, 2016
Le Roy
Pennysaver
All GeneseeCounty residents, 60andolder, can takepart in thisweek'sactivitiesat theBataviaSenior Center, 2BankSt., Batavia. Formore information, call 343-1611.
ITIZENSACTIVITIES (August 8th -August 12th)
WEEKLYEVENTS
OBITUARIES
ArthritisExercise
is scheduled tobegin at 9:30 a.m.;
ARepresentative fromUnivera Insurance
Bridge
is scheduled tobeginat11:30a.m.
DefensiveDrivingClass
is scheduled tobeginat9:00a.m.;
Cribbage
is scheduled tobeginat1:00p.m.
OmbudsmanMeeting
is scheduled tobeginat 9:00a.m.;
Quilter'sGroup
is scheduled tobeginat 9:00a.m.;
Euchre
scheduled tobeginat1:00p.m.
Cribbage
isscheduled tobeginat1:00p.m.;
Bridge
isscheduled tobeginat1:00p.m.
LegalServices
isscheduledallday forAPPOINTMENTSONLY!;
ArtClass
isscheduled tobeginat10:00a.m.;
LineDancing
is scheduled tobeginat10:00a.m.;
Euchre
is scheduled tobeginat1:00p.m.
SUNDAY, AUGUST7
MONDAY,AUGUST8
TOPS (TakeOffPoundsSensibly)
meetsMondayevenings at the
LeRoyPresbyterianChurch, cornerofClay&MainStreets.Doorsopen
at 6:00 pm andmeeting is from 6:30-7:15 pm. Visitors are always
welcome. Call 585-768-7103 formore information.
TUESDAY,AUGUST9
Preschool Storytime :
Every Tuesday at 11 am featuring stories,
craft and songs at PavilionPublic Library, 5WoodrowDr., Pavilion.
LCCP's GRACE'SKITCHEN:
A FREE dinner everyTuesday evening,
5-6:30pmat theMasonicCommunityCenter on12BankSt. Plenty
of parking. Takeout &delivery are available. Formore info. contact
SelbyDavisat585-738-8882or
GRACE'SCLOSET:Aclothinggiveawayprogram
RoyUnitedMethodistChurch,10TrigonPark,LeRoy,9:30amto11:30
ameveryThursday.Wehave clothing for all ages. Weare inneedof
boy's clothing sizes 0-3T. Donations canbedroppedoff at thehouse
next to the church. Pleaseput all bags INSIDEon thebackporch. NO
ELECTRONICS, COMPUTERS,DISHES,etc.
OpenTuesdays5-6:30pm.
Anyquestions call theoffice768-8980.
"Field Day"program for grades K-2 at theWoodwardMemorial
Library on Tuesday, August 9 from 1-2 p.m. Come play classic
outdoorgames likered light/green light,sackraces,hulahoopand
more!Ledby:SamanthaBortle. Registration isrequired! Call768-
WEDNESDAY,AUGUST10
The Senior Citizens of Le Roy and Stafford
WednesdayofthemonthfromMarchthroughDecemberfordinner
andaplannedprogram. Wemeet in theKnightsofColumbusHall
behind Save-A-Lot onWest Main Street. Each person attending
bringsagenerousdish topassorpays$4.00each foranicebuffet
meal and social. Bring your own place setting and beverage.
Coffee, teaanddessert areprovided. Dinner is servedat 6:00pm
followed by a program. Please join us for an enjoyable evening.
Any questions, please contact Judy Ridley, Director@ 768-2001,
TheAugustLeRoyTown&CountryGardenClub
thegardensatSara'sGardenCenteronEastAvenue inBrockportat
6:00pm. Contact JulesFeltesat703-0087 formore information.
WoodwardMemorial Library Board of Trustees
Familypuppetshow"TheTortoiseandtheHare"
by Omnipresent Puppet Theater at theWoodward Memorial
Library from 6:30 to 7:15 p.m. All ages welcome! Registration
THURSDAY,AUGUST11
Town of LeRoy BoardMeeting,
7 pm at the Town Hall Board
FRIDAY,AUGUST12
Penuel Christian Fellowship,
One Step to Freedom addictions
ministry, a Christ CenteredAddictions program, aweeklymeeting
every Fridayat 7pm. Call theChurch formore informationat 768-
PenuelChristianFellowship
isorganizingayoungadult fellow-
ship andBible study. Ages: 12 andup, Time: Fridays from7-9pm,
Study: the book of Romans (a 16week course), taught by Josiah
Gariboldi.Place: 7115WestMainStreet.
SATURDAY,AUGUST13
VeteransOnlySocialClub -
GeneseeVeteransSupportNetwork
announcesanewmeeting locationatScooter'sFamilyRestaurant,
3711WestMain Street Road, Batavia, NY - for the once amonth
VeteransOnlySocial Club.Meetingsareheld the secondSaturday
of eachmonth from 7:00 to 8:30 PM. Veterans of all eras are in-
vited to attend. GVSN is located at 3837WestMain Street Road,
Batavia, NY. For more information, contact GVSN, PO Box 541,
UPCOMINGEVENTS
CommunityCalendarSubmissions shouldbe sent to:
STAFFORD ~ Geoffrey A. Briggs
died Thursday, July 28, at the
Genesee County Nursing Home in
Batavia. In lieu of flowers, memori-
als may be made to the Algonquin
CampershipFund, RCAF, 500East
Ave., Rochester, NY 14607.
LEROY ~ Brian W. Niccloy, age
77, of West Avenue, passed away
Thursdaymorning (July28,2016)at
UnitedMemorial Medical Center in
Batavia. In lieuof flowers,memorials
are suggested to Strong Ties, c/o
University of Rochester, Office of
Gifts&DonorRecords,300E.River
Rd., PO Box 270032, Rochester,