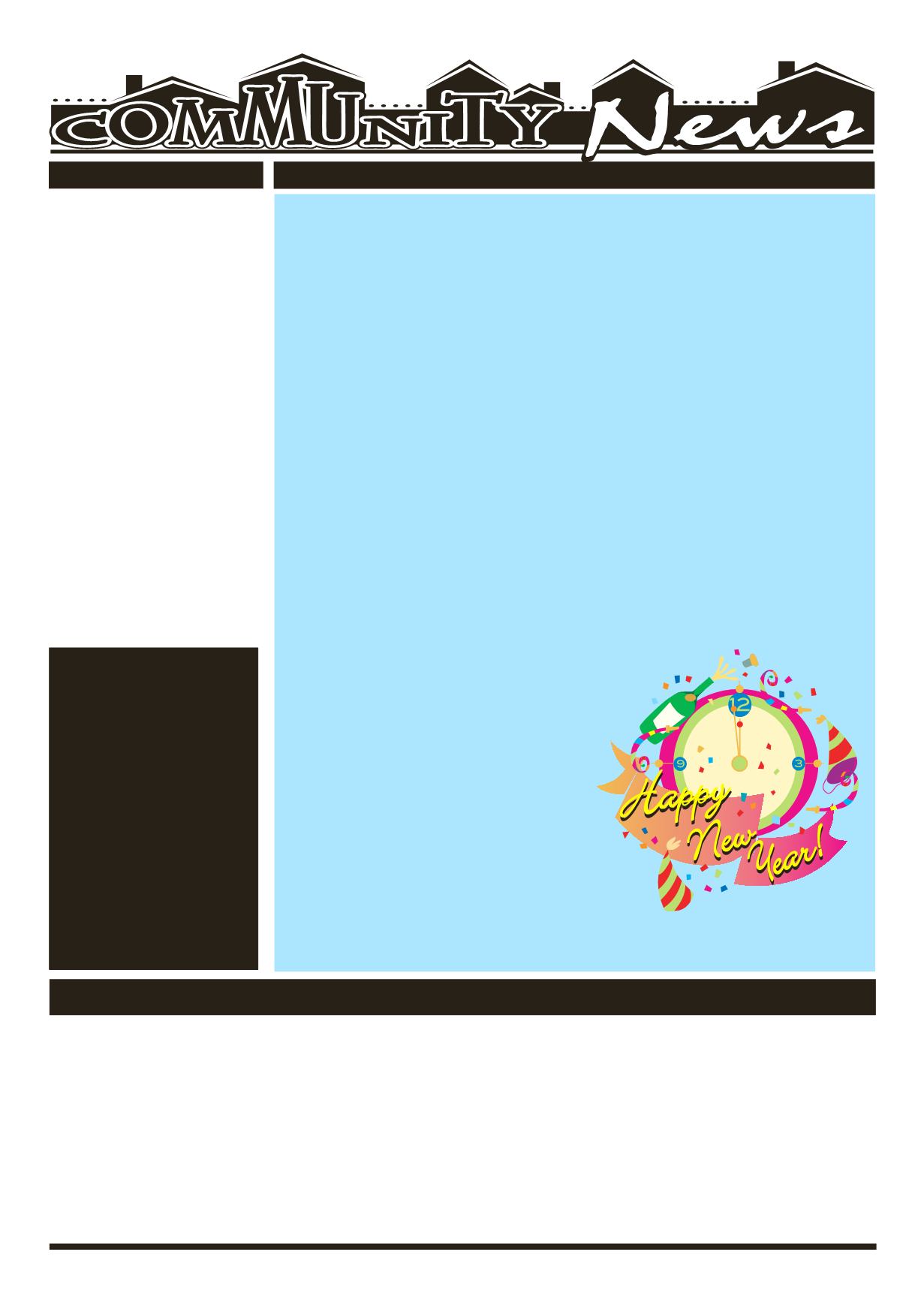 LEROYPENNYSAVER&NEWS -DECEMBER 27, 2015
All GeneseeCounty residents, 60andolder, can takepart in thisweek'sactivitiesat theBataviaSenior Center, 2BankSt., Batavia. Formore information, call 343-1611.
SENIORCITIZENSACTIVITIES (December 28th - January 1st)
WEEKLYEVENTS
OBITUARIES
ArthritisExercise
is scheduled tobeginat 9:30a.m.;
Bridge
is scheduled tobeginat 11:00a.m.
LineDancing
is scheduled tobeginat 9:45a.m.;
Cribbage
is scheduled tobeginat 1:00p.m.
Quilters
is scheduled tobeginat 9:00a.m.;
Euchre
is scheduled tobeginat 1:00p.m.
Cribbage
isscheduled tobeginat1:00p.m.;
Bridge
isscheduled tobeginat1:00p.m.
NewYear'sDayHoliday -SeniorCenterClosed
SUNDAY,DECEMBER27
Konnect Youth Group at Living Waters Church,
St. LeRoy. Sundays from6:30 to8:30pm for ages 12-18. "Bring
Downall theWalls! ConnectwithGodandConnectwithothers."
For more information, check us out online at: livingwatersleroy.
org/konnect-youth-ministry/
MONDAY,DECEMBER28
TOPS (TakeOffPoundsSensibly)
the LeRoy Presbyterian Church, corner of Clay &Main Streets.
Doors open at 6:00 pm and meeting is from 6:30-7:15 pm.
Visitorsarealwayswelcome. Call 585-768-7103 formore infor-
TUESDAY,DECEMBER29
Preschool Storytime:
EveryTuesdayat 11am featuring stories,
craftandsongsatPavilionPublicLibrary,5WoodrowDr.,Pavilion.
LCCP'sGRACE'SKITCHEN:
CLOSEDDEC.22nd.RE-OPENDec.29th.
A FREE dinner everyTuesday evening, 5-6:30 pm at theMasonic
Community Center on 12 Bank St. Plenty of parking. Takeout &
delivery are available. Formore info. contact SelbyDavis at 585-
GRACE'SCLOSET:Aclothinggiveawayprogram
LeRoyUnitedMethodistChurch,10TrigonPark,LeRoy,9:30am to
11:30ameveryThursday.Wehave clothing for all ages. Weneed
beddingofallkindsespeciallyblankets.Donationscanbedropped
off at thehousenext to the church. Pleaseput all bags INSIDE on
thebackporch. NOELECTRONICS, COMPUTERS,DISHES, etc.
Open
Tuesdays5-6:30pm.
Anyquestions call theoffice768-8980.
AXISStudentMinistryat LivingWaters Church
LeRoy.Tuesdays from6:30 to8:30p.m. for 7th to12thgrade. Our
goal is for teens' lives tobe impacted, and radically changed. For
more information, check us out at:
OrigamiprogramattheWoodwardMemorialLibrary
to2p.m. forchildren ingrades2through6. Learntheartoforigami
from Julie Lambert Coleman. Make dogs, cats, rocket shops and
more! Registration is required. Call 768-8300or register online
WEDNESDAY,DECEMBER30
Wednesdays from 6:30 pm until 8:00 pm -
Pavilionwill behaving their youthprogram. titled"JOY CLUB". It
is open to children in thepre-school ageup to6thgrade. Itwill
beheldat the church10956S. LakeRoad, Rte. 19. It isa fun time
ofBiblestories,game time, refreshmentsandmemorywork.Call
for further information 585-584-3179 ext. 12. Leave your name
andnumber and the secretarywill call youback.
THURSDAY,DECEMBER31
FRIDAY, JANUARY1
Penuel ChristianFellowship,
OneStep toFreedomaddictions
ministry,aChristCenteredAddictionsprogram,aweeklymeeting
every Friday at 7 pm. Call the Church for more information at
SATURDAY, JANUARY2
UPCOMINGEVENTS
CommunityCalendar Submissions shouldbe sent to:
Le Roy
Pennysaver
BYRON - Ralph S. Cintorino, 91 of
Byron and formerly of Batavia, passed
away peacefully on Friday (Decem-
ber 11, 2015) at Crossroads House.
Memorial contributions may be made
to Crossroads House, 11 Liberty St.,
BYRON -KarenL.Gagnon,71,ofByron
passed away Monday, December 14,
2015) at theBataviaHealthCareCen-
ter, inBatavia.Thosewishingmaydirect
memorial contributions to the familyor to
VolunteersForAnimals,P.O.Box1621,
BERGEN - Clara M. Crowell, 79, of
Bergen, NY, an assembler at Bausch
&Lomb inRochester prior toher retire-
ment died Friday, December 18, 2015
atUnityHealthSystem, inRochester. In
lieuof flowers,memorialsmaybemade
to Lupis Foundation of America, P.O.
Box 418629, Boston, MA02241-8629