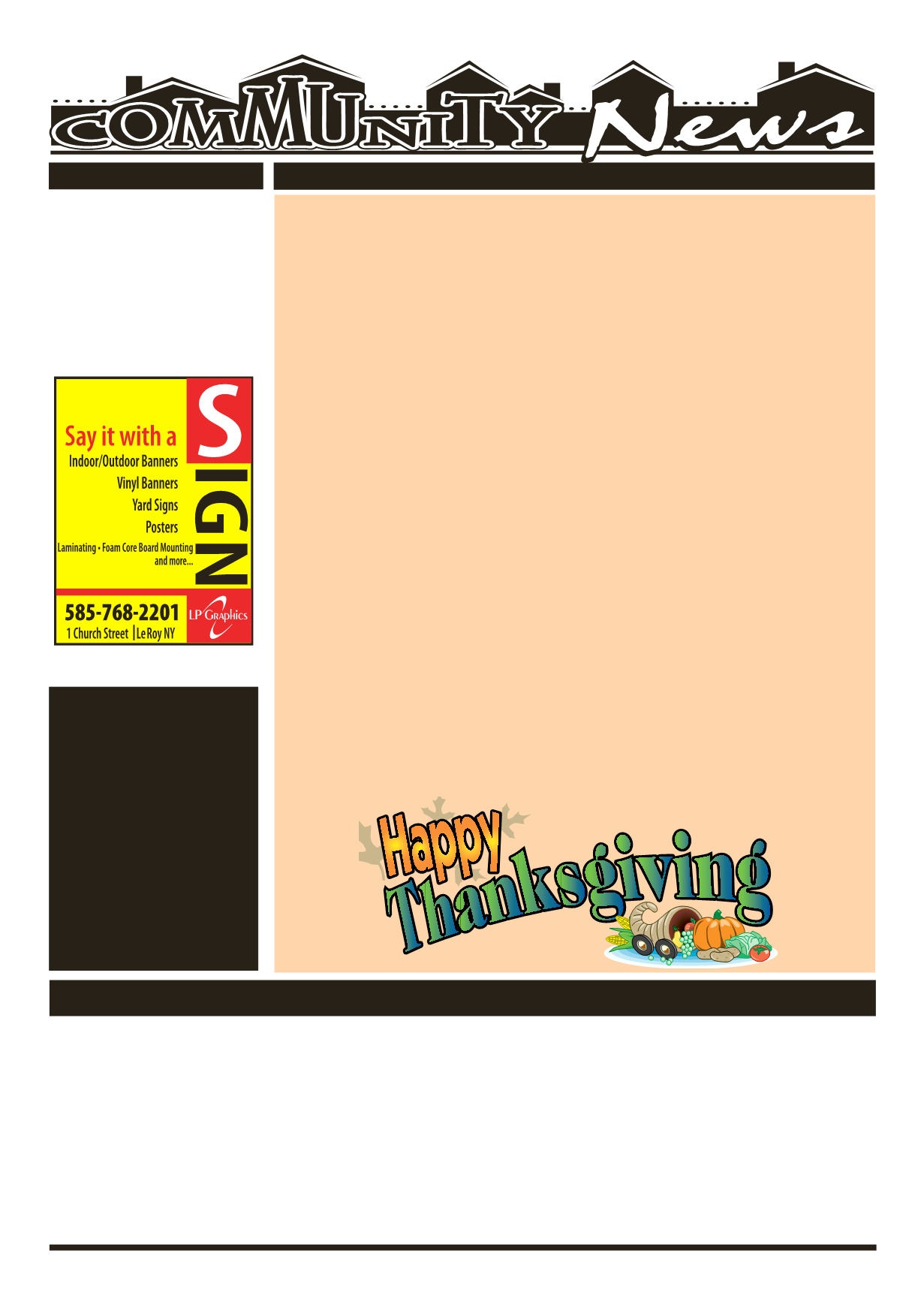 LE ROY PENNYSAVER & NEWS - NOVEMBER 29, 2015
All Genesee County residents, 60 and older, can take part in this week's activities at the Batavia Senior Center, 2 Bank St., Batavia. For more information, call 343-1611.
SENIOR CITIZENS ACTIVITIES (November 30th - December 4th)
WEEKLY EVENTS
OBITUARIES
Monday:
Arthritis Exercise
is scheduled to begin at 9:30 a.m.;
Bridge
is scheduled to begin at 11:00 a.m.;
Office for the Aging
Advisory Council Meeting
is scheduled to begin at 1:00 p.m.
Tuesday:
Cribbage
is scheduled to begin at 1:00 p.m.
Wednesday:
Quilters
is scheduled to begin at 9:00 a.m.;
Euchre
is scheduled to begin at 1:00 p.m.
Thursday:
Tai Chi
is scheduled to begin at 9:30 a.m. ;
Gentle Fitness
is scheduled to begin at 10:30 a.m.;
Cribbage
is scheduled to
begin at 1:00 p.m.;
Bridge
is scheduled to begin at 1:00 p.m.
Friday:
Art Class and Line Dancing
is scheduled to begin at 10:00 a.m.;
Euchre
is scheduled to begin at 1:00 p.m.;
Art Gallery
Opening
is scheduled to begin at 5:00 p.m.
SUNDAY, NOVEMBER 29
Konnect Youth Group at Living Waters Church,
on Main St.
LeRoy. Sundays from 6:30 to 8:30 pm for ages 12-18. "Bring Down
all the Walls! Connect with God and Connect with others." For more
information, check us out online at: livingwatersleroy.org/kon-
nect-youth-ministry/
MONDAY, NOVEMBER 30
TOPS (Take Off Pounds Sensibly)
meets Monday evenings at
the LeRoy Presbyterian Church, corner of Clay & Main Streets. Doors
open at 6:00 pm and meeting is from 6:30-7:15 pm. Visitors are al-
ways welcome. Call 585-768-7103 for more information.
TUESDAY, DECEMBER 1
Preschool Storytime:
Every Tuesday at 11 am featuring stories,
craft and songs at Pavilion Public Library, 5 Woodrow Dr., Pavilion.
For info: 584-8843.
LCCP's GRACE'S KITCHEN:
A FREE dinner every Tuesday evening,
5-6:30 pm at the Masonic Community Center on 12 Bank St. Plenty of
parking.Takeout & delivery are available. For more info. contact Selby
Davis at 585-738-8882 or
selbydavis1@gmail.com
GRACE'S CLOSET: A clothing giveaway program
sponsored by Le
Roy United Methodist Church, 10Trigon Park, Le Roy, 9:30 am to 11:30
am everyThursday.We have clothing for all ages. We need bedding of
all kinds especially blankets. Donations can be dropped off at the house
next to the church. Please put all bags INSIDE on the back porch. NO
ELECTRONICS, COMPUTERS,DISHES, etc.
Open Tuesdays 5-6:30 pm.
Any questions call the office 768-8980.
AXIS Student Ministry at Living Waters Church
, on Main St.
LeRoy. Tuesdays from 6:30 to 8:30 p.m. for 7th to 12th grade. Our
goal is for teens' lives to be impacted, and radically changed. For
more information, check us out at:
http://livingwatersleroy.org/
axis-student-ministry/
WEDNESDAY, DECEMBER 2
Wednesdays from 6:30 pm until 8:00 pm -
First Baptist Pavilion
will be having their youth program. titled "JOY CLUB". It is open to
children in the pre-school age up to 6th grade. It will be held at the
church 10956 S. Lake Road, Rte. 19. It is a fun time of Bible stories,
game time, refreshments and memory work. Call for further infor-
mation 585-584-3179 ext. 12. Leave your name and number and the
secretary will call you back.
THURSDAY, DECEMBER 3
Movie Discussion of The Family Stone at the Woodward
Memorial Library
at 6:30 p.m. Watch this film at home (available
for loan atWML) and then join in a staff-led discussion. Registration
required! Call 768-8300 or register online at
www.woodwardme
-
moriallibrary.org.
FRIDAY, DECEMBER 4
Penuel Christian Fellowship,
One Step to Freedom addictions
ministry, a Christ Centered Addictions program, a weekly meeting
every Friday at 7 pm. Call the Church for more information at 768-
6901 or 594-9575.
SATURDAY, DECEMBER 5
Winterfest Activities at theWoodwardMemorial Library
from
11 a.m. to 4 p.m. for the whole family. Make an ornament to take
home. Make a paper snow globe or a bowtie pasta wreath. Decorate
a sugar cookie. Take your picture at our photo board. Registration is
NOT required.
UPCOMING EVENTS
TheLeRoyTown&CountryGardenClub
willbeholding it'sannual
Christmas Party on December 9th at the home of Jules Feltes. In lieu
of a gift exchange an optional monetary donation will be taken for
the Back Pack Club. Contact Ann Walters at 737-9481 or 768-8130
for more information
Community Calendar Submissions should be sent to:
calendar@leroyny.com
Le Roy
Pennysaver
DEADLINE
For
DISPLAY ADS
Is
12 Noon
On
Wednesdays
Stafford ~ Joseph C. O'Geen, age
75, of Main Road, passed away
Sunday evening (November 22,
2015) at Strong Memorial Hospital
in the presence of his loving family.
Memorial contributions are suggest-
ed to the Leukemia Society, 4043
Maple Road, Suite 105, Amherst,
N.Y. 14226
lpgraphics.net