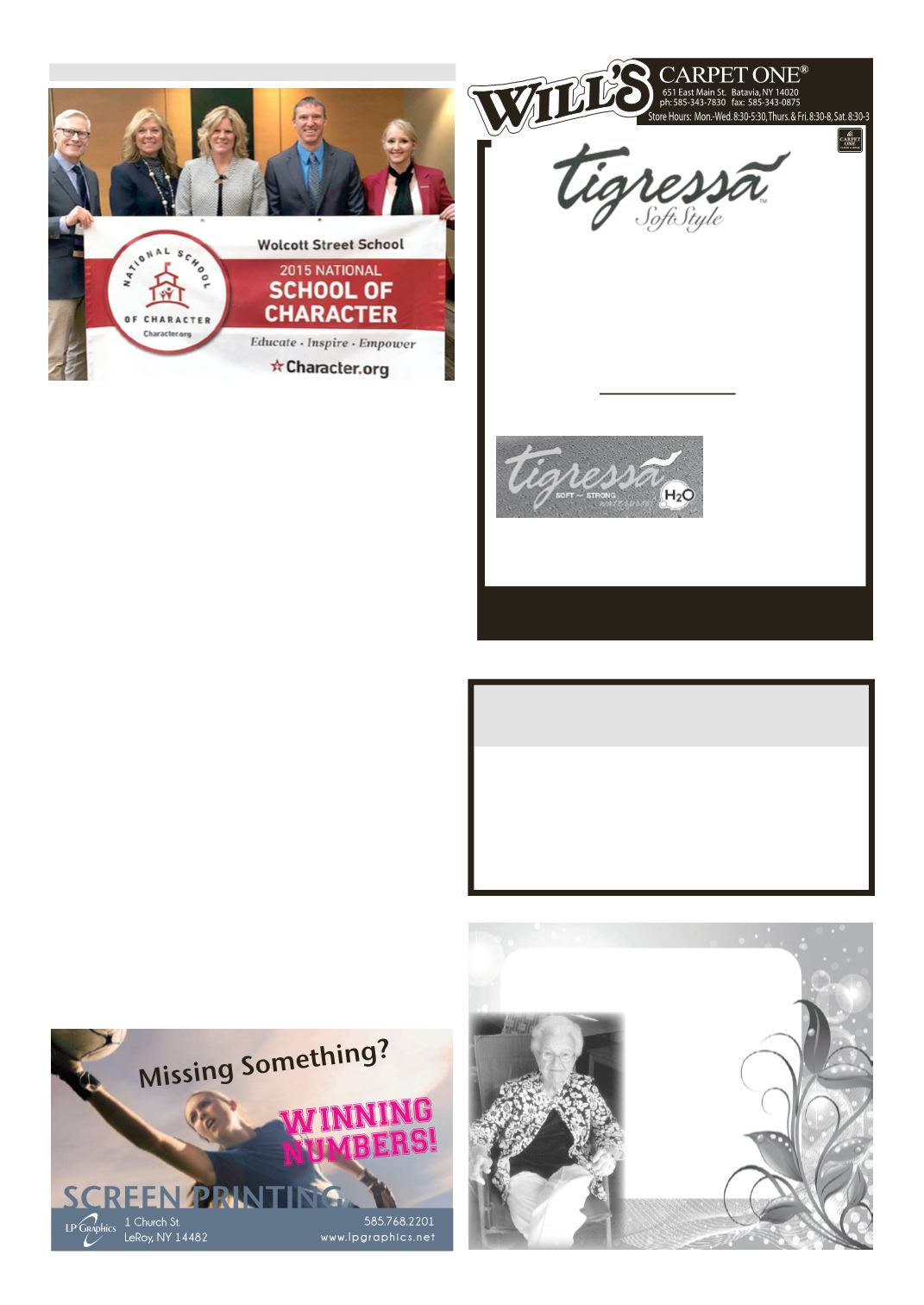 LEROYPENNYSAVER&NEWS -NOVEMBER 8, 2015
TheONE store for your perfect floor.
•FinancingAvailableToQualifiedBuyers
•Professional InstallationAvailable
FLOOR
&HOME
EntireLineOnSale
UpTo
50%
OFF
ALLWORKMANSHIP GUARANTEED • INSURED
297-9097 • 768-7737
• InteriorPainting
• Plaster/LathRestoration
•Drywall&Drywall Repair
•TextureRemoval
• Floors Stripped
&Refinished
•OldCeilings&Walls
MadeLikeNew!
MikeDarby'sPatch&Paint
Happy
90
th
Birthday
We
Love
You
byKimMCox
Superintendent of Schools
Becky Sipos, President and
Character.org
"Whenever I visit a school of
character, Iamstruckby the joy I
encounter; somecall it themagic
of a school of character."
couldn'tbeabetterdescriptionof
theWolcott Street School!
This past week we celebrated
the Wolcott Street School as
a recipient of the prestigious
"National School of Character"
award. What a great day it was.
We truly appreciated the entire
community joining with us to
recognizeandhonor thestaffand
students of this great school.
Youmight bewondering, how
does a school get selected for
this award? There were only 64
schoolsnation-wide thatachieved
theNational School ofCharacter
DistinctionAward. Schools that
won this award had three com-
monareasofsuccess.Theywere;
•Overcoming thechallengesof
ahigh levelofpovertyandseeing
•Overcoming thechallengesof
increasingdiversityandworking
• Providing leadership oppor-
tunities for adults and students
Therewas also clear evidence
that these schools had dynamic
and creative administrative lead-
ership. I'm proud to say that the
Le Roy Central School District
WolcottStreetSchoolexemplifies
excellence ineachof theseareas.
TheWolcottStreetSchoolwas
selected most notability for the
work they have done to build a
truly collaborative team, as well
as how they share leadership in
innovative ways, even with the
youngest students. Just ask them!
"Our teachers show lots of re-
spect forkidshere.They letusask
questions and give us leadership
jobs every day."
of Education and the entire com-
munity, Iwould likecongratulate
Mrs. CarolMessura, Elementary
Principal, Mr. Jon Wilson, As-
sistantElementaryPrincipal, and
Mrs. Joann Hyde, Elementary
School Counselor, whowere in-
strumental in leading the school
to this to this great honor. Our
community is fortunate to have
Just a reminder: OurCommu-
nity Budget Forum is Tuesday,
November 10th at 7:00 in the Jr.
Sr.HighSchoolCafeteria. Hope