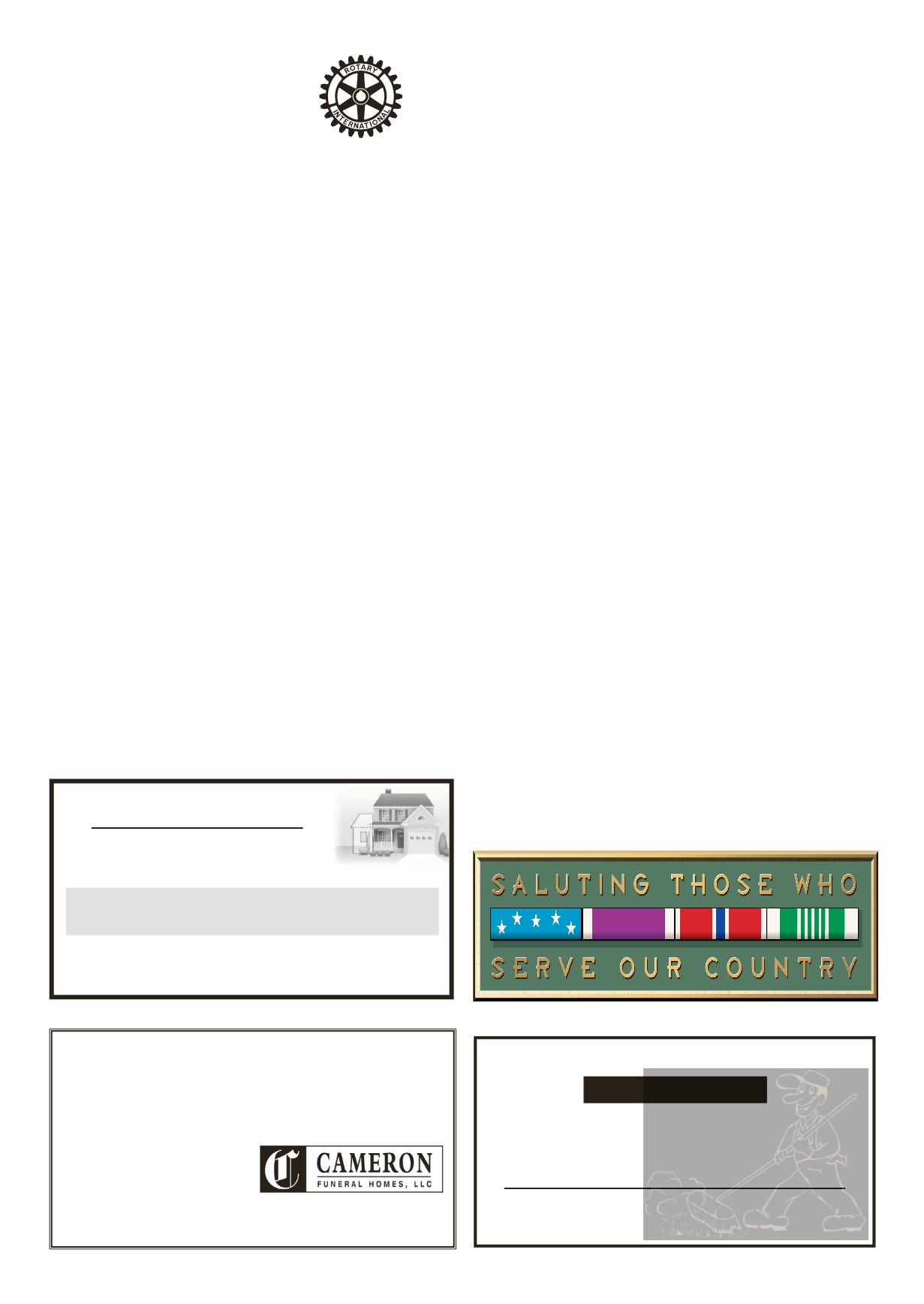 LEROYPENNYSAVER&NEWS -NOVEMBER 8, 2015
HelpingFamiliesCelebrateaLifeLived
"Our FamilyServingYours Since 1907"
Trusted•Honest •Proven
Cameron, Brady&Steuber
FuneralHome
111Wolcott Street
LeRoy,NY14482
(585) 768-6800 •
Likeus onFacebook
"CompleteCarpentry Service"
M
ILLER
B
ROTHERS
B
UILDERS
CustomHomes •Remodeling•Additions
Roofing• Siding
DANIEL
MICHAEL
CleaningService
•Carpet &UpholsteryCleaning
•Spot Cleaning&Odor Removal
•Tile&WoodFloor Cleaning&Waxing
•Complete Janitorial Services
Notes 10-28-2015
It was a stormy autumn day
as we gathered for our weekly
meetingatTheGreensofLeRoy.
JamieEnglerth&PaigeBiggins,
seniors atLeRoyCentral School
joined us for lunch today. After
thePledge,Prayer, andFourWay
Test, we began ourmeeting.
There were many announce-
ments today. November6th is the
FoundationDinneratSalvatore's,
November13th isRotaryNightat
Batavia Downs, November 15th
is thePancakeBreakfast,LeRoy
Rotary Holiday Party is January
2nd, andArea14Party isJanuary
9thatTerryHills. PresidentTony
reminded thegroupof ourEvery
RotarianEveryYearprogramand
to please donate to The Rotary
MarthaBailey thengaveabrief
overview of Rotary's project
"BucketsofHope".Rotarywillbe
collecting items(cleaningsupplies
& canned goods) for the victims
of theflooding inSouthCarolina.
Rotarywillbeacceptingdonations
onThursday,November5th from
President Tony then comment-
edonwhat awonderfulweekend
someof theClubmembershad in
Ellicottvilleat the20157090Dis-
trict Conference. President Tony
thenpresentedSamVaggwithan
award fromDistrict 7090 for her
efforts in coordinating the event.
TheRotaryClub of LeRoy also
received district recognition for
having the highest number of
attendees for the conference in
themid size club category.
Chris Biviano, Ben Deragon,
Tom Cox, Lauren Humphrey,
Christie LoTempio, and Marcia
MacKenziewereall calledon for
We then began a lengthy fine
session,asmany trinketswereac-
quired inEllicottville formissing
Rotarians. Chris Biviano, Tracy
Ford,MaryMargaretRipley, and
TomMcGinnis all playedRotary
Trivia for Rotary pins& playing
cards (andasmall fee). President
Tony was certain he was going
to stump Anil Sawhney with
trivia regarding the7090District
Governor of 1991, but Anil was
too sharp, and proceeded to give
a short biography of the man.
ChristieLoTempiowas fined for
apictureof her atRelay forLife.
RandyVinkpaidup for apicture
of him in Ellicottville. Christine
Gephart & Lauren Humphrey
paid up for a wonderful week-
end at the District Conference
in Ellicottville. Michigan alum
RobMurray then gave a painful
recount of the Michigan St vs.
Michigan football game, and to
add insult to injury was fined.
Past President Tracy Ford then
called on the services of Past
President Sam Vagg (this is the
protocol to fine the current pres-
ident). Tracy Ford & SamVagg
both attended the District Gala
Dinner inEllicottville, andPres-
ident Tony could not make that
event. Tracy brought President
Tonysome favors from theevent,
inwhich the themewas"Magic".
PresidentTonygladlypaidup for
Christine Gephart presented our
program today. Sam reported
that after speaking to District
Officials, that we have one of
the strongest youth programs in
the district. Sam&KimCox are
the advisors for theLeRoyHigh
School Interact Program, and
Sam&Christineare theadvisors
for the Wolcott St School. Kim
Cox gave a detailed explanation
on the current & future projects
Interact has raised funds &
products forHonorFlightRoches-
ter, AmericanHeart Association,
Le Roy Backpack Program, and
many other local organizations.
The Interact Program also orga-
nizes roller skatingparties for the
elementary school. Interact has
alsogave local studentsanoppor-
tunity toparticipate inan interna-
tional leadershipprogramheld in
Hamilton, Ontario, Canada.
Kimalsospokeaboutourefforts
to increase our presence in the
school&community.Kimcurrent-
ly does a presentation to Le Roy
seniors on our club, Interact, and
scholarship opportunities avail-
able. ChristineGephart thengave
a detailed overview of our Early-
Act Program. Christine reported
that our main focus is to promote
positive youthdevelopment.
tism, Pediatric Cancer, Healthy
Choices, and many more. We
have alsomade blankets for vet-
erans, collected warm clothing
forGrace'sCloset, andcollected
food for the Food Pantry. Both
programs have been well at-
tended, and seem to be growing.
The three then thanked the Club
for continuing to support these
Please like "Rotary Club of
LeRotary
Notes