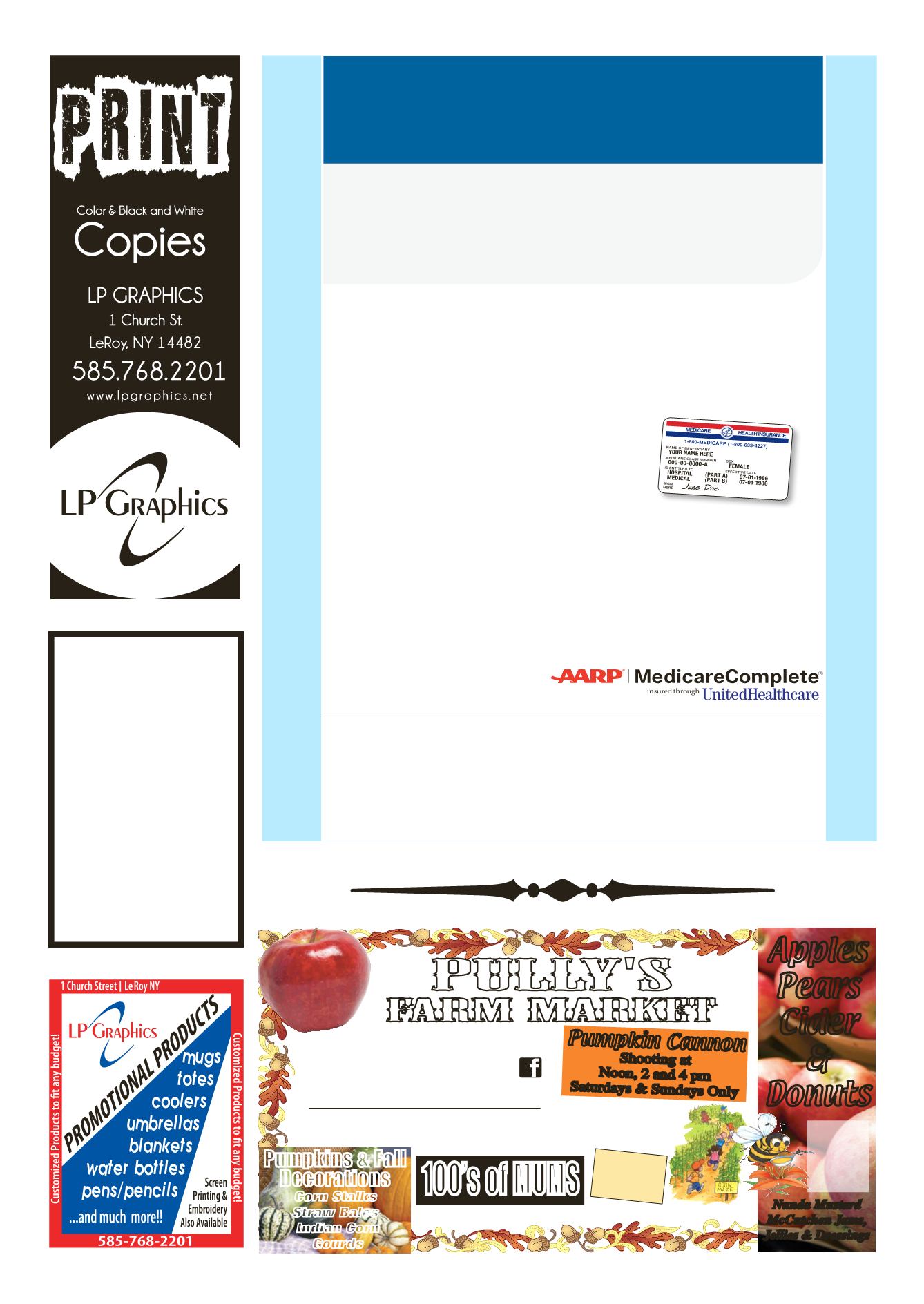 LEROYPENNYSAVER&NEWS -OCTOBER 11, 2015
10/12/2015, 10:00AM
10/20/2015, 10:00AM
10/27/2015, 10:00AM
If youhave this card,
call UnitedHealthcare today.
If you'renew toMedicare, callme to learn
more about plans in your area, RSVP for a
meetingor schedule ahome visit.
Hello
Discover UnitedHealthcare
®
advantages.
AtUnitedHealthcare,we surround youwithnot only the coverage youmay need,but
the peoplewho canhelp you live a healthier life.So you get help understandinghow to
get themost from yourUnitedHealthcareMedicareAdvantage plan.
NEIGHBOR
Come to aneighborhoodmeeting to learnmore about your
UnitedHealthcareMedicareAdvantageplanoptions.
TimothyHoag
716-239-0495,
711
MyUHCagent.com/timothy.hoag
A sales personwill be presentwith information and applications.For accommodationof persons
with special needs at salesmeetings, call 716-239-0495,TTY711.
Plans are insured throughUnitedHealthcare InsuranceCompany or one of its affiliated
companies, aMedicareAdvantage organizationwith aMedicare contract.Enrollment in the plan
depends on the plan's contract renewal withMedicare.AARP isn't an insurer,doesn't recommend
products, and encourages you to evaluate your needs.AARPdoes not employ or endorse agents,
Y0066_140908_171832Accepted
8160LakeRd. (Rt. 19) LeRoy, NY
768-2280 • 704-1157
Hours:Mon.-Sat. 9-6, Sunday9-5
pullysfarmmarket.com
Corn Stalks
StrawBales
Indian Corn
Gourds
DuckRacesEVERYDAY! CornBox! BirdSeed
CornMaze
OPEN
NundaMustard
McCutchen Jams,
Jellies&Dressings
local news section of the
THANKS
FORYOUR
SUPPORT!