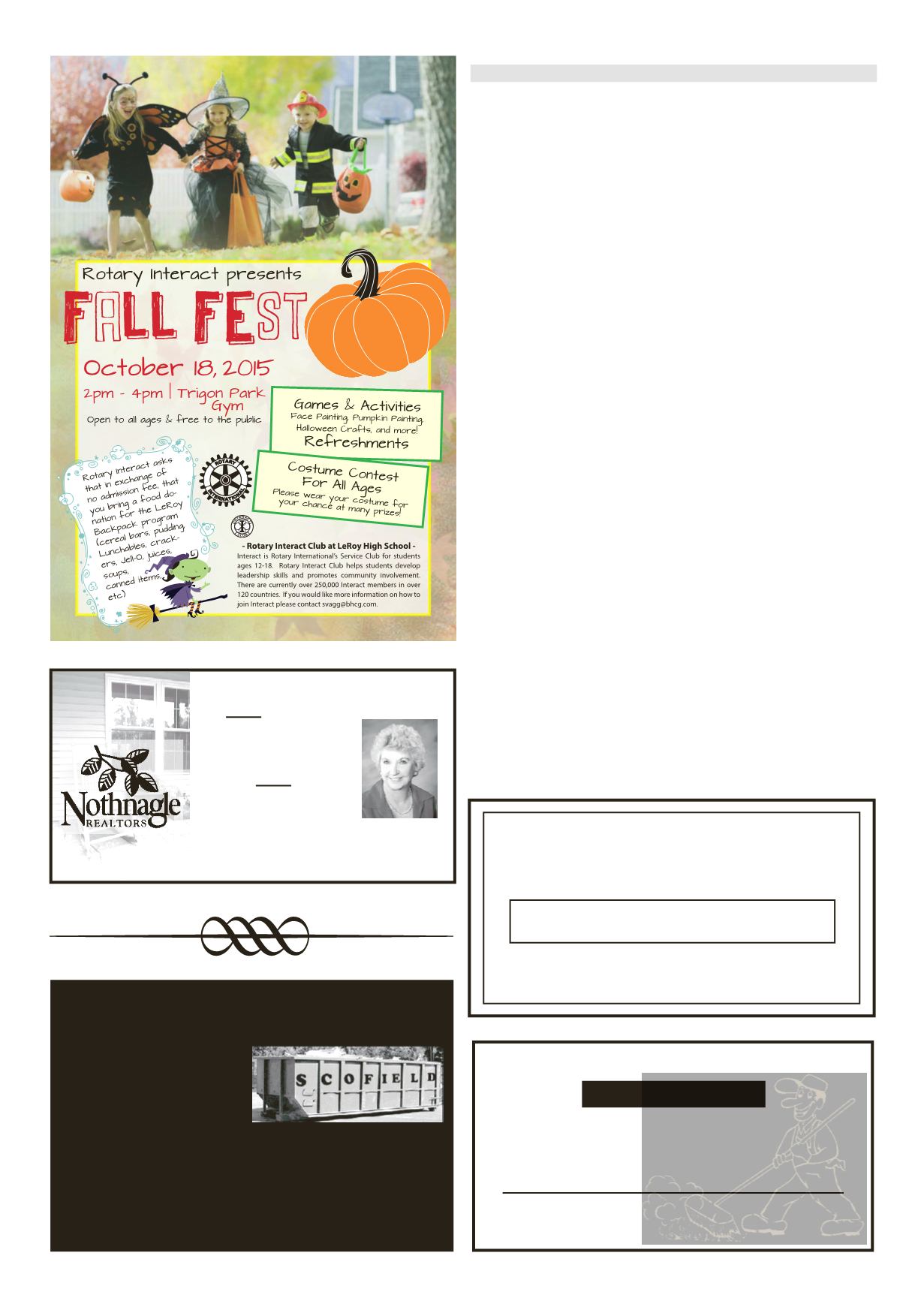 LEROYPENNYSAVER&NEWS -OCTOBER 11, 2015
15, 17, 20, 25, 30,
and 40 cu. yd.
CONTAINERS
ScofieldRolloff •343-8383
NobodyBeatsOur Prices!
Plumbing • Heating
Installation&Repair Service
For All Residential &Commercial Work
CleaningService
•Carpet &UpholsteryCleaning
•Spot Cleaning&Odor Removal
•Tile&WoodFloor Cleaning&Waxing
•Complete Janitorial Services
byKimCox, Superintendent
LeRoyCentral Schools
What great day for a Walk to
School!OnWednesday,October
7th, hundreds of students gath-
ered at the Knights of Colum-
Walk to
School Day
snack and were reminded of the
safety rulesofwalking to school.
TheDistrictWellnessCommittee
sponsors this event each year to
raise the awareness that walking
to school is a great way to stay
healthy and energized for agreat
TheWellnessCommitteewould
like to express their thanks and
gratitude to themany businesses
and individuals that donated
items to make the "Walk to
SchoolDay" a great success:
•ChrisHaywardand theLeRoy
• LeRoy Jr./Sr. HighSchool
Education, Administrative
The annual walk to school
day is just one way the Le Roy
Central School District connects
to, and celebrates with, one of
America's Best Communities
- Le Roy, NY!
is our goal and responsibility to
ensure that our students develop
strongacademic skills, aswell as
meet the Graduation Outcomes,
Accountable, Responsi-
ble, EffectiveCommunicators,
Community-minded, Critical
Thinkers,able toPersevereand
EmbraceDiversity.
On Wednesday, October 28,
2015, you will see students and
staff, grades7-12, demonstrating
these attributes as we host our
"Class-Up the Communi-
ty"
service learning day. Teams
of studentswill be out and about
in the community raking leaves,
clearing debris, and making
minor repairs at several public
and private areas of the town
andvillage. If you are inneedof
any work done at your home or
business, please contact Lynda
Lowe, Jr./Sr. High School As-
sistant Principal, at 768-8131 or
are looking formore jobsandare
Batavia
585-343-6750
NOW is theBEST time
toBUYwith the interest rates
at their lowest!
Don't wait
toBUY -
call
LindaBeaumont
for all your real
estateneeds.
LindaBeaumont
Home (585) 768-6315
LicensedReal Estate
Salesperson
Multi-MillionDollar Producer