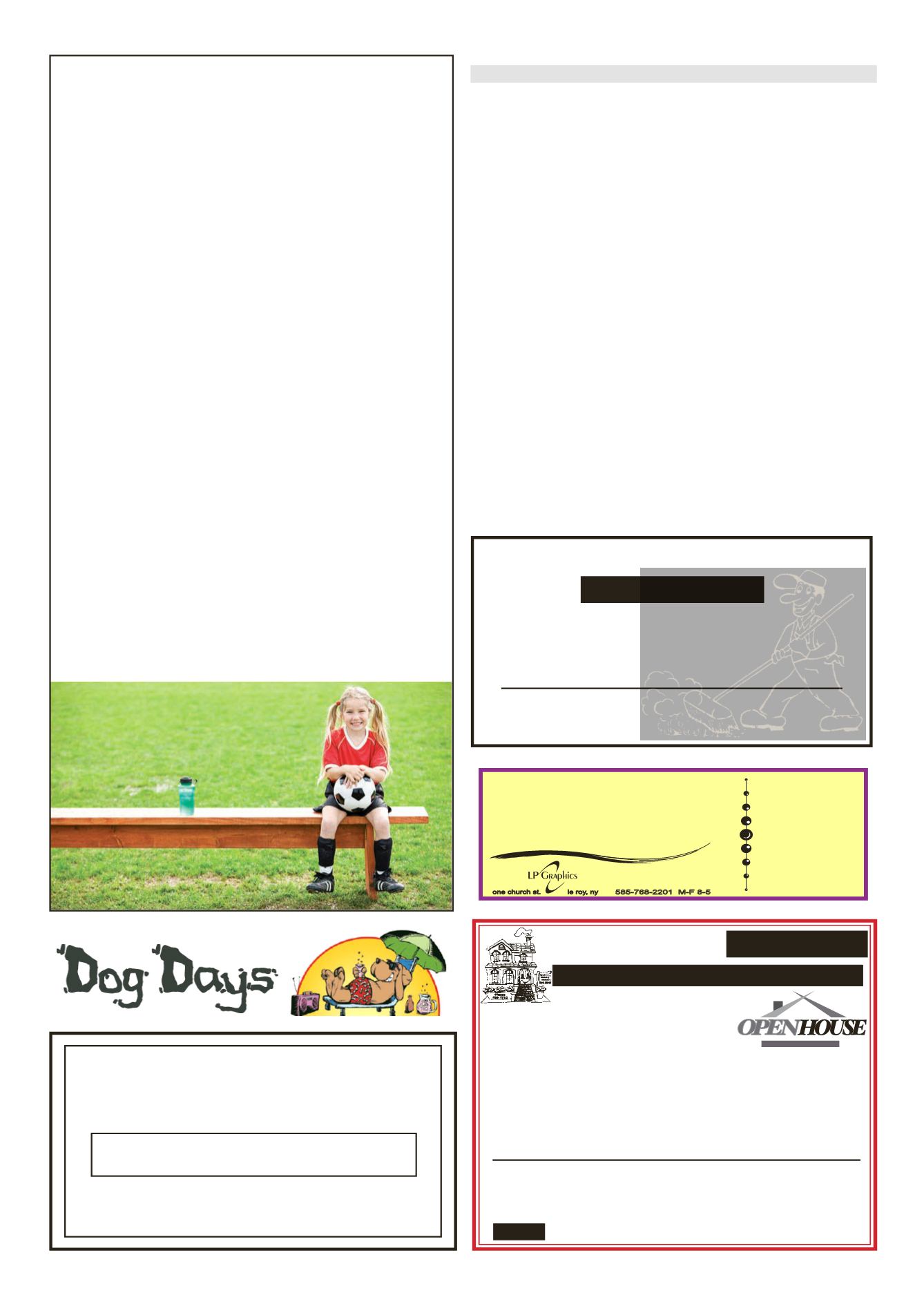 LEROYPENNYSAVER&NEWS -AUGUST16, 2015
Plumbing • Heating
Installation&Repair Service
For All Residential &Commercial Work
CleaningService
•Carpet &UpholsteryCleaning
•Spot Cleaning&Odor Removal
•Tile&WoodFloor Cleaning&Waxing
•Complete Janitorial Services
Sunday,August 16th
2:00-4:00pm
Le Roy - 98 East Main St.
duced to$134,900. Lovely4bedroom,
2 bath Colonial home. Bright living room& dining room
with fireplace & sparkling red oak floors. Real doll house.
LeRoy-25WolcottSt.
-Overlooking theOatkaCreek&beau-
tifullymaintained. New roof, windows& electric. $129,900.
RiderReal EstateNot TheBiggest - Just TheBest!
LYSA2015Registration
FALLSOCCERSKILLSDEVELOPMENTPROGRAM
8/11/15
COST:
There are no uniforms or scheduled games. Cost is kept
to aminimum; $25.00 registration fee till August 20th after
August 20th it will be $30.00 (need time to organize and
determine coaching staff).
AGE:
GradesK thru6 (you do not need to be a LeRoyResident).
DATE/TIME:
Estimating a start date of MondayAugust 31st and ending
October 7th (6 weeks). Monday &Wednesday evenings,
startat6:00p.m. to7:30p.m.,asdaylightpermits.Start times
mayvaryas theseasonprogressesanddaylightdiminishes.
COACHES:
WemaycontractwithRFC/GPSpending thenumberof sign
upsandhave their coaches comeout. The least expensive
way is for someone to volunteer to coach.
LOCATION:
CalvaryBaptistChurchFieldsnear thecornerofWestBergen
SKILLS:
This development program is to promote soccer abilities
againstotherappropriateage/genderplayers. Soccerskills
will beworkedon/developed, to include: Dribbling–control/
speed; Shooting –accuracy/power; and Juggling.
Go toour website to download the registration form:
Print it out, fill it out and send it in to:
LYSA, Box 144, LeRoy, NY14482
Or signupon lineusing the link,
Thank you. Enjoy the rest of the summer. LYSA
If youhavequestionsplease
e-mail them to
Pleaseput insubject line:
"LYSAFall Soccer".
byGreg "Porp"Rogers
Mayor
As you have probably heard,
LeRoy has been recognized, as
one of America's Best Commu-
nities.Muchwork has gone into
this project so far with much
more to be done; the rewards
would leaveasignificantmarkon
ourcommunityforyears tocome.
We are in this competition with
our neighbors fromBergen in a
joint effort. Our Town Supervi-
sor, SteveBarbeauandBergen's
Don Cunningham, along with
Shelley Stein are spearheading
theefforts,withhelp fromLynne
Belluscio, Lauren Humphrey,
Last weekend, the Relay for
LifeEventwas theperfect exam-
ple of what sets our community
apart fromall theothers.Wehave
a strong group of young people
who use physical fitness as the
cornerstone for charity, commu-
nity, and spirit. Thank You to
all who participated in one way
or another, by last count over
$43,000 was raised, great work
TheVillage is looking to have
an ice skatingprogram this year,
wewill beexploringouroptions,
but it is a definite focus in the
Our sidewalk project is near-
ing completion, everyone has
beenveryunderstanding.We are
trying our best. Thanks for your
Summer has gone fast, enjoy
"Good judgment comes from
experience, and experience usu-
ally comes from bad judgment"
Notes From TheMayor's Office
one church st. le roy, ny
one church st. le roy, ny