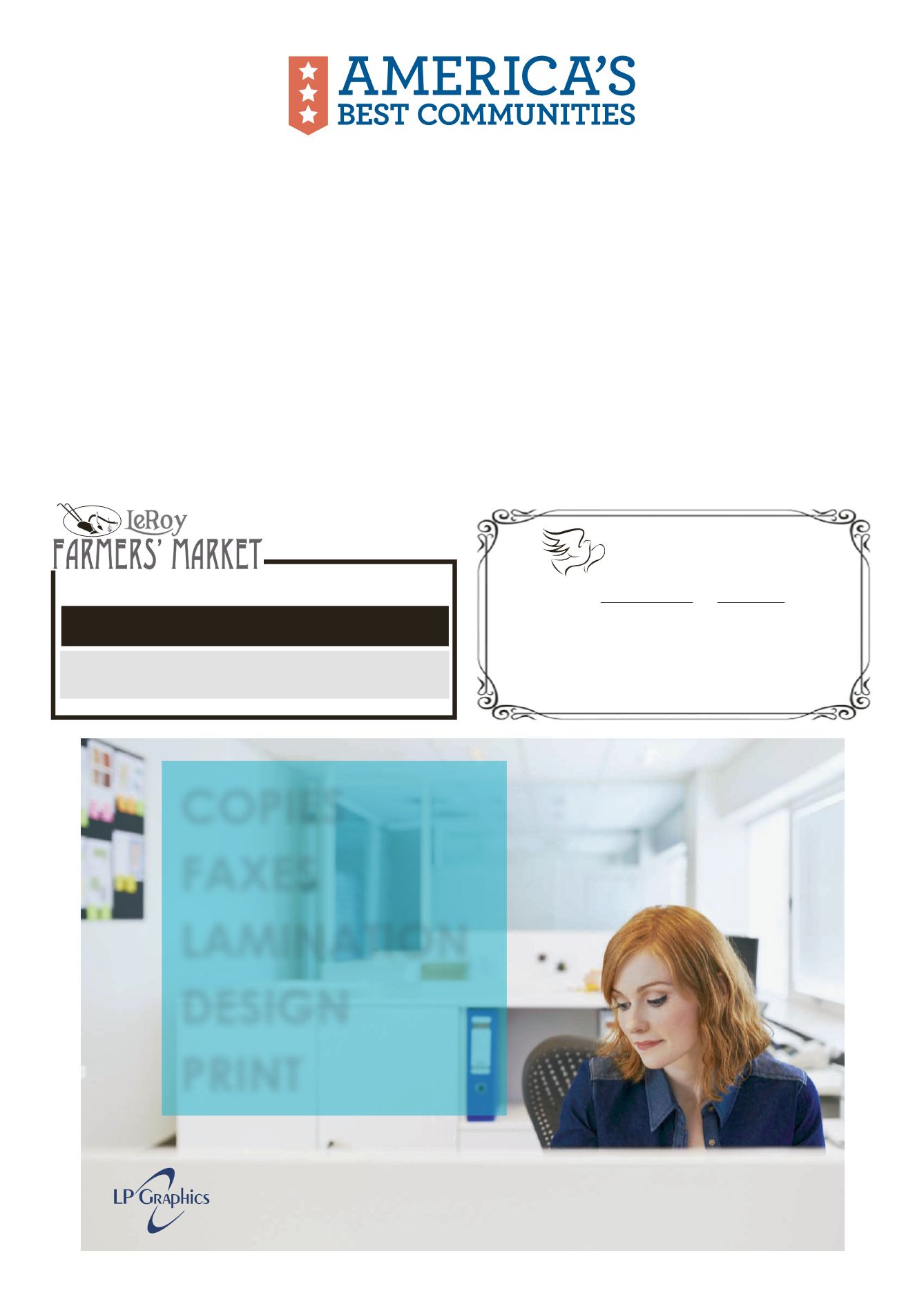 LEROYPENNYSAVER&NEWS -AUGUST16, 2015
Director /Owner
FuneralDirector
F
ALCONE
F
AMILY
Funeral&Cremation Service, Inc.
Director/Owner
"ALOCALFAMILY
CARINGFORLOCALFAMILIES"
LeRoyFarmer'sMarket onFacebook
TRIGON PARK
Saturday, Aug. 22nd
9:00 am-12:30 pm
LOCAL • FRESH•DELICIOUS •NUTRITIOUS
Seasonal Fruits andVegetablesWill BeArrivingWeekly!
August 22nd
performingCeltic and folkmusic.
Jams, jellies, eggs,Yancey'sFancyCheeses, NundaMustards,
OnceAgainNut Butters, baked goods, organic produce, honey,maple syrup
and fresh, locally grown produce.
it to the quarter finals of Amer-
ica's Best Community contest.
There are 49 other communities
that havemade it this far, andon
November6thwehave to submit
an economic development plan.
thechallenge to raiseanaddition-
al $15,000 to hire a professional
consultant toput together acom-
pelling economic development
plan for our community. For
LeRoy and Bergen, that means
thatweneed toshow thatwithout
gas lines and sewers through the
Route19corridor, andbroadband
Internet service throughout our
region, there is littlehope foreco-
nomicdevelopment, both forour
agriculturalcommunityaswellas
our industrial community. And
that means little hope for future
We all know that the economic
future of our communities de-
pendsonagrowing taxbasewhich
in turn improves community
services as well as a quality of
life. And that propelsmain street
revitalization. One thing leads to
Only 15 communities will be
chosen to go to the next step
andhalf of themhave tobe rural
communities. From those 15,
eight will be awarded $100,000
to refine their application. From
the 8, three will be chosen for
$1 million, $2 million, and $3
Whoarewecompetingagainst?
Idaho:Rathdrum, ValleyCounty
Illinois: Carbondale, DeKalb,
Indiana: Angola, Greencastle,
Jasper, Lafayette, La Porte,
Haute, Valparaiso, Wabash,
Minnesota: ChisagoLakesArea
NorthCarolina:MaconCounty
NewYork: Norwich, Livingston
Ohio: Celina, Circleville,
Medina, Portsmouth, Troy,
Wisconsin:Wasuau, Portage
West Virginia: Charlestown,
Fairmont,Huntington, Jackson
1ChurchSt., LeRoy, NY14482
585.768.2201
raphics.net
COPIES
FAXES
LAMINATION
DESIGN
PRINT