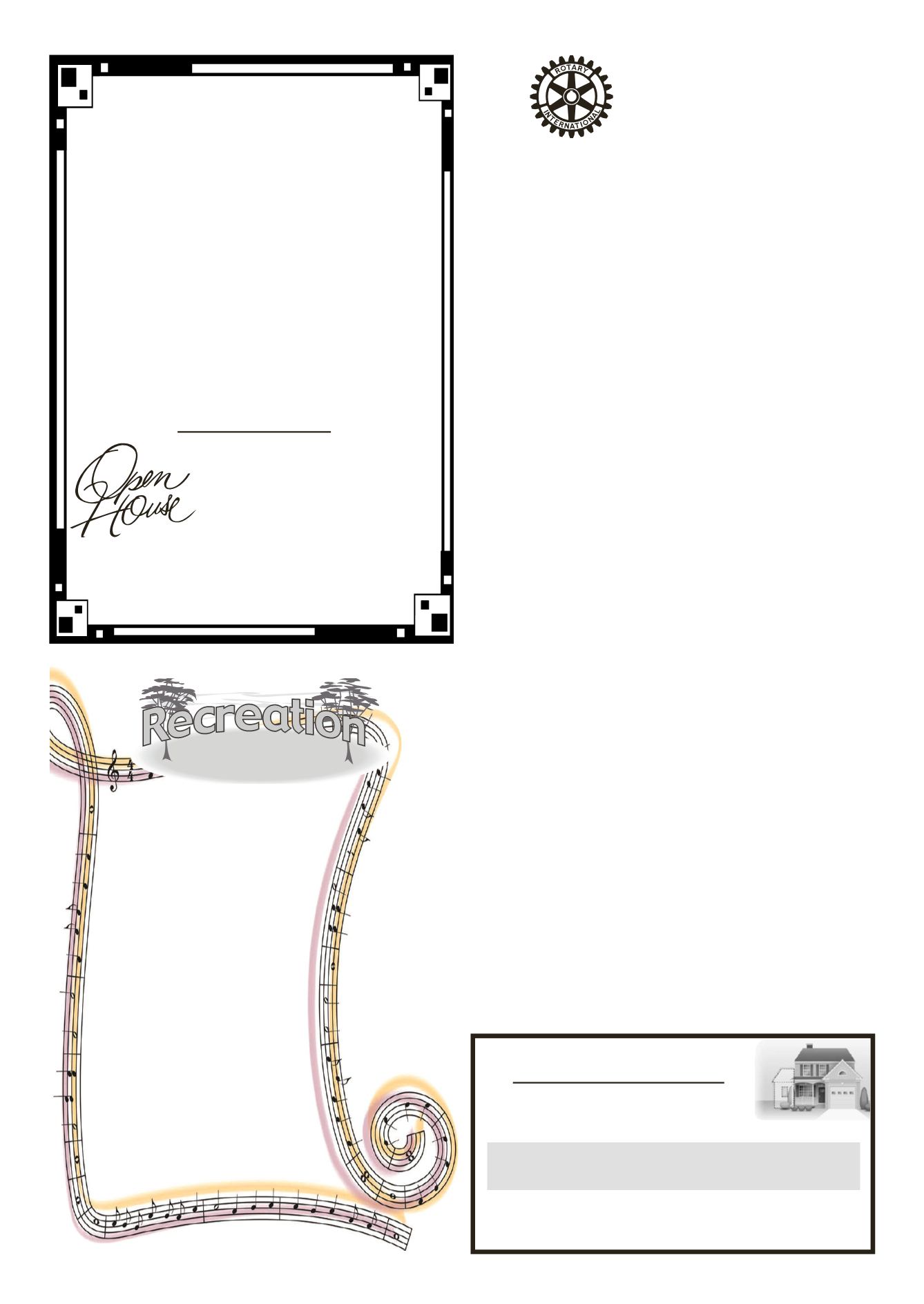 LEROYPENNYSAVER&NEWS - JULY 12, 2015
"CompleteCarpentry Service"
M
ILLER
B
ROTHERS
B
UILDERS
CustomHomes •Remodeling•Additions
Roofing• Siding
DANIEL
MICHAEL
LeRotary
Notes
Town of
LEROY
2015
THIS YEAR'S SCHEDULE IS ...
July 23 - Cyndi Kinglsey
July 30 - Kelly'sOld Timers
Aug. 6 - TakeNote
Aug. 13 -Pat Gambacurta
Aug. 20 -LeRoy Town Band
Aug. 27 -Ghost Riders
Bring Your Family& Friends
Lawn Chairs&Blankets!
RAINOR SHINE
(MemorialAuditoriumwill be used
This project ismade possiblewith funds from theDecentralization
Program, a regrant program of theNew York StateCouncil on the
Arts, administered by the
GeneseeOrleans Regional Arts Council and the Town of LeRoy.
FusionDanceCenter
2015SummerCamps
Monday, July 20-Wednesday, July 22
"FrozenDanceCamp"
(ages3-5) 9:00 - 10:30 $50.00
An introductorycamp that is perfect for the
"Rock-a-Hula Luau"
(ages 5&6) 11:00 - 12:30 $50.00
AnAcro& Jazz basedcamp set toa
"HipHopBeach Party"
(ages 7-10) 1:00 - 2:30 $50.00
AHipHopbaseddancecampperfect for all levels
2015 - 2016OPENHOUSE
&REGISTRATIONDATES
(40Main St LeRoy)
Monday, July 20th
from 6-8pm
Tuesday, August 18th from 6-8pm
Youcan register on-lineat
Notes - July 1, 2015
OurnewPresident,TonyGugi-
no opened the first meeting of
Pledge
of Allegiance
invocation and the Rotary Four
We welcomed guests Douglas
Erwin, son of Mary Margaret
RipleyandJeffGephart,husband
Martha Bailey reported on the
R.E.A.L (Rotary Excited About
Literature)bookgive-a-way. The
donationmonieswill go toPolio
Plus, the extra bookswent to the
veteransandmanypeoplewalked
awaywith lotsof books for sum-
mer reading. All inall, asuccess!
Look for us again next year.
Signup sheetswent around for
theRotaryHot DogStand at the
Oatka Festival. Mary Young is
organizing a group of Rotarians
to participate in The Relay for
Life.KimCox reported that The
Interact and EarlyAct clubs are
planningacandrive tohelp sup-
A Past President's pin was pre-
sented to Randy Vink, Two
District Awards were given to
the Club, one for our 75 Year
Anniversaryand theLightHouse
Award for"LightingUpRotary".
Larry Boylan presented Tim
Moag a Paul Harris Award for
his decades of service toRotary
and The R.E.A. Milne Scholar-
VinkandJimEllison led thegroup
in singing Oh Canada! It pretty
much became a duet since the
rest of ushadnowords to follow.
President Tony had all those
that missed the InstallationDin-
ner stand. They were each fined
for missing the dinner meeting
and fining session. Traditionally
the incoming president chooses
where the dinner fining will be
donated.ThisyearPresidentTony
BobBoycewasfined for theSa-
bresnewdraftpick,TracyFordfor
bikeriding,KimCoxforasmooth
graduation ceremony and for ob-
taining some grant money. Bob
Carlsen didn't knowwhat it cost
toattendaYankeebaseball game
and had to pay. ScottMcCumis-
key paid for his wife's article in
thepaperwhileChristineGephart
had to pay up for celebrating her
15thWeddingAnniversary.Since
Mary Young is vice president of
the Library board she was asked
about the doings there and paid
TheprogramwasChristineGe-
phart'sbirthday talk.Shegrewup
inLima,NYandknewat ayoung
age that shewanted tobea social
worker. After college, marriage
andaftermovingaroundabit she
and her family settled in LeRoy.
She and her siblings recently in-
herited theClairBear's IceCream
Shop at the east end of LeRoy.
Christine is enjoying sampling
thedifferentflavorsand icecream
specialties. It's a tough job, but
After the raffle, President Tony
rang the bell and adjourned the
LikeusonFacebookat "Rotary