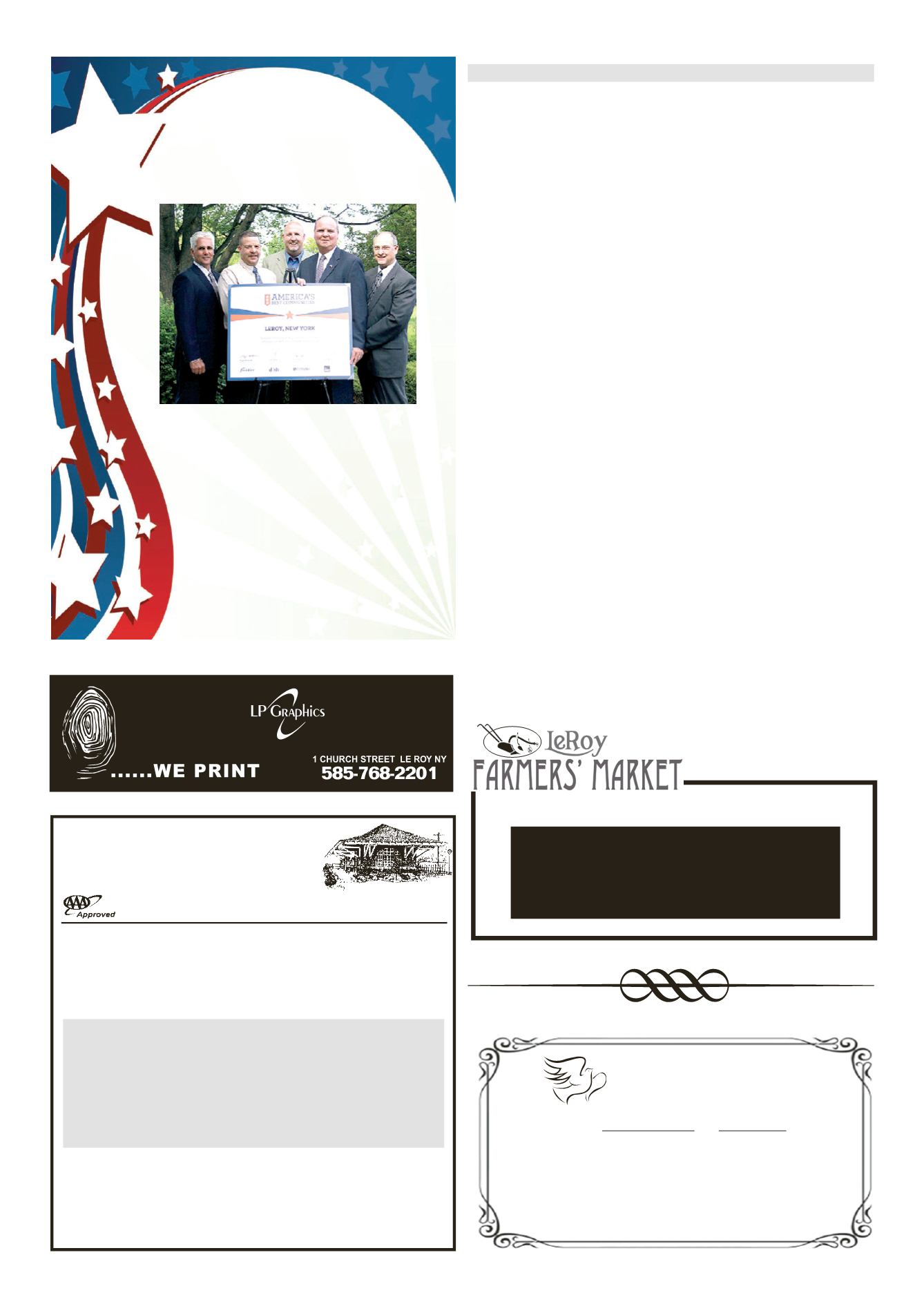 LEROYPENNYSAVER&NEWS - JULY 12, 2015
Director /Owner
FuneralDirector
F
ALCONE
F
AMILY
Funeral&Cremation Service, Inc.
Director/Owner
"ALOCALFAMILY
CARINGFORLOCALFAMILIES"
D&RDepot
63LakeSt. (Rt. 19), LeRoy• 768-6270
Let'sMeetAtThe ...
OpenForBreakfast, Lunch&Dinner - 7DaysAWeek 7 am-9pm
LeRoyFarmer'sMarket onFacebook
CREEK BANK
Saturday, July 18th
9:00 am-12:30 pm
LOCAL • FRESH•DELICIOUS •NUTRITIOUS
Seasonal Fruits andVegetablesWill BeArrivingWeekly!
Jams, jellies, eggs,Yancey'sFancyCheeses,
NundaMustards, OnceAgainNut Butters,
baked goods, organic produce,
honey,maple syrup
and fresh, locally grown produce.
lpgraphics.net
AMERICA'S
BEST
COMMUNITY
LEROY'SBEST
CANDIDATES
JohnDuyssen, JohnArmitage, JohnArneth,
SteveBarbeau, Darryl Sehm
LeRoy'sRepublican/Conservative
Candidates for
November's Election
look forward to seeing younext
weekend at theOatka Festival!
SUNDAY, JULY 12th
BARBECUEDBEEFBRISKETDINNER
(Includesmacaroni salad, fresh fruit andmandarin orange
JELL-O for dessert) - $17.99
SUNDAY, JULY 19th
OATKAFESTWeekend inLeRoy
HomemadeGLOMKIS andPIEROGIES dinner special,
withChickenKluskieNoodle soup or salad, realmashed
potatoes and homemade apple crisp for dessert - $17.99
SUNDAY, JULY 26th
HomemadeCANADIANCRABCAKESDINNER
(includes chilled strawberry soup, potato salad
and one ofAmy'sCrèmePuff desserts - $20.99
byStephenR. Barbeau
Supervisor,Town ofLeRoy
AROUNDTOWN
We received some additional
good news last week resulting
from our efforts to secure addi-
tional grant funding for the folks
in the new Water District #10
(StaffordDistrict #9). The Town
has been approved by NYS to
receive a State and Municipal
Facilities Program (SAM) grant
in the amount of $100,000. The
Dormitory Authority of NYS
administers this program. It has
the potential to lower the user's
annual debt service fee bymore
We receivedourhistoricmark-
er for the Marion steam shovel
andwill be setting that up soon.
Most likely, the placement will
be temporaryaswemove toward
site/steam shovel renovation in
the future. This sign is courtesy
of thegenerosityof thePomeroy
The walking/bicycle trail on
the old Lehigh Valley RR bed
fromWest Bergen Rd. west to
BuckleyRd. isnowopen foruse.
Please adhere to the following
regulations- no trash/litter (car-
ry in/carry out as with all town
property), nomotorizedvehicles
of any kind (walking /bicycles
only), stay on the RR bed only
(posted private property lines
each side of the trail). At some
point in the future, it is hoped
that this portion of the trail will
hookupwith theotherdeveloped
portions of the Lehigh Valley
Trail, which also connects to the
Save the date - Friday, August,
14, isLeRoynight atDwyer Sta-
dium. Out hometownMuckdogs
take on Lowell (Red Sox), as
Staten Island, the Yankees Farm
Club, do not visit Batavia this
year (this year it's even easier
to root for theMuckdogs!). Like
last year, wewill be recognizing
at least one youth baseball team
and there will be several prizes
for holders of the LeRoy tickets
(ticket info tobeannounced in the
near future) courtesyof our local
Hopeeveryonehadagreat Inde-
pendenceDayand look forward to
seeing you next weekendAround
Town at theOatka Festival!