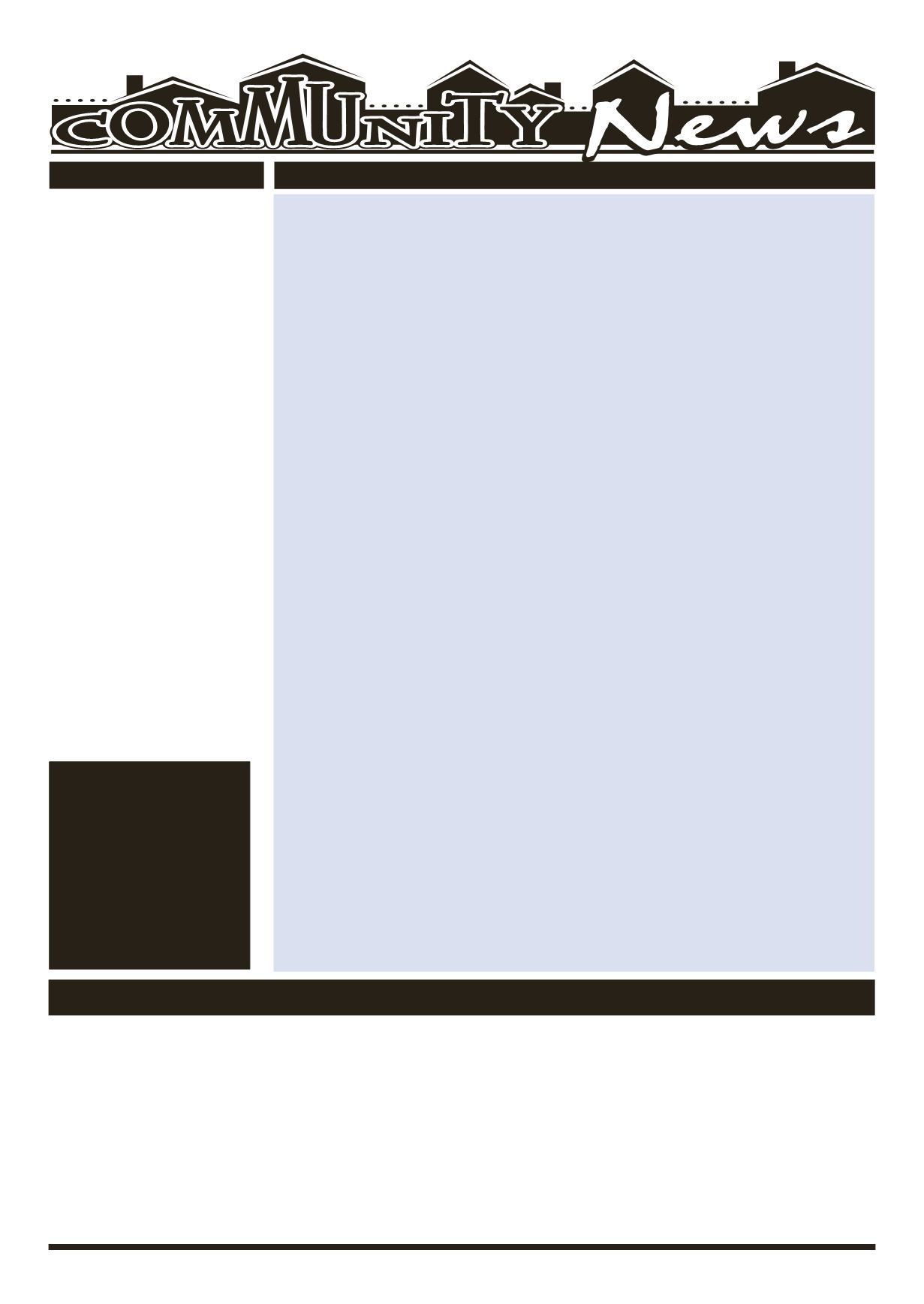 LEROYPENNYSAVER&NEWS - JANUARY 18, 2015
Le Roy
Pennysaver
All GeneseeCounty residents, 60andolder, can takepart in thisweek'sactivitiesat theBataviaSenior Center, 2BankSt., Batavia. Formore information, call 343-1611.
(January 19th - January 23th)
WEEKLYEVENTS
OBITUARIES
MartinLutherKingHoliday -SeniorCenterClosed.
NewsletterAssemblybeginsat9:00a.m.
Cribbage
is scheduled tobeginat 1:00p.m.
Euchregame
is scheduled tobeginat 1:00p.m.
LifespanMeeting
is scheduled tobeginat 8:30a.m.;
TaiChi
is set tobeginat 9:30amwith
GentleFitness
Cribbage&Bridge
are scheduled tobeginat1:00p.m.;
MusicalKeyboardLessons
LineDancingandArtClass
is set tobeginat 10:00a.m.;
Euchre
is set tobeginat 12:00p.m.
SUNDAY, JANUARY18
AWANA Program at Penuel Christian Fellowship.
Sundays 12:15 to 1:45 pm. Ages 5-17 broken into groups. Developing
friendships.Having fun. LearningaboutGod. Safeenvironment.
Konnect Youth Group at LivingWaters Church,
Sundays from6:30 to8:30pm for ages 12-18. "BringDown all theWalls!
ConnectwithGod andConnectwithothers." Formore information, check
usoutonlineat: livingwatersleroy.org/konnect-youth-ministry/
WyomingHook&Ladder-AllYouCanEatBreakfast
18th,2015,MapleStreetFireHall,Wyoming,NY,8am-12:30pm,Adults:
$8.00 Children: 10& under $4.00. Special thismonth is: Veggie/Bacon
Frittata&cinnamon/sourcreamcoffeecakealongwithour regularmenu.
MONDAY, JANUARY19
TOPS (TakeOffPoundsSensibly)
meetsMondayeveningsat theLeRoy
PresbyterianChurch, cornerofClay&MainStreets.Doorsopenat6:00pm
andmeeting is from6:30-7:15pm.Visitorsarealwayswelcome. Call 585-
768-7103 formore information.
Weekly storytime for two-year-olds at theWoodwardMemorial
Library
onMondaysfrom10:30-10:50a.m.beginningJanuary12through
March9. Childmustbetwo-years-oldbythefirstsessionandaccompanied
by an adult. Registration is required. Call 768-8300 or register online at
TUESDAY, JANUARY20
PreschoolStorytime:
EveryTuesdayat11amfeaturingstories,craftand
songsatPavilionPublicLibrary,5WoodrowDr.,Pavilion.For info:584-8843.
LCCP'sGRACE'SKITCHEN:
A FREEdinner everyTuesdayevening, 5-6:30
pmattheLeRoyUnitedMethodistChurch,10TrigonPark.Parkingavailable
onTrigonPark& the lots to the left andbackof theChurch.Handicapped
Entrance in the back of the Church. Takeout &delivery are available. For
WeeklyStorytime forthree, fourandfive-year-oldsattheWood-
wardMemorial Library
on Tuesdays from 6:30 to 7 p.m. beginning
January 13 throughMarch 3. Childmust be three-years-old by the first
session. Stories, games, songs!Registration is required. Call 768-8300or
TownofLeRoyPlanningBoardMeeting
TownHall, 48MainSt. For further info. call 768-6910, Ext. 223.
WEDNESDAY, JANUARY21
Pavilion Baptist Church
youth programs
winter everyWednesday evening. All community children arewelcome
toattend.AWANA isaprogram foryoungerchildrenPreschool (4yearold)
through6thgrade. It is a fun timeof BibleStories, games Biblememory
and even refreshments.Word of Life program is for teens 7th through
12th grade.We are easily located at 10956 S Lake Road in Pavilion. Call
585-584-3179ext. #12 for anyquestions.
LEGO&GameClubattheWoodwardMemorialLibrary
ingradesK-6, from3:15 -4:15p.m. BuildwithLegos, playboardgames
withyour friends,or jamoutonGuitarHero.Registration isNOT required.
Adult Craft Program at theWoodwardMemorial Library
p.m. Mix foodcoloringandshavingcream,droponasheetofpaper, and
create amasterpiece. Registration required! Call 768-8300 or register
THURSDAY, JANUARY22
GeneseeVeteransSupportNetwork
(GVSN)supportsthedevelopment
ofVeteransfocusedAAmeetingseveryThursday,6-7pmattheFirstBaptist
Church, 306 E.MainSt., Batavia.Meetings ledbyMikeW. &areopen to
non-veterans as well. Handicap accessible. For additional information
GRACE'SCLOSET:A clothinggiveawayprogram
UnitedMethodistChurch,10TrigonPark,LeRoy,9:30amto11:30amevery
Thursday.Wehaveclothingforallages. FALL&WINTERclothingnowbeing
put inplace.Weare inneedofWARMER clothingespecially coats, jackets
boots,pajamas.Weneedbeddingofallkindsespeciallyblankets.Weaccept
donations bedroppedoff at thehousenext to the church. Pleaseput all
bags INSIDE on the back porch. NO ELECTRONICS, COMPUTERS,DISHES,
etc. Anyquestions call theoffice768-8980.
The Boxtrolls - Movie Showing at the Woodward Memorial
Library
for children ingrades K-6, at 3:15p.m. RatedPG; 100minutes.
Town of LeRoy BoardMeeting
, 7 pm at the Town Hall Board Room,
FRIDAY, JANUARY23
PenuelChristianFellowship,
OneSteptoFreedomaddictionsministry,
aChrist CenteredAddictions program, aweeklymeetingevery Fridayat
7pm. Call theChurch formore informationat768-6901or406-3863.
SATURDAY, JANUARY24
UPCOMINGEVENTS
LCCP'sMommy&MePlaygroup: Every2nd&4thFriday,
1:30, LeRoyPhysicalTherapy (in thebackgym). Anymoms and their
birth-kindergarten childrenarewelcome to comeenjoy socialization,
lunch, coffee, structuredgames& freeplay.
CommunityCalendar Submissions shouldbe sent to:
BERGEN—GeorgeH. Jr. "Fuzzy" Hankey
Jr.ofBergendiedWednesday (Jan.7,2015)
at the age of 80. In lieu of flowers, those
wishing may contribute to the NYS Veter-
ans Home, 220 Richmond Ave., Batavia,
BYRON—DaleL.WhippleofByronpassed
away surrounded by his family on Friday
(Jan.9,2015)at theageof59.Thosewishing
mayhonorDale'smemorybycontributing to
a stroke foundation and/or a no-kill animal
Byron—TheodoreW. Paine, 82, of Byron,
passed away Saturday, (Jan. 10, 2015) at
Monroe County Community Hospital, in
Rochester. In lieuof flowers,memorialsmay
bemade to Rochester Presbyterian Home,
256ThurstonRd., Rochester, NY14619.
LEROY—MarilynA.Crocker,77,ofSelden
Road and Northport Fla., passed away
Tuesday (Jan. 13, 2015). In lieu of flowers,
donationscanbemade toSt.Mark'sChurch,
LeRoyHistorical Societyor theSchleroder-
maFoundation of Rochester.
EAST Bethany — Evelyn I. Nichols, 88,
of Ellicott St. Rd., passed away at home
Wednesday morning (Jan. 14, 2015). Mrs.
Nichols and her family are being cared for
by theFalconeFamilyFuneral &Cremation