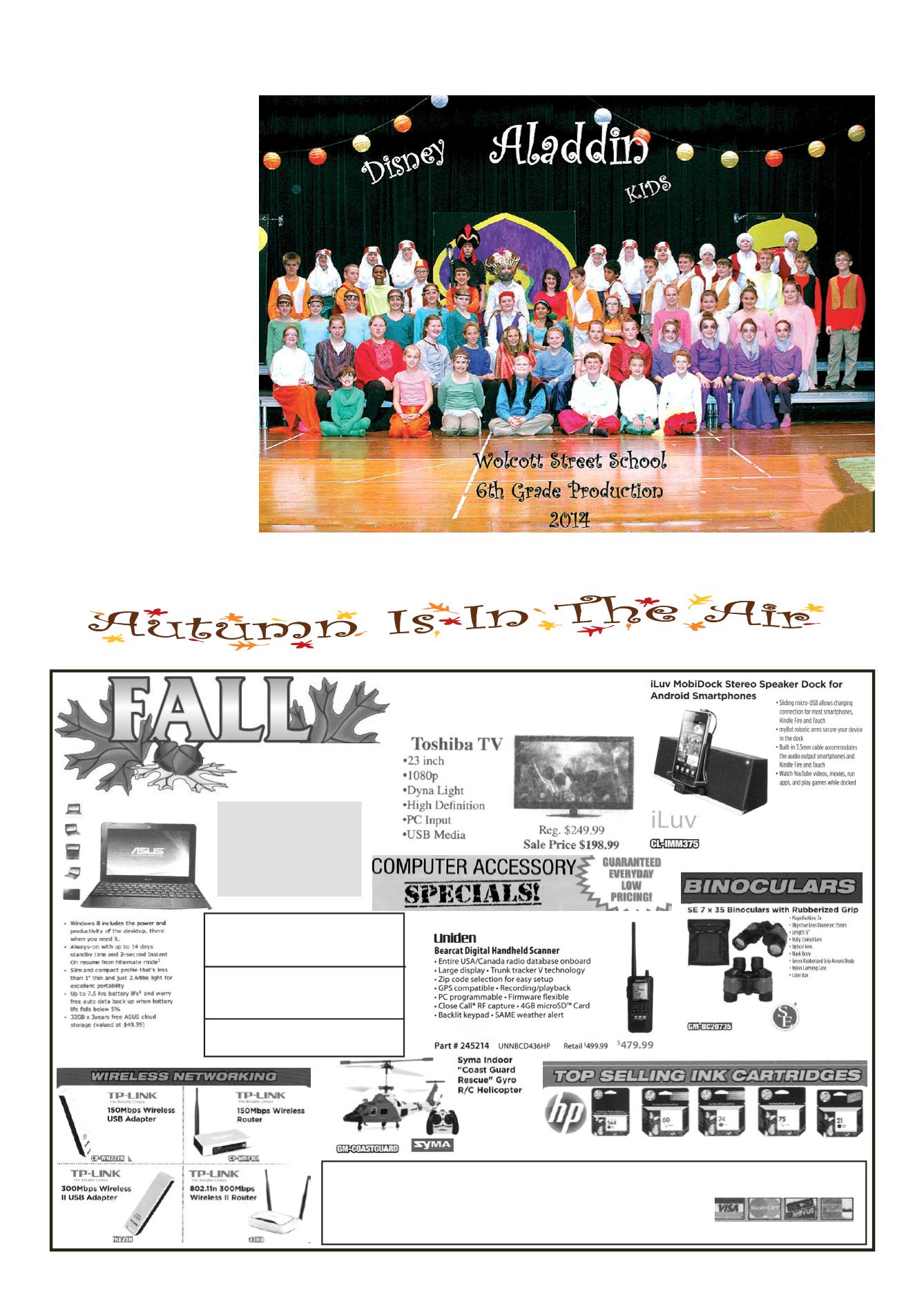 LEROYPENNYSAVER&NEWS -NOVEMBER 16, 2014
On Thursday, November 6th,
students from theWolcott Street
School6thgradeclassperformed
Aladdin KIDS
Memorial Auditorium. Director
Ms. JessaDechant andAssistant
Director Mrs. Lindsay Buckel
auditioned interested 6th grade
students in September, and the
ensemble rehearsed every week
Theshowwasa terrificsuccess
due to the students' hard work
and preparation of lines, memo-
rizing songs and learning dance
moves as well as creatingmany
of thepropsandstagedecorations
As in previous years, the cast
also collected non-perishable
goods at the performances as a
way to aid the community. The
castwould like to thankeveryone
for their generous donations and
for thecontinuous support of arts
WSSDisney
AladdinKIDS
AidCommunity
Picturedhere is the entire cast ofDisney
AladdinKIDS
whichperformedonNovember 6th, 2014
in theMemorialAuditorium.
AtYourElectronic Store -
Just Around theCorner
M-F9 am-7 pm, Sat. 9 am-5 pm
For over 20 years.
LeRoy
YourElectronic Store - Just Around theCorner
Sale $29.98
SalePrice
$29.98
SalePrice $289.99
SalePrice
$17.98
50%OFFSALE
GAMES
Solitair - Reg. $9.98
Sale $4.98
TexasHold 'Em - Reg. $14.99
Sale $7.49
Sale
CheckOurLowPrices!
$19.98
$29.98
$39.98
$24.98
RemoteControl
50%OFF
CARDDEPARTMENT
GreetingCards •Gift Ribbon
50%OFF
DISHNetworkReceivers
50%Off each