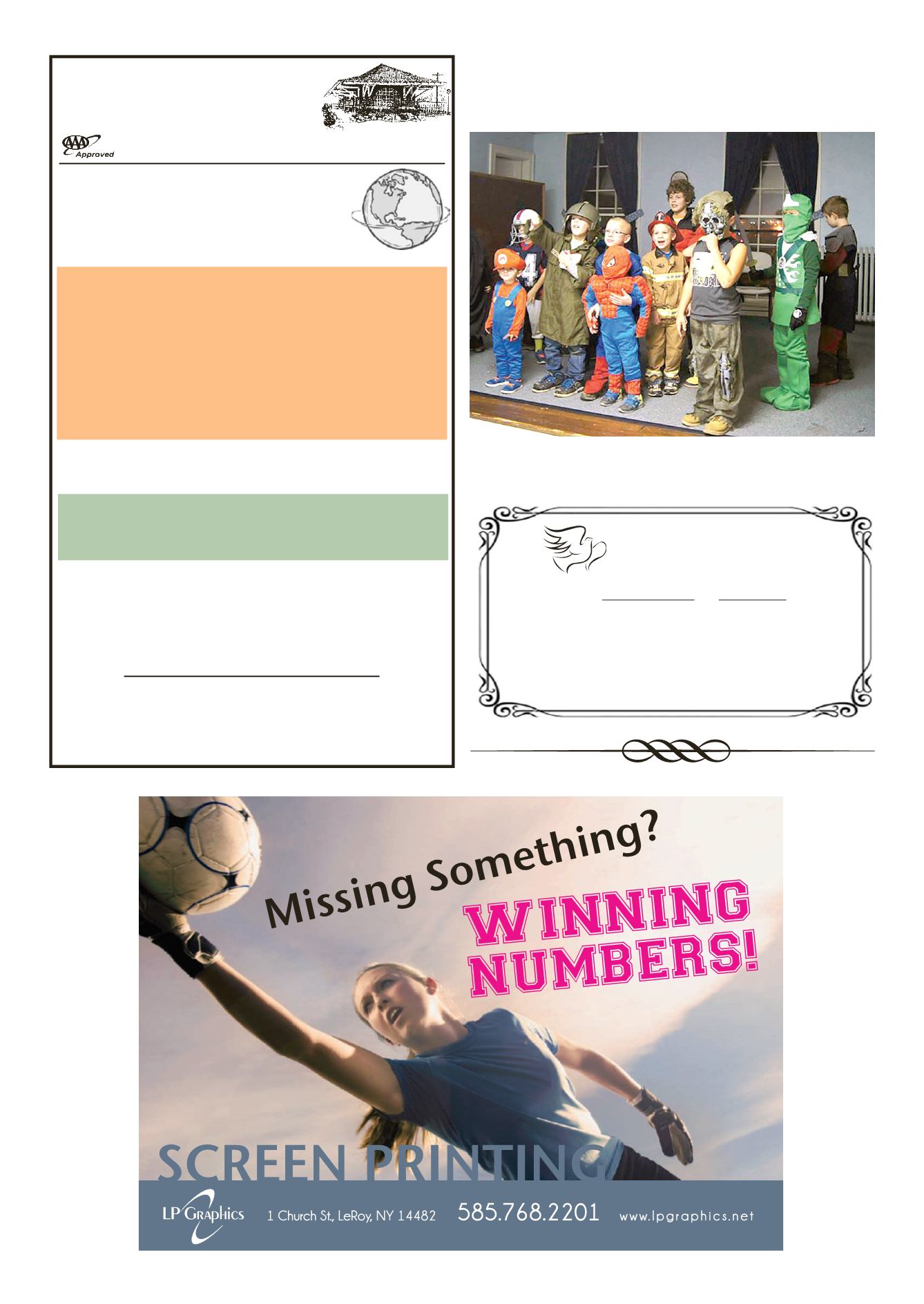 LEROYPENNYSAVER&NEWS -NOVEMBER 16, 2014
D&RDepot
63LakeSt. (Rt. 19), LeRoy• 768-6270
Let'sMeetAt The ...
OpenForBreakfast, Lunch&Dinner - 7DaysAWeek 7am-9pm
Oneof thebest partsof traveling iseating the
local Fare. In case youdidn't get a chance to
globe trot thispast summer, we'regoing tohelp
you to take aculinaryvacation. Our upcoming
all inclusiveSunday specialswill featuredishes
from around theworld! –And all for 17.99or less!
SUNDAY, NOVEMBER16th–Brazil is next onour itinerary
The Portuguese brought tastes& styles of cookingwith them,
including sugar, citrus fruits, and sweets.
We'll bemakingFeijoada (abeef stew) servedwith orange salad.
For dessert we'll be featuringBananaFrita (friedbananas)
Sunday, November 23rd –HeadNorth, to Iceland
ThePortuguese brought tastes& styles of cookingwith them,
including sugar, citrus fruits, and sweets.
We'll bemakingHangikijot, a smoked lambdishwith peas, potatoes& béchamel
sauce. Mondlukatka is for dessert – almond/strawberry coffee cake
Ourpuzzlepiececontest endsNovember23rd!
Hurryup, get yourpuzzlepieceandget to theDepot before9pm
This is theweek our holiday decorations start going
upupup,UP!Make plans to bring friends& family to see our
unique treatment of theholiday season.
THANKSGIVINGDAYdinner – serving from 11 am – 7pm
TheDepot is openThanksgivingDay serving a slightly limited dinner
menu, featuringRoast Turkey, ChickenPot Pie, HamSteak,
BroiledScallops, PrimeRibs ofBeef, PorkChops, andmore –muchmore!!
We encourage you tomake your dinner reservations soon for this special day
And – yes –wewill be offering our famous 'Leftovers to go'
TheDepot's new sister company, DoubleLRentals - offering tables, chairs,
heaters, bars, linens, dishes& catering supplies for your special occasions!
10%Discount
when youuseboth the
D&RCateringServices andDoubleLRental for your event.
Visit doublelrental.com or call us at (585) 344-0023
Director /Owner
FuneralDirector
F
ALCONE
F
AMILY
Funeral&Cremation Service, Inc.
Director/Owner
"ALOCALFAMILY
CARINGFORLOCALFAMILIES"
LeRoyBoyScoutshostedaHalloweenParty for theCubScouts
that involved fun games, spooky activities andplenty of candy.
HalloweenParty
ForTheScouts