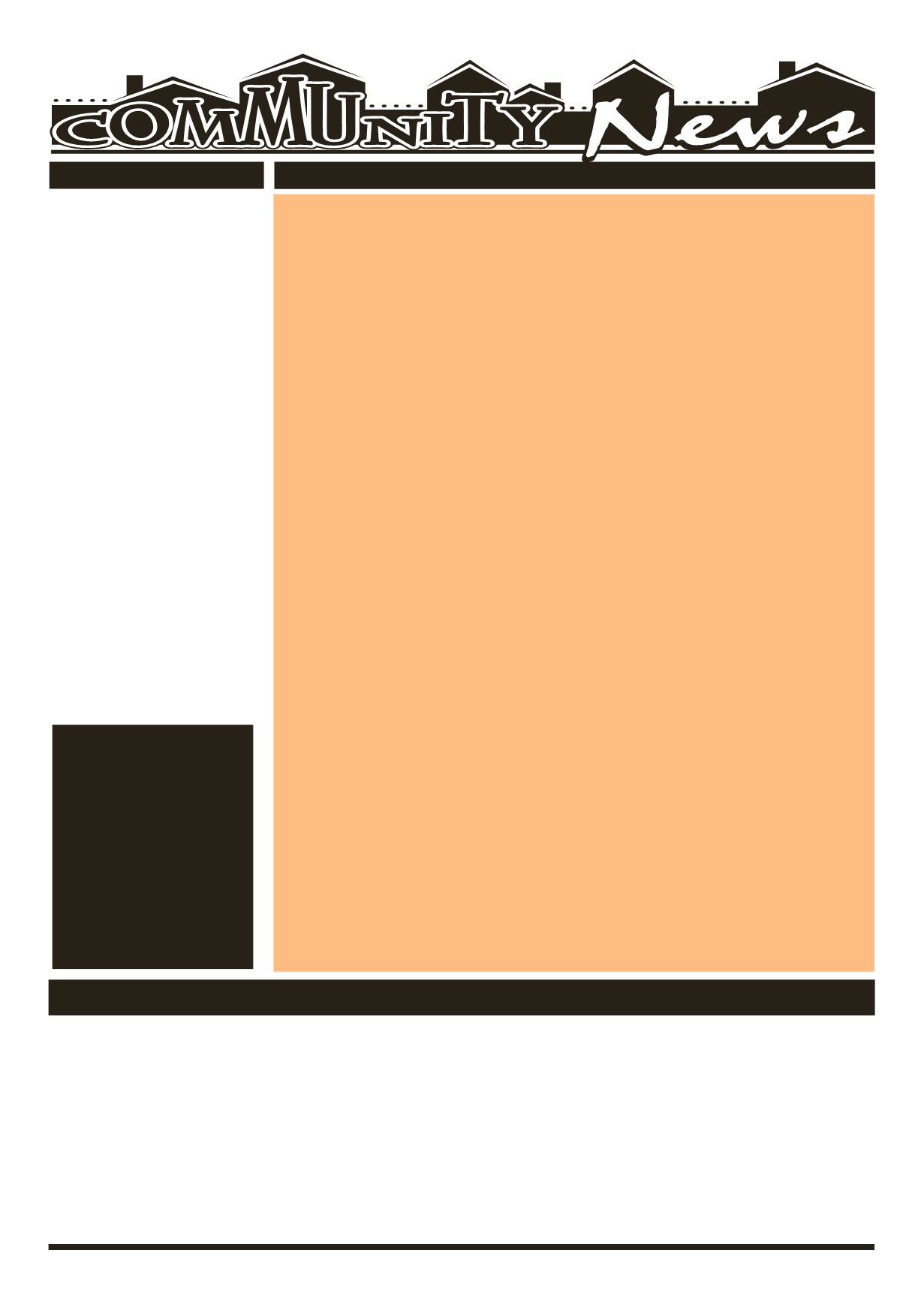 LEROYPENNYSAVER&NEWS -NOVEMBER 16, 2014
Le Roy
Pennysaver
All GeneseeCounty residents, 60andolder, can takepart in thisweek'sactivitiesat theBataviaSenior Center, 2BankSt., Batavia. Formore information, call 343-1611.
(November 17 -November 21)
WEEKLYEVENTS
OBITUARIES
ArthritisExercise
is scheduled tobeginat 9:30a.m.;
Bridge
is set tobeginat 11:30a.m.
NewsletterAssembly
Cribbage
is scheduled tobeginat 1:00p.m.
Quilters
are scheduled tomeet at 9:00a.m.;
Euchregame
is scheduled tobeginat 1:00p.m.;
Medicare101
TaiChiExerciseclass
isscheduled for9:30amwith
GentleFitnessExercis
LifespanMeeting
isscheduled tobeginat12:30p.m.;
CribbageandBridge
MusicalKeyboardingLessons
ArtClassandLineDancing
is set tobeginat 10:00a.m.;
Euchre
is set tobeginat 12:00p.m.
SUNDAY,NOVEMBER16
AWANAProgramatPenuel ChristianFellowship.
Sundays 12:15 to1:45pm. Ages 5-17broken intogroups. Developing
friendships.Having fun. LearningaboutGod. Safeenvironment.
Konnect YouthGroupat LivingWaters Church,
Sundays from6:30 to8:30pm forages12-18. "BringDownall theWalls!
Connect with God and Connect with others." For more information,
checkusoutonlineat: livingwatersleroy.org/konnect-youth-ministry/
All YouCanEatBreakfast,
WyomingFireHall,
Adults$8.00, Children10andunder$4.00.VETERANSEATFREE.
ByronKiwanis - PancakeBreakfast
, SouthByron FireHall, 8 am
to 12:30, November 16th. $6.00, Under 5 - $3.00. Chinese Auction,
50/50Raffle. Proceeds to support: ByronSummerDayCamp,Medical
Transportation cost forTomHartwig.
MONDAY,NOVEMBER17
TOPS (Take Off Pounds Sensibly)
meets Monday evenings at the
LeRoy Presbyterian Church, corner of Clay &Main Streets. Doors open
at 6:00pmandmeeting is from6:30-7:15pm.Visitors arealwayswel-
come. Call 585-768-7103 formore information.
Make a hand print turkey at theWoodwardMemorial Library
for children ingradesK-2, from3:15–4:15p.m. Call 768-8300or regis-
TUESDAY,NOVEMBER18
Preschool Storytime:
EveryTuesdayat 11am featuring stories, craft
and songs at PavilionPublic Library, 5WoodrowDr., Pavilion. For info:
Town of LeRoy Planning BoardMeeting
at theTownHall, 48MainSt. for further info. call 768-6910, Ext. 223.
LCCP'sGRACE'SKITCHEN:
AFREEdinnereveryTuesdayevening,5-6:30
pm at the LeRoy United Methodist Church, 10 Trigon Park. Parking
available onTrigonPark& the lots to the left andback of the Church.
Handicapped Entrance in the back of the Church. Takeout & delivery
are available. For more info. contact Selby Davis at 585-738-8882 or
Painta ceramic scarecrowwithacrylicpaintsat theWoodward
Memorial Library
for children in grades 3-6, from 3:15 – 4:15 p.m.
Call768-8300orregisteronlineat
WEDNESDAY,NOVEMBER19
Villageof LeRoyBoardMeeting,
7pm at theVillageHall, 3West
LEGO&GameClubattheWoodwardMemorialLibrary
ingradesK-6, from3:15-4:15p.m.BuildwithLegos, playboardgames
with your friends, or jam out on Guitar Hero. There is something for
everyone. Registration isNOT required.
PavilionBaptistChurch
youthprograms
wintereveryWednesdayevening.Allcommunitychildrenarewelcome
toattend.AWANA isaprogram foryoungerchildrenPre-school (4year
old) through 6th grade. It is a fun time of Bible Stories, games Bible
memoryandeven refreshments.Wordof Lifeprogram is for teens7th
through 12th grade.We are easily located at 10956 S Lake Road in
Pavilion. Call 585-584-3179ext. #12 for anyquestions.
THURSDAY,NOVEMBER20
Genesee Veterans Support Network
(GVSN) supports the devel-
opment of Veterans focused AAmeetings every Thursday, 6-7 pm at
theFirstBaptistChurch,306E.MainSt.,Batavia.Meetings ledbyMike
W.&areopen tonon-veterans aswell. Handicapaccessible. For addi-
tional information call 585-302-0825.
GRACE'SCLOSET: Aclothinggiveawayprogram
UnitedMethodist Church, 10TrigonPark, LeRoy, 9:30am to11:30am
everyThursday. Wehaveclothing forall ages. FALL&WINTERclothing
nowbeingput inplace.Weare inneedofWARMER clothingespecially
coats, jackets boots, pajamas. Weneedbeddingof all kinds especially
blankets.Weaccept donationsbedroppedoffat thehousenext to the
church.Pleaseputallbags INSIDEon thebackporch. NOELECTRONICS,
COMPUTERS,DISHES, etc. Anyquestions call theoffice768-8980.
Gillam-GrantCommunityCente
will be teamingupwith theGirl Scouts thisNovember 20th, to create
Thanksgiving boxes for the Salvation Army to be distributed to local
families inneed this holiday season. If youare interested inbecoming
involved andwish to donate items or an entireThanksgivingbox, the
listof itemswillbepostedonGillam-GrantCommunityCenter'swebsite:
gillamgrant.org. Drop-off of non-perishable goods starts November
17th. All perishablegoods shouldbedroppedoffThursday, November
FRIDAY,NOVEMBER21
PenuelChristianFellowship,
OneSteptoFreedomaddictionsminis-
try,aChristCenteredAddictionsprogram,aweeklymeetingeveryFriday
at7pm.CalltheChurchformore informationat768-6901or406-3863.
SATURDAY,NOVEMBER22
UPCOMINGEVENTS
LCCP's Mommy & Me Playgroup: Every 2nd & 4th Friday,
12:00-1:30, LeRoy Physical Therapy (in the back gym). Anymoms
and their birth-kindergarten children arewelcome to come enjoy
socialization, lunch, coffee, structuredgames& freeplay.
Breakfastwith SantaatMcDonald's
cember 7 from 9-11 am. For tickets please call 768-7700 or pur-
chase at McDonald's that morning. Don't forget your camera! All
proceeds tobenefit the childrenof LeRoyNurserySchool.
CommunityCalendar Submissions shouldbe sent to:
LE ROY—Douglas R. Weig, 57, of Le Roy
diedWednesday (Nov.5,2014)atCrossroads
House in Batavia. Memorials may be made
to Crossroads House, POBox 403, Batavia,
BERGEN — Paul Richard List, 84, died
peacefully at home on Wednesday (Nov. 5,
2014) under the loving care of his family and
Hospice. In lieuof flowers, thosewishingmay
makecontributions to theBergenFireDepart-
mentRescueSquad,POBox428,Bergen,NY.
BETHANYCENTER—PriscillaJ.Norton,86,
a longtime resident of East Bethany, passed
awayonMonday (Nov.10,2014)atherhome.
In lieu of flowers, please consider memorials
to Bethany Center Baptist Church, 10420
BethanyCenterRd.,EastBethany,NY14054.
EASTBETHANY—SidneyC. "Sid"Mulcahy,
88, of East Bethany, passed away Monday
(Nov. 10, 2014) at United Memorial Medical
Center, in Batavia following a brief illness.
Please consider a memorial contribution in
Sid's name to the Bethany Vol. Fire Dept.,
5253 Old Telephone Rd, East Bethany, NY
14054 or Crossroads House, P.O. Box 403,
WARSAW/EAST BETHANY — Gerald W.
Yarington, 76, of Warsaw, formerly of East
Bethany passed away on Nov. 5, 2014 at
MedinaMemorial Hospital. In lieu of flowers,
memorials may be made to the family to be
distributed toa charity of their choice.