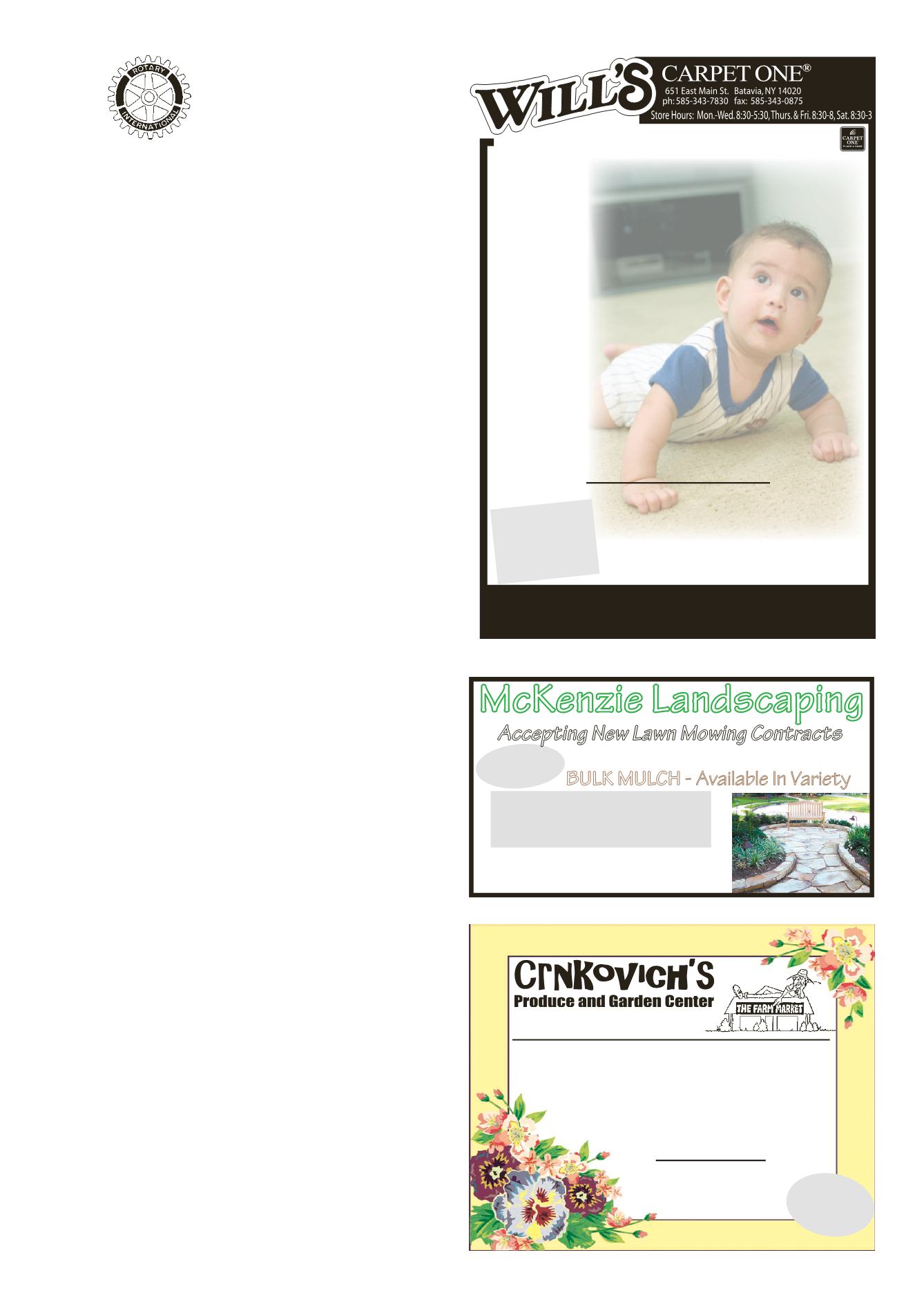 LEROYPENNYSAVER&NEWS -MAY 4, 2014
FLOOR
&HOME
TheONE store for your perfect floor.
8041 E.MainRd. (Rt. 5) 1Mile East of LeRoy
OpenDaily •768-7259•768-7813
AGift ThatWill Last TheEntire Season ...
HangingBaskets •ComboPots • PansyBaskets
Rosebushes •Annuals&Perennials
EverythingForYourSpringPlanting
andLandscapingNeeds!
Urine-Off
™
Odor&Stain
Remover
"Now this is clean!"
• Eliminates all urine ... even cat urine!
• Removes all wine stains ... even old ones!
•Works onhardwood, carpet, concrete,
tile, fabric andmore!
MONEY-BACKGUARANTEE!
FIND IT!TREAT IT!
FinallySomething
ThatWorks!
FREE
RUGSAMPLES
Limit 6
PerCustomer
Wewill beOPEN
Mother'sDay
9 am to 6 pm
Gift
Certificates
Available
Notes - 4/23/14
Guests:CharlotteCarmel,Cait-
lin Emerson and Lizzy Pearan
fromLeRoyCentral.Also, Clair
Milborn - Christine Gephardt's
Announcements:
• Bob Bennett announced the
CommunityEasterEggHuntwas
a huge success with almost 400
•RandyVink announced there
will be a make-up opportunity
onFriday the25th as aBreakfast
•MarthaBaileyannounced that
the first Rent-a-Rotarian will be
this Saturday and the secondone
will beMay10th - signup if you
• Jim Ellison announced the
Graze to Raise will be held on
May 16th. Tickets are $20 and
we are still in need of Auction
Items. There is a GrazeMeeting
on Tuesday at 5pm. President
•PresidentTracymade several
announcements:May 14th is the
UnitedWay Day of Caring - we
will have a team volunteering
that day. June 7th is the LCCP
Spring Fling and we plan to set
up a table to promote Rotary at
theevent. June11th is theRotary
Golf Outing - Bob Bennett will
havemoredetailsas thedategets
closer. June 26th is the Installa-
tionDinner atStaffordCC.More
MissedMeetings:
ErikFix, LynnBelluscio, Kim
Cox, Christine Gephart, Tracy
Martorano and Carol Wolfe all
had missed meetings and had
make-ups. Jerry McCullough
blew himself in for two missed
meetings that he had make-ups
Fines:
Tony Gugino was fined for
the upcoming birth of his first
JimEllisonwasfined for taking
a very indirect route to Bergen
during the Rotary Bike Ride on
Erik Fix was fined for a photo
of himself and Batavia Rotarian
Susie Boyce that appeared on
JerryMcCulloughwasfined for
beingona local news cast during
a fundraisingevent for theMake-
Christine Gephart was fined
for a photo that surfaced of her
hair being caught in awindsock.
Christineattempted toavoidafine
bybribingPresidentTracywitha
gift fromher recent trip toFlorida.
Program:
Fellow Rotarian Lynne Bel-
luscio presented each Rotarian
with a questionnaire about how
they played as a child. It is part
of theHistorical Societies "Let's
Play" Exhibit that the Society is
starting this spring. Lynne went
on to discuss some history of the
localplaygrounds inLeRoystart-
ing with the one behindWolcott
StreetSchoolwhichwasbelieved
to be the first playground.
Lynne also discussed a short
history of card games in the area
andmentioned thatcardandboard
games will be featured predomi-
nantly in theexhibit. Theexhibit
willnot focusonorganizedactiv-
ities such as Little League, etc.,
butwill instead focusonactivities
thatkidsplayed inLeRoyon their
own. Therewill also be a chance
for people to takepart in someof
thehistoricgamesat theO-At-Ka
festival this year. There will be
a giant 4-square area set up on
Wolcott street for people toplay!
David Grayson shared a story
of himself getting yelled at by
a random neighbor who he did
not know but who knew him by
name and was going to tell his
father on him. That was theway
itwasback in thosedays - iswhat
David described. Bob Carlsen
told a story of going to Albany
towatch a regatta in the 30's and
saw the University of Washing-
ton team that went on to win an
OlympicGoldMedal in the1936
Lynne concluded by announc-
ing toeveryone toplease feel free
to come to theHistorical Society
and share any stories you may
have about playing as a child in
LikeusonFacebookat"Rotary
LeRotary
Notes
McKenzieLandscaping
Takingcallsnow
forpre-orders
ofMulch!
AcceptingNewLawnMowingContracts
Residential/Commercial •SpringCleanups
BULKMULCH
On (Techo-Bloc)Hardscapes
FreeQuotes •Fully Insured
CallScott (585)455-5275