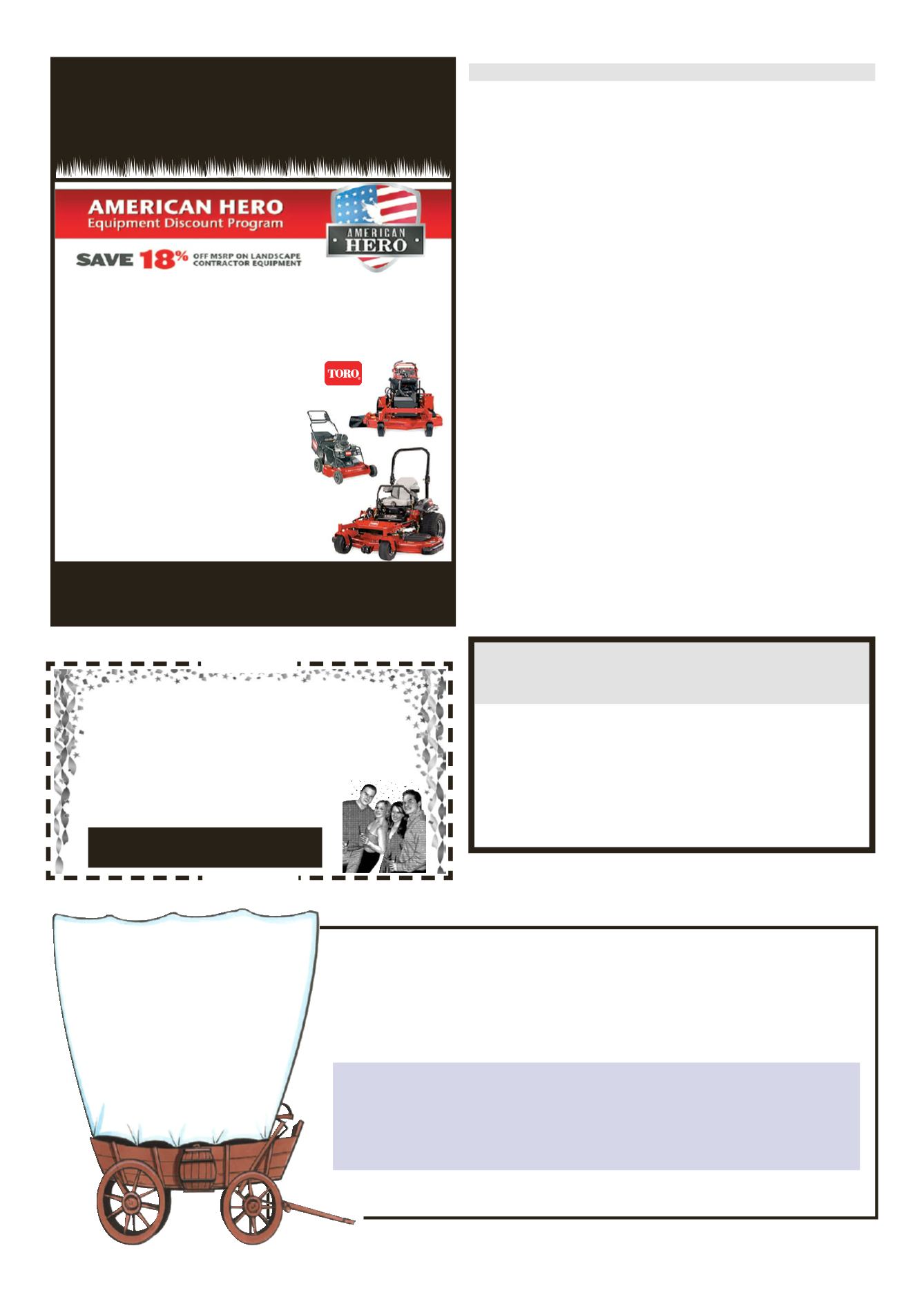 LEROYPENNYSAVER&NEWS -MAY 4, 2014
Toro's new equipment discount program recognizes thosewho serve in
theUnitedStatesmilitary, aswell as thoughwhoserve theircommunities
across thecountry.Under theprogram, current or formermembersof the
military and current or formerEMT's, firefighters andpoliceofficers are
eligible for special pricing onToroLandscapeContractor Equipment.
EligibleProducts
•ZMasterZero-TurnMowers
•GrandStandMowers
•Mid-SizeWalk-BehindMowers
•Heavy-Duty 21"Walk-BehindMowers
• 30"TurfMasterWalk-BehindMower
• SelectAttachments
Program runs from
November 1, 2013-October 31, 2014
at participating dealers only.
See participating dealer for full program details.
1818 LinwoodRd., Linwood, NY
HOURS:Mon.-Fri. 8am-5:00pm, Sat. 8am-12:00noon
LINWOOD
ALLWORKMANSHIP GUARANTEED • INSURED
297-9097 • 768-7737
• InteriorPainting
• Plaster/LathRestoration
•Drywall&Drywall Repair
•TextureRemoval
• Floors Stripped
&Refinished
•OldCeilings&Walls
MadeLikeNew!
MikeDarby'sPatch&Paint
American Legion
Post 576
585-768-2090
CLIP&SAVE
CLIP&SAVE
Inside - 2RoomsAvailable
Outside - LargePavilion
byGreg "Porp"Rogers
Mayor
Spring isfinallyhereandwith it
comes some basic housekeeping
issues. Inorder tohaveyardwaste
removed itwillhave tobeput into
bags andplaced to the curb. Pick
up will be Wednesday morning
with refuse and recyclable re-
moval. Thanks for your help on
The Chief of Police reminds
everyone thatwith the rise in the
temperature comes the rise in
crimes so please lock your cars
and doors. If you see something
suspicious inyour neighborhood
don't hesitate to call the police,
that'swhat they are there for.
Little League season got off to
a rocky start, opening day was
rained out. Take the time to take
inagameatwhatmaybe thebest
setting for a Little League in the
USA.Youcanalmost feel thepast
Hopefully there will be some
progress with our sidewalk grant
this year. The Village is also ex-
ploringgrants forMainStreet side-
walks, this coupledwith theDOT
restripingproject,andwewillhave
MainStreet in great shape.
VillageBoardmeetingsareheld
thesecondand fourthWednesday
of every month at the Village
Hall at 7:00pm please take time
to come, tell us your idea's and
concerns, remember we are all
Rotary Club will be holding
their Annual Graze to Raise
"TasteofLeRoy"onFriday,May
16th at 6:30 pm at theGreens of
LeRoy. Allproceedsfor theevent
benefit their scholarship fund.
Summer is a great time to be a
LeRoyan, get out and enjoy all
this community has to offer.
"Greatmindsdiscuss ideas, av-
eragemindsdiscussevents, small
Notes From TheMayor's Office
WeCan't DoBusiness FromAn EmptyWagon
SERIOUSLY,WENEED LISTINGS!
Why?Becausewehaveavarietyof buyers looking for properties.
Now is the time to list your propertywithus.
WE SPECIALIZE INYOURAREA!
We feel that amajor part of our success is due to the fact
thatwe specialize inacertainarea.
(LeRoy•Caledonia• Pavilion• StaffordandBergen)
Giveus a try, youwon't bedisappointed!
NOT THE BIGGEST - JUST THE BEST!