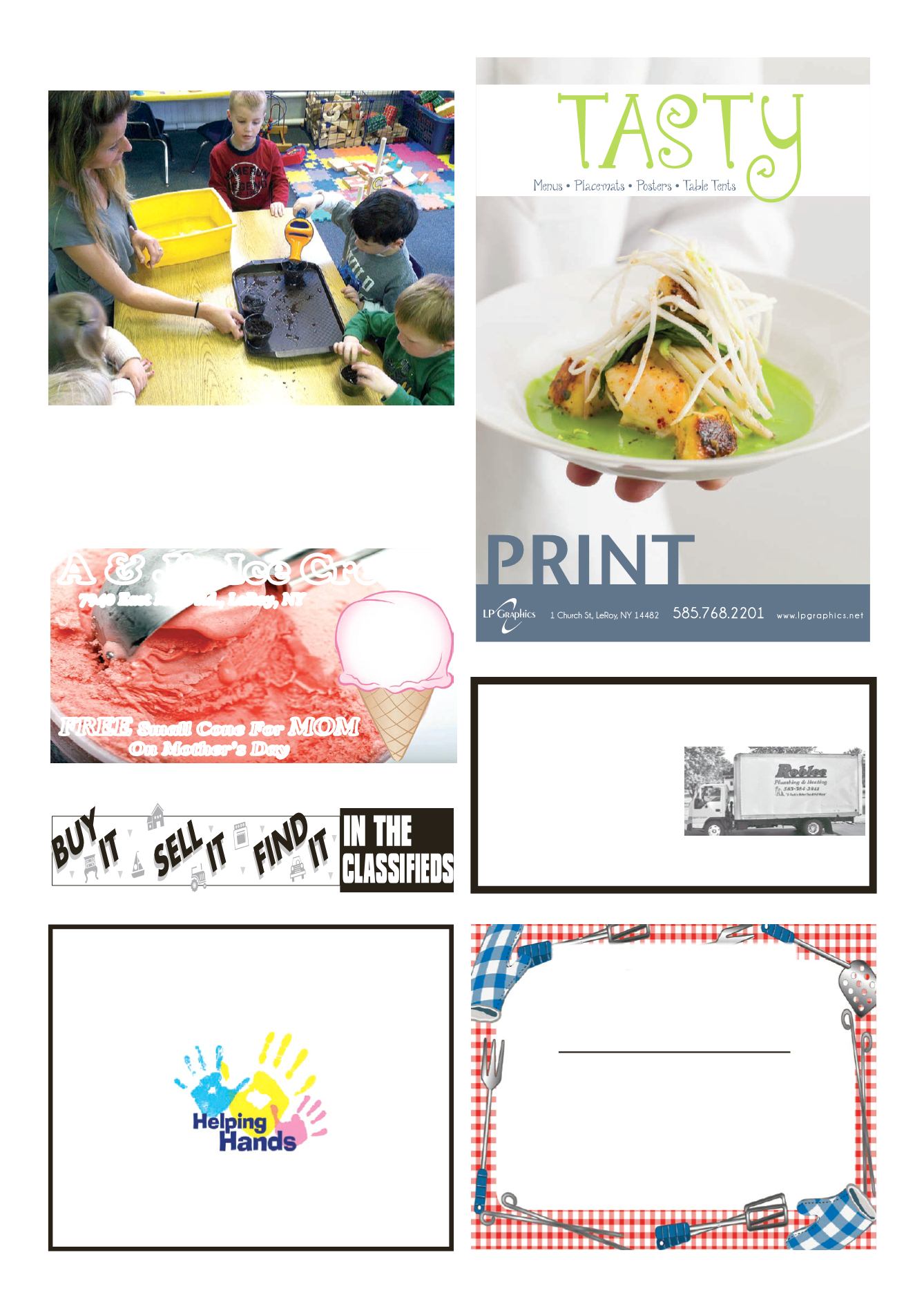 LEROYPENNYSAVER&NEWS -MAY 4, 2014
StaffordVolunteerFireDepartment's
AnnualMother'sDay
CHICKENBBQ
andCHINESEAUCTION
InMemory of Joshua IanMouery
SUNDAY,MAY11,
2014
Doors open at 11:00, Dinner served 11:30 til ?
Meal to Include: 1/2 chicken, salt potatoes, baked beans,
applesauce, roll and butter, dessert
Pre-sale dinner tickets $8.00, $9.00 at the door
Auctionbegins at 11am •Ticket drawing at 2pm
Donations ofBaskets andGift
Certificates gratefully accepted
Todonate orpurchasepre-sale tickets call 344-4465
ROBLEE
Plumbing&Heating, LLC
10991LakeRd., Pavilion • (585) 584-3841
Full Insured
LUXAIRE
GOULD
NYSCertifiedBackflowTester
Water&Sewer Lines •Water Treatment&ConditioningSystems
7940EastMainRd., LeRoy, NY
Big seedsand little seeds.Round seedsandoval seeds.What can
a seedgrow into?TheNursery childrenatLoveBugsPreschool
were able to explore and discuss all these things. The children
had fundiscovering that seeds come in all shapes and sizes and
can grow intomany different flowers and foods! Pictured here
are some children in the afternoon class planting andwatering
their seeds!
InvestigatingSeeds
HelpingHands In-HomeCare
CaringPeopleAssistingSeniors!
"AnAlternativeToAssistedLiving orNursingHome"
**SPRING ISHERE!LETUSTAKECAREOFYOURLAWN!**
MOWING&YARDCLEANUP
"Local PeopleYouKnow andTrust"
BarbaraRider-Hotze - 737-7264 •HowardHotze, Jr. - 690-7811
RewardingCompanionship