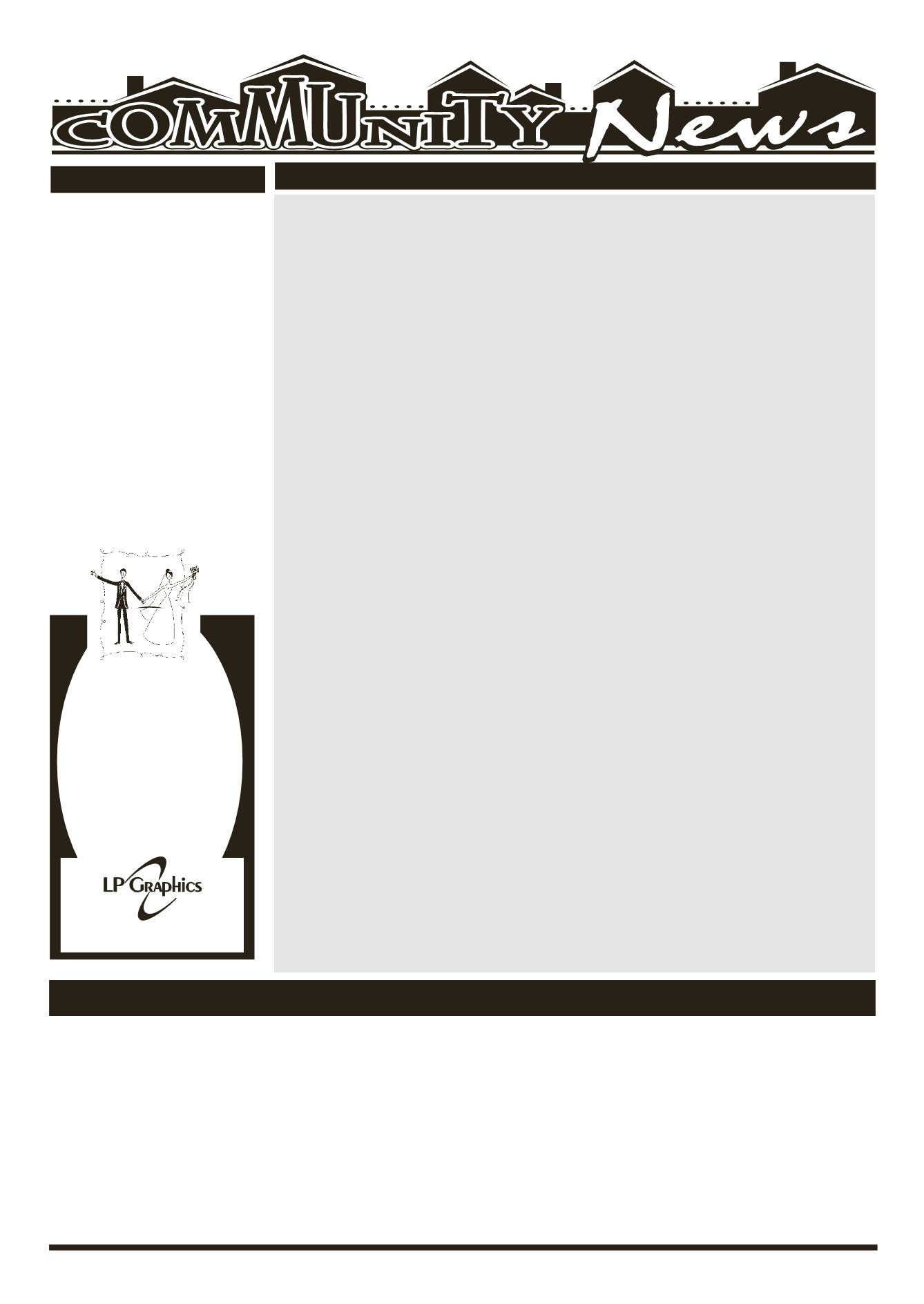 LE ROY PENNYSAVER & NEWS - MARCH 16, 2014
All Genesee County residents, 60 and older, can take part in this week's activities at the Batavia Senior Center, 2 Bank St., Batavia. For more information, call 343-1611.
SENIOR CITIZENS ACTIVITIES
WEEKLY EVENTS
OBITUARIES
Tax Preparation
is available by appointment beginning at 9:00 a.m.;
Arthritis Exercise
is scheduled to begin at 9:30 a.m.;
Bridge
uled to begin at 11:30 a.m.
Newsletter Assembly
is scheduled to begin at 8:45 a.m.
Cribbage
is scheduled for 1:00 p.m.
Tax Preparation
is available by appointment beginning at 9:00 a.m.
Quilters
are scheduled to meet at 9:00 a.m. and
Euchre
uled to begin at 1:00 p.m.
Lifespan
will be having their meeting at 12:30 p.m.
Cribbage and Bridge
is scheduled for 1:00 p.m.
Musical Keyboard Lessons
uled to begin at 2:30 p.m.
Art Class and Line Dancing
Tai Chi
Advertising Templates
Entire contents copyrighted by Carlson Craft ® .
All rights reserved. 12-07
Invitations, Save the Date Cards,
Wedding Accessories, Ceremony,
Reception Essentials, Bridal Party
Visit us today!
with wedding invitations and accessories
Stop in today to view our extensive collection
for every style and budget!
lpgraphics.net, Hours: Mon.-Fri. 8-5 p.m.
1 Church St., Le Roy • 768-2201
SUNDAY, MARCH 16
AWANA Program at Penuel Christian Fellowship.
days 12:15 to 1:45 pm. Ages 5-17 broken into groups. Developing friendships.
Having fun. Learning about God. Safe environment.
Konnect Youth Group at Living Waters Church,
days from 6:30 to 8:30 pm for ages 12-18. "Bring Down all theWalls! Connect
with God and Connect with others." For more information, check us out online
at: livingwatersleroy.org/konnect-youth-ministry/
Wyoming Hook & Ladder - ALLYOU CAN EAT BREAKFAST
Adults: $8.00 Children: 10 and under $4.00.
MONDAY, MARCH 17
TOPS (Take Off Pounds Sensibly)
meets Monday evenings from 6:30-7:15
pm at the LeRoy Presbyterian Church, corner of Clay &Main Sts.Visitors always
welcome. Call 768-2933 for more info.
TUESDAY, MARCH 18
Grace'sKitchenwillbeclosedMarch18andwillreopenonMarch25th.
WEDNESDAY, MARCH 19
The March Meeting of the Le Roy-Stafford Senior Citizens
at 6 pm at the K of C Meeting Hall on West Main St., behind Save A Lot. This
will be a pot luck supper and you should bring your own place setting and
a generous dish to pass. Dessert will be provided. Program will be Musical
LeRoy Town & Country Garden Club Meeting,
@ First Presbyterian Church. Marilyn Palotti will help us work on a project to
get us in the mood to begin our decorating for the season. You're invited to
come and join us. Contact Ann Walters at 737-9481 or 768-8130 for more
information on what materials you will need to bring.
LEGO & Game Club at the Woodward Memorial Library
grades K-6, from 3:15 - 4:15 p.m. Build with Legos, play board games with
your friends, or jam out on Guitar Hero. There is something for everyone. Reg-
istration is NOT required.
THURSDAY, MARCH 20
Genesee Veterans Support Network
(GVSN) supports the development
of Veterans focused AA meetings every Thursday, 6-7 pm at the First Bap-
tist Church, 306 E. Main St., Batavia. Meetings led by Mike W. & are open to
non-veterans as well. Handicap accessible. For additional information call
GRACE'S CLOSET: A Clothing Giveaway Program
United Methodist Church, 10 Trigon Park, Le Roy. 9:30 am to 11:30 am every
Thursday. We have warm clothing for all ages. Bedding, curtains, comforters,
pajamas, shoes, boots. We are in need of winter coats for all ages. We accept
donations to be dropped off at the house next to the church. Please put all
bags INSIDE on the back porch. No electronics, TV's, computers, dishes, etc.
Any questions, call the office 768-8980.
FRIDAY, MARCH 21
Penuel Christian Fellowship,
One Step to Freedom addictions ministry, a
Christ Centered Addictions program, a weekly meeting every Friday at 7 pm.
Call the Church for more information at 768-6901 or 406-3863.
The LeRoy Nursery School is having a Spaghetti Dinner
from 4-6 pm at the Leroy Presbyterian Church, 7 Clay Street. The dinners are
$6.00 each and include a salad and bread. It is take out only. All proceeds go
to the Leroy Nursery School. For ticket information, please contact Betsy at
UPCOMING EVENTS
LCCP's Mommy & Me Playgroup: Every 2nd & 4th Friday,
Le Roy Physical Therapy (in the back gym). Any moms and their birth-kin-
dergarten children are welcome to come enjoy socialization, lunch, coffee,
structured games & free play. $5 per mom
LCCP's 2nd Annual Dodgeball Tournament:
pm, Our Lady of Mercy Parish Center (Former HFS Gym) We are accepting the
first 12 teams, so get registered ASAP. Contact Lauren Humphrey for more
information; 585.615.4213.
Wyoming Hook & Ladder - MapleWeekend "MINI"Breakfast
March 23, 2014, 8 am - 12:30 pm, $5.00 per person.
Susan B. Anthony,
the well known woman's rights activist from the 1800's
will grace the Stafford Town Hall on Wednesday, March 26, 2014 at 7:00 P.M.
Ms. Anthony was known to be active against slavery & temperance move-
ments; she also helped to organize women's labor unions. Gretchen Murry
Sepik, who is a well known actress, storyteller and playwright will be por-
"Paint the Ocean" program led by Kim Argenta of Art Ah La Cart at
the Woodward Memorial Library,
Saturday, March 22, 1- 2 p.m. Grades
K - 2. Create a mixed media painting of the ocean. Registration is required.
a Decentralization Regrant Program of the Genesee-Orleans Regional Arts
A Fish Fry will take place at the North Bergen Presbyterian Church
7068 North Bergen Rd. Bergen from 4:30 - 6:30 pm on Friday, April 4th. Menu
includes fried fish, roasted potatoes, coleslaw, applesauce, rolls, beverage,
and homemade desserts. Takeouts will be available. Call 494-1815 for more
Community Calendar Submissions should be sent to:
BYRON — Timothy P. Smith, 54,
of North Byron Road, passed away
Thursday evening (March 6, 2014)
at home in the loving presence of
his family. In lieu of flowers, memori-
als may be made to NPCF, PO. Box
1848, Longmont, CO 80502 or on-
STAFFORD — Mr. Adelbert H. (Bud)
Snell, 92, died Monday (March 10,
2014) at the NYS Veteran's Home
in Batavia. In lieu of flowers, memo-
rials may be mad to the Stafford
Rescue Squad, PO Box 56, Staf-
ford, NY 14143; or the NYS Vet-
erans Home, 220 Richmond Ave.,