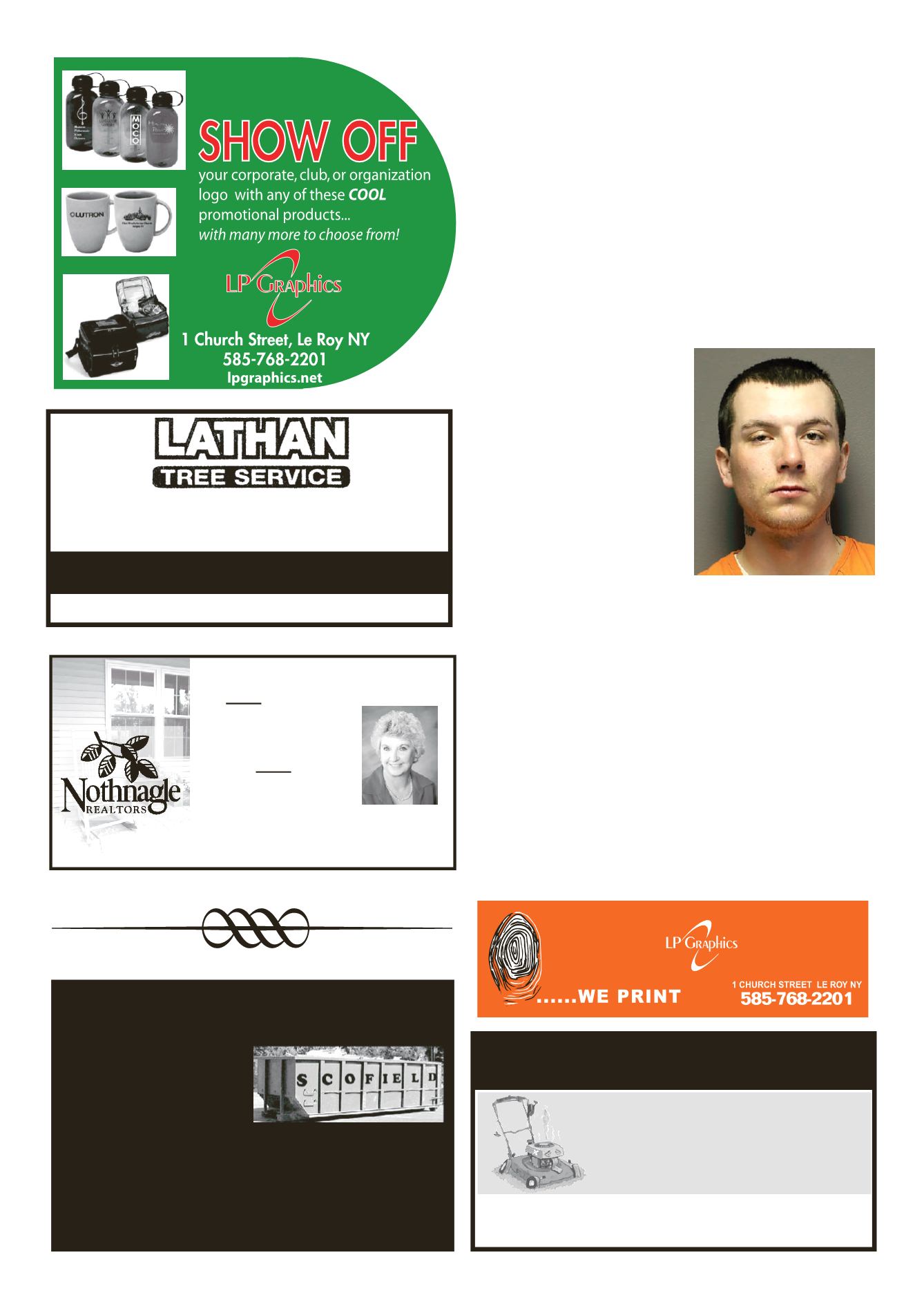 LEROYPENNYSAVER&NEWS -APRIL 10, 2016
Batavia
585-343-6750
NOW is theBEST time
toBUYwith the interest rates
at their lowest!
Don't wait
toBUY -
call
LindaBeaumont
for all your real
estateneeds.
LindaBeaumont
Home (585) 768-6315
LicensedReal Estate
Salesperson
Multi-MillionDollar Producer
585-768-2278
LeRoy, NY
Since 1971 .... ExperienceCounts
PROFESSIONALTREESERVICE
TREETRIMMING • TREEREMOVAL • STUMPREMOVAL
FreeEstimates • Fully Insured
AcceptingAll Major Credit Cards
• Engine andTransmissionRebuilds
• Lawn andGardenEquipment
•ATV's, Dirt Bikes • Light Equipment
• PickUp andDeliveryAvailable
8525Rt. 237, Stafford, NY
04/03/2016 - 31 year old Larry Brandon Ferrell of 10 Lathrop
Avenue, LeRoywas arrestedby theLeRoyPoliceDepartment after
a complaint of an alleged domestic incident which occurred on
It isalleged thatduring thedomestic,Ferrell restrainedandchoked
a female in the presence of two small children and then allegedly
took the phone awaywhen the female attempted to call the police.
Ferrellwaschargedwith theMisdemeanorsofUnlawful imprison-
ment in the2nddegree,CriminalObstructionofBreathingorBlood
Circulation,CriminalMischief in theFourthDegreeand twocounts
of Endangering theWelfare of aChild.
Ferrellwasarraignedbefore theHon.MichaelWelshof theLeRoy
TownCourt and released under theSupervision ofGenesee Justice.
04/05/2016 - An investigation
of a daytime residential burglary
whichoccurredonMarch17, 2016
on Lake Street in the Village of
LeRoy resulted in the arrest of 23
year old James R. Kosiorek who
hasno reportedpermanent address.
The investigation started when
the homeowner returned home in-
terrupting theburglaryandfindinga
malesubject insideof the residence.
Theburglarhaddamagedaguncase
andwasattempting tostealgunsand
cash from the residence. Theburglar fled and thehomeowner called
9-1-1. The burglarwas not initially located but a subsequent inves-
tigation led to the arrest of Kosiorek onApril 4, 2016. It is alleged
that Kosiorek Unlawfully entered the residence with the intent to
commit a crime therein and in doing so damaged the gun safe and
removed three guns, attempting to steal them and also stole about
$30 in coins and a pellet rifle.
Kosiorekwasarrestedby theLeRoyPoliceDepartmentandcharged
withonecount of theClassC-FelonyofBurglary in the2ndDegree,
three counts of theA-Misdemeanor ofAttemptedGrandLarceny in
the4thDegree,onecountof theA-MisdemeanorofCriminalMischief
in the4thdegree, one count of theA-Misdemeanor of Petit Larceny
andonecountof theA-MisdemeanorofCriminalPossessionofStolen
Property in the 5thDegree.
Kosiorek was arraigned before the Hon. Michael Welsh of the
LeRoy Town Court and Committed to the Genesee County Jail in
lieu of $25,000 cash bail or $50,000 bond.
15, 17, 20, 25, 30,
and 40 cu. yd.
CONTAINERS
ScofieldRolloff •343-8383
NobodyBeatsOur Prices!
lpgraphics.net