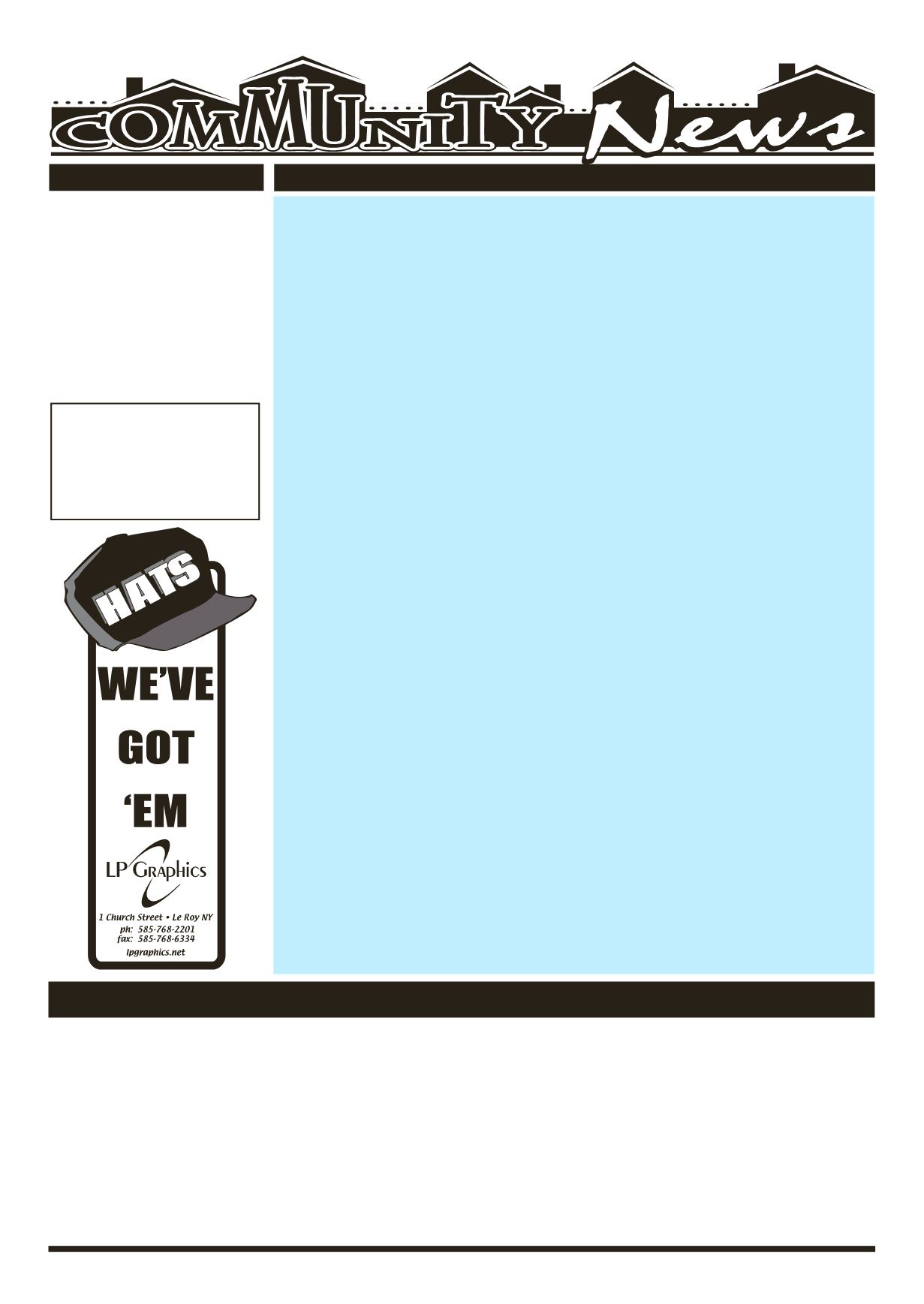 LEROYPENNYSAVER&NEWS -AUGUST16, 2015
All GeneseeCounty residents, 60andolder, can takepart in thisweek'sactivitiesat theBataviaSenior Center, 2BankSt., Batavia. Formore information, call 343-1611.
WEEKLYEVENTS
OBITUARIES
ArthritisExercise
is scheduled tobeginat 9:30a.m.;
Bridge
is scheduled to start at 11:30a.m.
NewsletterAssembly
is scheduled tobeginat 8:45a.m. ;
Cribbage
is scheduled tobeginat 1:00p.m.
QuiltersGroup
is scheduled tomeet at 9:00a.m.;
Euchregame
is scheduled tobeginat 1:00p.m.
Cribbage&Bridge
are scheduled tobeginat 1:00p.m.
ArtClassandLineDancing
is scheduled tobeginat 10:00a.m.;
Euchre
is scheduled tobeginat 12:00p.m.
SUNDAY,AUGUST16
Konnect Youth Group at Living Waters Church,
LeRoy. Sundays from 6:30 to 8:30 pm for ages 12-18. "BringDown
all theWalls! ConnectwithGodandConnectwithothers." Formore
information, check us out online at: livingwatersleroy.org/kon-
MONDAY,AUGUST17
TOPS (TakeOffPounds Sensibly)
meetsMonday evenings at the
LeRoyPresbyterianChurch, cornerofClay&MainStreets.Doorsopen
at 6:00 pm and meeting is from 6:30-7:15 pm. Visitors are always
welcome. Call 585-768-7103 formore information.
TheWoodwardMemorial Library Board of Trustees
TUESDAY,AUGUST18
Preschool Storytime:
Every Tuesday at 11 am featuring stories,
craft and songs at Pavilion Public Library, 5Woodrow Dr., Pavilion.
LCCP's GRACE'S KITCHEN:
A FREE dinner every Tuesday evening,
5-6:30pmat theMasonicCommunityCenteron12BankSt.Plentyof
parking.Takeout&deliveryareavailable. Formore info. contactSelby
GRACE'SCLOSET:A clothinggiveawayprogram
RoyUnitedMethodistChurch,10TrigonPark,LeRoy,9:30amto11:30
am everyThursday.Wehave clothing for all ages. Weneedbedding
of all kinds especially blankets. Donations canbe dropped off at the
housenexttothechurch.Pleaseputallbags INSIDEonthebackporch.
NO ELECTRONICS, COMPUTERS,DISHES, etc.
OpenTuesdays5-6:30
pm.
Anyquestions call theoffice768-8980.
TownofLeRoyPlanningBoardMeeting,
at theTownHall, 48MainSt. For further info. call 768-6910, Ext. 223.
WEDNESDAY,AUGUST19
Buffalo andBrandy perform at theWoodwardMemorial Li-
brary
at6:30p.m. This isafamilyconcertwith lotsof interaction. Ifyou
haven't seenBuffaloandBrandyyet, youare in foranamazing show!
Childrenwillgettouseboomwhackerstohelpmakemusicduringthe
program!This isa fun time forallages, sobring thewhole family! Call
768-8300or registeronlineat
THURSDAY,AUGUST20
GeneseeVeteransSupportNetwork
(GVSN)supportsthedevelop-
mentofVeterans focusedAAmeetingseveryThursday, 6-7pmat the
FirstBaptistChurch,306E.MainSt.,Batavia.Meetings ledbyMikeW.
&areopentonon-veteransaswell.Handicapaccessible.Foradditional
information call 585-302-0825.
FRIDAY,AUGUST21
Penuel Christian Fellowship,
One Step to Freedom addictions
ministry, a Christ Centered Addictions program, a weeklymeeting
every Friday at 7 pm. Call the Church formore information at 768-
Flea&Farmer'sMarketFridays
-GeneseeValleyEMS, 3338Cale-
doniaAvonRd. (Rte. 5), Caledonia,NY. 11am to6pm -everyFriday,
May1st -October30th. Fresh fruitandvegetables, etc.Hot foodand
drinkswill beavailable forpurchase. 11'x22'spaces -$20.To reserve
a spaceormore info - call 585-698-8244.Allproceedsgo toGenesee
ValleyEMS&CaledoniaAmbulance. Come shopandvisitwithus!
SATURDAY,AUGUST22
UPCOMINGEVENTS
LCCP's Mommy & Me Playgroup: Every 2nd & 4th Friday,
12:00-1:30, Le Roy Physical Therapy (in the back gym). Anymoms
and their birth-kindergarten children are welcome to come enjoy
socialization, lunch, coffee, structuredgames& freeplay.
TheSeniorCitizensofLeRoyandStafford
August 19, for a nice dinner. Wemeet at the Knights of Columbus
HallbehindSave-A-Lot inLeRoyonWestMainStreet. Eachperson is
asked tobringagenerousdish topass. Bringyour ownplace setting
andbeverage. Coffee, teaanddessertareprovided.Dinner is served
at 6:00pm and a program follows. This months program is Tim
GillespieClassicCountry, a singerandguitarplayer.Please joinus for
an enjoyable evening. Any questions please contact Judy Ridley at
768-2001or SharonFrost at768-6846.
FoodlinkFreeMobileFoodPantry:
MorganvilleUnitedChurchof
Christ ispartneringwithFoodlinkof Rochester tohost a freemobile
foodpantry,Tuesday,August25,4:00-6:00pmatMorganvilleUnited
Churchof Christ, 8466MorganvilleRoad (offRt 237, 1milenorthof
Stafford). Theexact food itemsandquantityavailablearenotknown,
but fresh produce will be available. Must be 18 years of age, no
income requirement or ID required. Must provideownbags/vehicle
to transport items toyourhome. Foodprovidedonafirst come,first
servebasiswhile supplies last.
Saturday, September 12 - FirstPresbyterianChurch
aboothat theFarmer'sMarket, 9:00until 12:30. All kinds of knitted
and sewn itemswill be for sale. Sales tobenefit theChurchmission
CommunityCalendar Submissions shouldbe sent to:
LEROY—AloisH.Amend, 90, diedpeace-
fullySaturday (Aug. 8, 2015) at the LeRoy
VillageGreenNursingHome. Memorials in
hismemory canbemade toa charityof the
STAFFORD— Jeannette "Tami" R. Noack,
73, went to bewith Lord onTuesday (Aug.
11, 2015) at home. In lieuof flowersmemo-
rials may be given to the family for future
distribution to their favorite charities.
Don't waste precious time