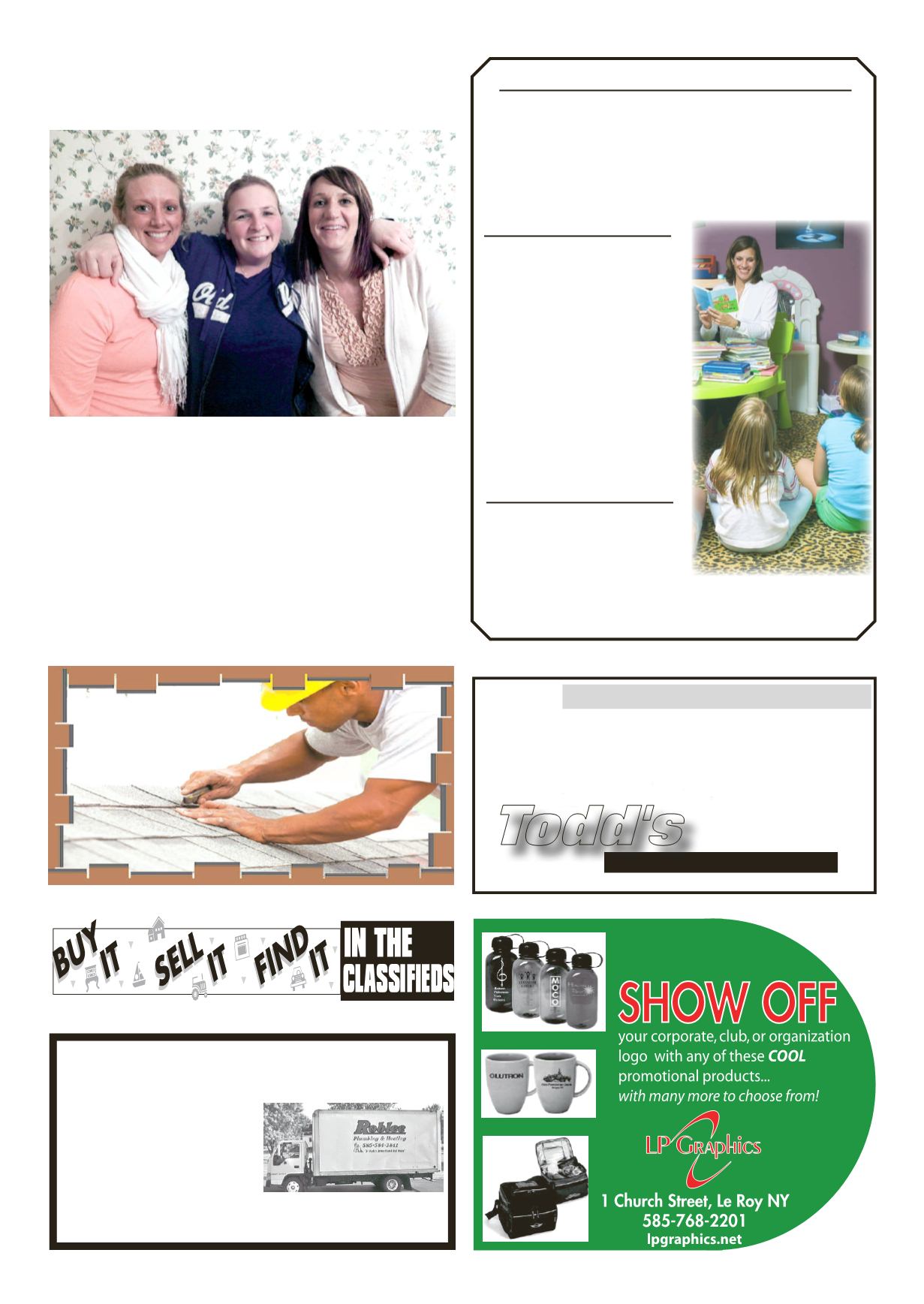 LEROYPENNYSAVER&NEWS -APRIL 5, 2015
NewHomes •Additions •Garages •PoleBarns
ToddCarli • Phone 703-0964
Todd's
Decks •Windows •Doors
Kitchens •Baths
CeramicTile
Basement Finishing
CustomShelves/Built-Ins
Siding •Remodeling
Roofing • SnowPlowing
FULLY INSURED
ROBLEE
Plumbing&Heating, LLC
10991LakeRd., Pavilion • (585) 584-3841
Full Insured
LUXAIRE
GOULD
NYSCertifiedBackflowTester
Water&Sewer Lines •Water Treatment&ConditioningSystems
This year, Becky will be in
chargeofourcommercialandcraft
vendors. She already has several
confirmed vendors and is always
on the lookout for new crafters.
Kate is on our youth activities
subcommittee and is dedicated
tobringing funnewactivities for
Shannon is our new sponsor
OatkaFestivalCommittee
WelcomesNewMembers
Pictured from left toright:LeRoyans;BeckyElmore,KateFlint
andShannon Ingles.
coordinator. She is working on
gathering necessary funds this
year to ensurewe have a safe&
As always, the Festival will be
enjoyedon the sceniccreekbank
of themightyOatkaonJuly18&
WoodwardMemorial Library
Toddler Time for Twos and Threes!
Mondays
Weeklyprograms –April 6 throughMay 18.
Stories, Song, Dance, Color, PlaywithBubbles!
Childmust be two-years-oldby the first session
Preschool
Storytime!
Tuesdays
Childmust be three-years-
Registration
is required!
Call 768-8300
or register onlineat
NoExperienceNecessary!
585.880.3059