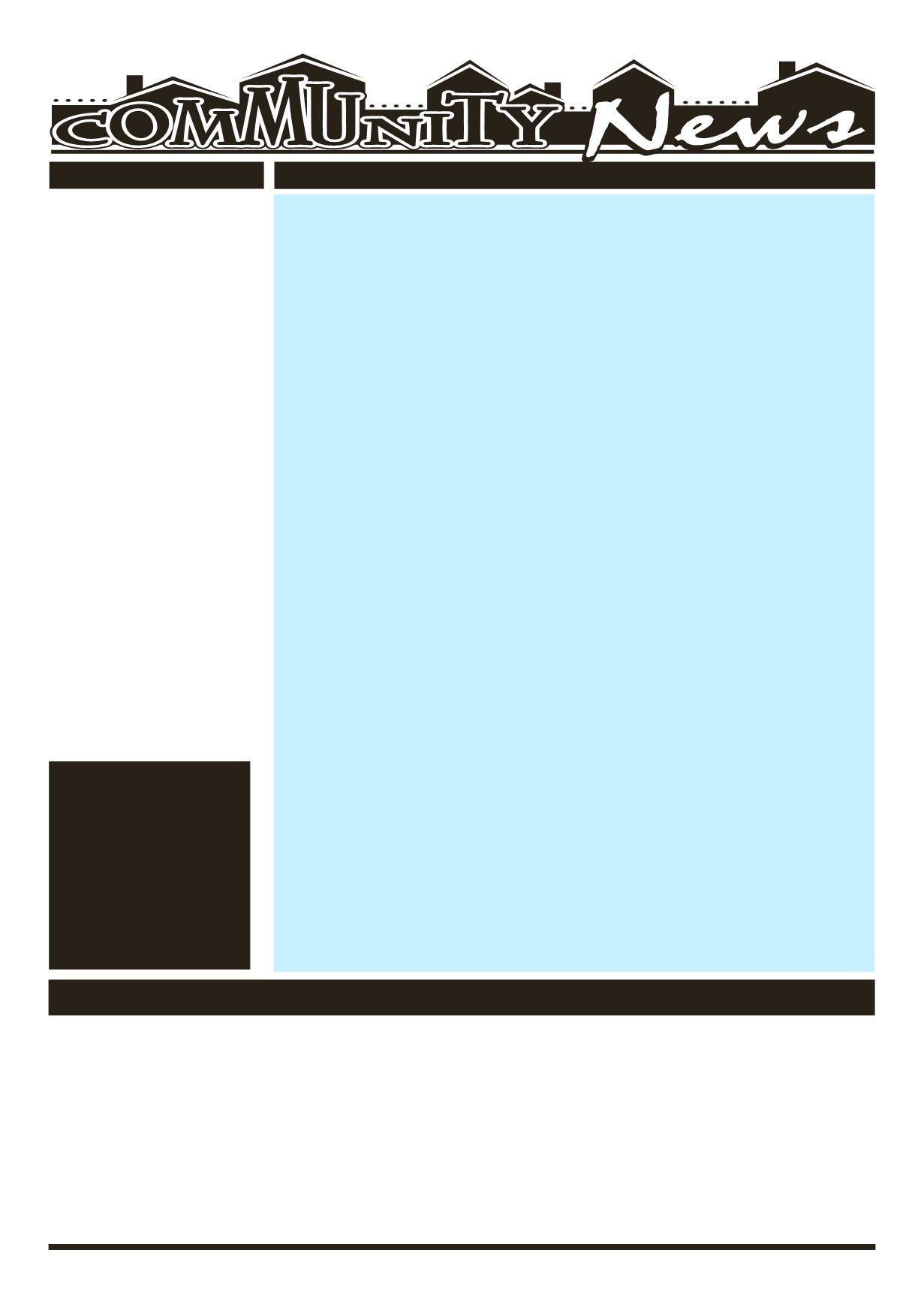 LEROYPENNYSAVER&NEWS - JANUARY 25, 2015
Le Roy
Pennysaver
All GeneseeCounty residents, 60andolder, can takepart in thisweek'sactivitiesat theBataviaSenior Center, 2BankSt., Batavia. Formore information, call 343-1611.
(January 26th - January 30th)
WEEKLYEVENTS
OBITUARIES
Arthritis Exercise
is set begin at 9:30 a.m.;
A representative fromUnivera Insurance
is available from 10:00 a.m. to
12:00p.m.; Bridge is set tobeginat 11:30a.m.
Cribbage
is scheduled tobeginat 1:00p.m.
TaxTraining
is scheduled for theday.;Ameeting for the
MealsonWheelsDrivers
is scheduled tobeginat12:30p.m.;
Euchregame
is scheduled tobeginat 1:00p.m.
TaiChi
is set tobeginat9:30amwith
GentleFitness
Cribbage&Bridge
MusicalKeyboardLessons
are scheduled for 2:30p.m.
LineDancingandArtClass
is set tobeginat 10:00a.m.;
Euchre
is set tobeginat 12:00p.m.
SUNDAY, JANUARY25
AWANAProgramatPenuel ChristianFellowship.
Sundays 12:15 to1:45pm. Ages 5-17broken intogroups. Developing
friendships.Having fun. LearningaboutGod. Safeenvironment.
Konnect YouthGroupat LivingWaters Church,
Sundays from6:30 to8:30pm forages12-18. "BringDownall theWalls!
Connect with God and Connect with others." For more information,
checkusoutonlineat: livingwatersleroy.org/konnect-youth-ministry/
MONDAY, JANUARY26
TOPS (Take Off Pounds Sensibly)
meets Monday evenings at the
LeRoy Presbyterian Church, corner of Clay &Main Streets. Doors open
at 6:00pmandmeeting is from6:30-7:15pm.Visitors arealwayswel-
come. Call 585-768-7103 formore information.
Weeklystorytimefortwo-year-oldsattheWoodwardMemorial
Library
on Mondays from 10:30-10:50 a.m. beginning January 12
throughMarch9. Childmustbe two-years-oldby thefirst sessionand
accompanied by an adult. Registration is required. Call 768-8300 or
TUESDAY, JANUARY27
Preschool Storytime:
EveryTuesdayat 11am featuring stories, craft
and songs at PavilionPublic Library, 5WoodrowDr., Pavilion. For info:
LCCP'sGRACE'SKITCHEN:
AFREEdinnereveryTuesdayevening,5-6:30
pm at the LeRoy United Methodist Church, 10 Trigon Park. Parking
available onTrigonPark& the lots to the left andback of the Church.
Handicapped Entrance in the back of the Church. Takeout & delivery
are available. For more info. contact Selby Davis at 585-738-8882 or
WeeklyStorytimeforthree,fourandfive-year-oldsattheWood-
wardMemorial Library
onTuesdays from 6:30 to 7 p.m. beginning
January13 throughMarch3. Childmustbe three-years-oldby thefirst
session. Stories, games, songs!Registration is required. Call 768-8300
LeRoy ZoningBoardof AppealsMeeting
at theTownHall, 48MainSt. For further info. call 768-6910, Ext. 223.
WEDNESDAY, JANUARY28
PavilionBaptist Church
youthprograms
wintereveryWednesdayevening.All communitychildrenarewelcome
toattend.AWANA isaprogramforyoungerchildrenPreschool(4yearold)
through6thgrade. It isa funtimeofBibleStories,gamesBiblememory
and even refreshments.Wordof Lifeprogram is for teens 7th through
12thgrade.Weareeasily locatedat10956SLakeRoad inPavilion. Call
585-584-3179ext. #12 for anyquestions.
Villageof LeRoyBoardMeeting
, 7 pm at theVillageHall, 3West
THURSDAY, JANUARY29
GeneseeVeteransSupportNetwork
(GVSN)supportsthedevelop-
ment ofVeterans focusedAAmeetings everyThursday, 6-7pmat the
FirstBaptist Church, 306E.MainSt., Batavia.Meetings ledbyMikeW.
&areopentonon-veteransaswell.Handicapaccessible.Foradditional
information call 585-302-0825.
GRACE'SCLOSET:Aclothinggiveawayprogram
UnitedMethodist Church, 10TrigonPark, LeRoy, 9:30am to11:30am
everyThursday.Wehave clothing for all ages. FALL&WINTER clothing
nowbeingput inplace.Weare inneedofWARMER clothingespecially
coats, jackets boots, pajamas. Weneedbeddingof all kinds especially
blankets.Weaccept donationsbedroppedoffat thehousenext to the
church.Pleaseputallbags INSIDEon thebackporch. NOELECTRONICS,
COMPUTERS,DISHES, etc. Anyquestions call theoffice768-8980.
Movie showing for adults of "The Judge"
WoodwardMemorial Library. Register by calling 768-8300 or online
FRIDAY, JANUARY30
PenuelChristianFellowship,
OneSteptoFreedomaddictionsminis-
try,aChristCenteredAddictionsprogram,aweeklymeetingeveryFriday
at7pm.CalltheChurchformore informationat768-6901or406-3863.
SATURDAY, JANUARY31
UPCOMINGEVENTS
LCCP's Mommy & Me Playgroup: Every 2nd & 4th Friday,
12:00-1:30, LeRoy Physical Therapy (in the back gym). Anymoms
and their birth-kindergarten children arewelcome to come enjoy
socialization, lunch, coffee, structuredgames& freeplay.
UnitedMethodist Churchwill be hosting a
Spaghetti Supper
to benefit their Youth Summer Camp Fund. The
supperwillbeheldatthechurch,10TrigonPark,onSaturday,February
7th from4-7pm. Ticketswill be available at thedoor. We arehand-
icapped accessible--just use the back parking lot and enter through
The Februarymeeting of the LeRoy Town& Country Garden
Club
willmeeton the11that6pmatLeRoyPresbyterianChurch fora
PotluckSupperwithanorganizationalmeeting to follow. ContactAnn
Waltersat737-9481or768-8130 formore information.
CommunityCalendar Submissions shouldbe sent to:
EAST BETHANY— Evelyn I. Nichols, 88,
of Ellicott St. Rd., passed away at home
Wednesday morning (Jan. 14, 2015). In
lieu of flowers, memorials may bemade to
BERGEN — Frank A. DiQuattro, 72, of
ClintonStreetRoad,passedawayThursday
morning (Jan. 15, 2015) at StrongMemorial
Hospital. In lieu of flowers, memorials may
bemade toSt. Brigid'sChurch.
BYRON — Robert A. Crnkovich, 81, of
Byron-Holley Road, passed away at home
Saturdaymorning (Jan.17,2015).Memorials
are suggested to either Our Lady of Mercy
Parish or NotreDameHighSchool.
LEROY—ClaraS.Rossi,87,ofLeRoydied
Sunday (Jan. 18, 2015) at StrongMemorial
Hospital inRochester. In lieuof flowers,me-
morialsmaybemade toOur LadyofMercy,
44LakeSt., LeRoy, NY14482.
BERGEN — Norma W. O'Connor, 88, of
Bergen, a program assistant at Gillam
Grant Community Center in Bergen, died
Monday (Jan. 19, 2015) at her home. In
lieu of flowers, memorials may bemade to
Gilliam - Grant Community Center, 6969
West Bergen Rd., Bergen, NY 14416 or to
theOffice of theAging, Meals onWheels, 2
BankSt., Batavia, NY14020.