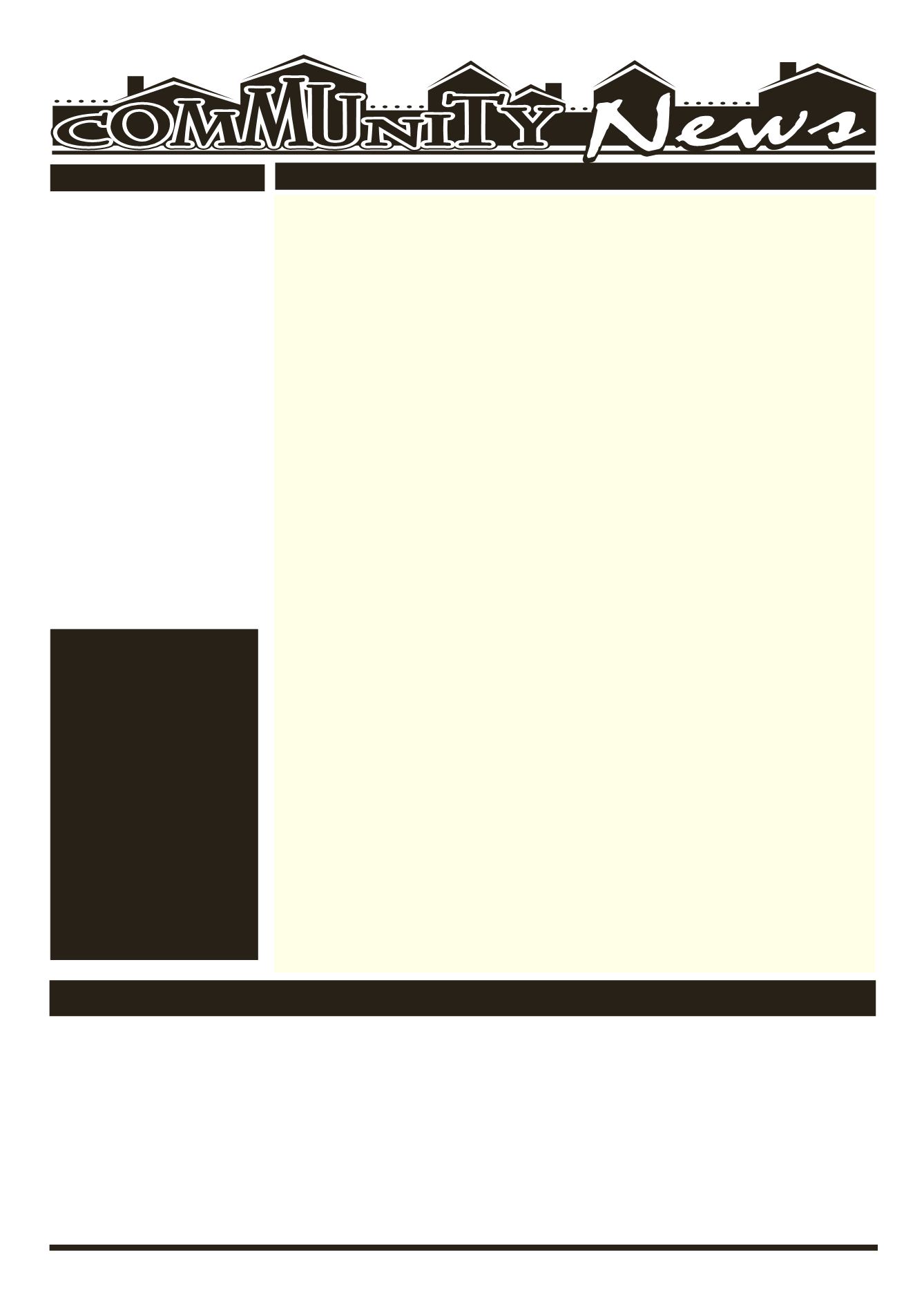 LEROYPENNYSAVER&NEWS - JULY 13, 2014
All GeneseeCounty residents, 60andolder, can takepart in thisweek'sactivitiesat theBataviaSenior Center, 2BankSt., Batavia. Formore information, call 343-1611.
WEEKLYEVENTS
OBITUARIES
ArthritisExercise
is scheduled for 9:30a.m.;
Bridge
Cribbage
Wednesday: A representative from the
NYSComptroller'sOffice
will beavailable from10:00a.m. to12:00p.m.;
Quilters
Euchre
is scheduled tobeginat 1:00p.m.
LifespanMeeting
is scheduled to takeplaceat12:30p.m.;
CribbageandBridge
is scheduled for1:00p.m.;
MusicalKey-
boardingLessons
ArtClassandLineDancing
are set tobeginat 10:00am.
SUNDAY, JULY13
AWANA Program at Penuel Christian Fellowship.
12:15 to 1:45 pm. Ages 5-17 broken into groups. Developing friendships. Having
fun. LearningaboutGod. Safeenvironment.
Konnect YouthGroup at LivingWaters Church,
onMain St. LeRoy. Sundays
from6:30 to8:30pm for ages12-18. "BringDownall theWalls! ConnectwithGod
andConnectwithothers." Formore information, checkus out onlineat: livingwa-
tersleroy.org/konnect-youth-ministry/
MONDAY, JULY14
TOPS (TakeOffPounds Sensibly)
meetsMonday evenings from 6:30-7:15 pm
at the LeRoy Presbyterian Church, corner of Clay &Main Streets. Visitors always
welcome. Call 768-2933 formore info.
Calling all 3, 4 and5 year olds :
Smart Campat LeRoyNurserySchool
July 14-18 from 9 am-12pm. This year's themewill be Stars and Stripes. Children
will learnaboutpatriotic themes through fun songs, craftsandgames. Please con-
tactBetsy@356-4506 to register.
SoundandMusicProgram
for3,4,and5yearoldsattheWoodwardMemorial
Libraryfrom1-1:30p.m. Listentostoriesand learnaboutsoundandmusic. Call
768-8300or registeronlineat
TUESDAY, JULY15
LCCP's GRACE'S KITCHEN:
A FREE dinner every Tuesday evening, 5-7 pm at the
LeRoy UnitedMethodist Church, 10 Trigon Park. Parking available on Trigon Park
& the lots to the left andbackof theChurch. Handicapped Entrance in thebackof
the Church. Takeout &delivery are available. Formore info. contact SelbyDavis at
Town of LeRoy PlanningBoardMeeting
(as necessary) 7:30 pm at the Town
Hall, 48MainSt. For further info. call 768-6910, Ext. 223
WEDNESDAY, JULY16
The July meeting of the LeRoy Town & Country Garden Club
ProgressiveDinner startingat 5:45pm. at thehomes andgardens of BettyGugino
(1WoodwardDrive), SusanDambra (4WoodwardDrive) andNancyBaker (46East
Main). ContactAnnWaltersat737-9481or768-8130 formore information.
THURSDAY, JULY17
GeneseeVeteransSupportNetwork
(GVSN) supports thedevelopment ofVet-
erans focusedAAmeetingseveryThursday, 6-7pmat theFirstBaptist Church, 306
E.Main St., Batavia.Meetings ledbyMikeW. & are open tonon-veterans aswell.
Handicapaccessible. For additional information call 585-302-0825.
GRACE'S CLOSET: A Clothing Giveaway Program
sponsored by Le Roy United
Methodist Church, 10TrigonPark, LeRoy. 9:30am to11:30ameveryThursday. We
have clothing for all ages. Spring& Summer clothingnowbeingput inplace. We
are inneedof lighter coats, clothing, shoes, pajamas, bedding, sheets inall bed siz-
es. Weaccept donationsbedroppedoffat thehousenext to the church. Pleaseput
all bags INSIDE on thebackporch. Noelectronics,TV's, computers, dishes, etc. Any
questions call theoffice768-8980.
FRIDAY, JULY18
Penuel ChristianFellowship,
OneStep to Freedomaddictionsministry, aChrist
Centered Addictions program, a weekly meeting every Friday at 7 pm. Call the
Church formore informationat768-6901or406-3863.
Fish Fry Dinner at the North Bergen Presbyterian Church
7068N. BergenRd. Bergen. Serving4:30p.m. - 6:30p.m. Themenu includes fried
fish, roastedpotatoes, cabbagesalad, applesauce, rolls,beverage, andhomemade
desserts. Formore information call 585-494-1815.
UsedBookPreview Sale
from 3:30 to 5 p.m. at theWoodwardMemorial
Library forFriendsoftheLibrary. Thosewishingtobecomemembersmay join
at thedoororanytime the library isopen. Individualmembershipsare$5.00.
Saturday, July19
OatkaFestival2014:
Joinus forthe26thAnnualOatkaFestival! July19th&20th,
10am-6pm. Kick-offwith theParade: Saturday, July 19th@11am.Wrap-upwith
theDuckDerby:Sunday,July20@5pm.FindusonFacebook&Twitter forupdates!
Oron theweb: oatkafestival.org
LeRoyNurserySchool'sAnnualYardSale
will beon July19and20during the
Oatka Festival in the front yard of the First Baptist Church at 5 E. Main St. Please
helpsupportour school andfindsomegreatdeals foryourself!Wearealsoaccept-
ingdonationssopleaseconsiderus ifyouhaveanyyardsale leftovers!CallBetsy@
356-4506 to scheduleapick-upordelivery.
UsedBookSale
during theLeRoyOatkaFestivalat theWoodwardMemorial
LibraryonSaturday,July19from11a.m.to5p.m.andSunday,July20from12
noonto4p.m. Hardcoverbooksare$1.00andpaperbacksare50cents. Abag
salewillbeheldonSunday,July20 from2to4p.m.–abagofbooks for$1.00.
Sunday, July20
LeRoy Center For Christian Family Living (Second Baptist
Church)
Memorial Service
to celebrate the lives of thosemembers
of our congregationswho have gone on toGlory and are now in the presence of
our Lord.Weextend this invitation toall of you to comeand joinus for this joyous
occasion. Again, tobeheldat 11AMon July20th2014at 73MyrtleStreet LeRoy,
NY.Allarewelcomed. If thereareanyquestionsoryouwould like toaddsomeone's
name to the list, please contactPastorGaryOwens585-520-0056or502-5139.
UPCOMINGEVENTS
LCCP'sMommy&MePlaygroup: Every2nd&4thFriday,
Physical Therapy (in thebackgym). Anymoms and their birth-kindergarten chil-
dren arewelcome to come enjoy socialization, lunch, coffee, structuredgames &
Foodlink FreeMobile Food Pantry:
Morganville United Church of Christ is
partneringwithFoodlinkof Rochester tohost a freemobileFoodPantry,Tuesday,
July29,4:30-6:30pmatMorganvilleUnitedChurchofChrist,8466MorganvilleRoad
(offRt237,1milenorthofStafford). Theexactfood itemsandquantityavailableare
notknown,but freshproducewillbeavailable. Mustbe18yearsofage,no income
requirement or ID required. Must provideownbags/vehicle to transport items to
yourhome. Foodprovidedonafirst come, first servebasiswhile supplies last.
First Baptist Churchof Pavilion
will be holding their annual
VacationBible
School
fromAugust4th throughAugust8that thechurch10956SouthLakeRoad
(Rt. #19) in Pavilion. Registration is 9:00am - 9:30am and the Clubwill run until
12:00noon.Wewill have classes for all ages3yearsold through12thgraders.The
theme thisyear is"ACruiseofaLifetime"make Jesus theCaptainof your life.There
will beBible stories, fun time in thegym,crafts, and refreshmentsand it'sall FREE!
If you want more information please call the church at 585-584-3179 ext. #12
and leave amessage. Someonewill call you back." Again thanks somuch Linda
Starkey church secretary.
CommunityCalendar Submissions shouldbe sent to:
Le Roy
Pennysaver
WYOMING— Paul T. Williams, 69, of
BensonRoad,Wyoming, passed away
Sunday (June29,2014)at theWyoming
CountyCommunityHospital inWarsaw.
LE ROY — Frank G. Bordonaro, 44,
passed away unexpectedly at home
Tuesday afternoon (July 8, 2014). Me-
morialssuggested to the family toestab-
lishaneducation fund for Frank's sons.
PAVILION—Robert L. Ruffner passed
awaySaturday (July5, 2014)at age60.
WYOMING—Robert L. Jeffres, 76, of
WyomingdiedTuesday (July8,2014)at
StrongMemorial Hospital inRochester.
In lieu of flowers, memorials may be
made to thePavilion FireDepartment ,
P.O. Box 156 Pavilion, NY 14525 or to