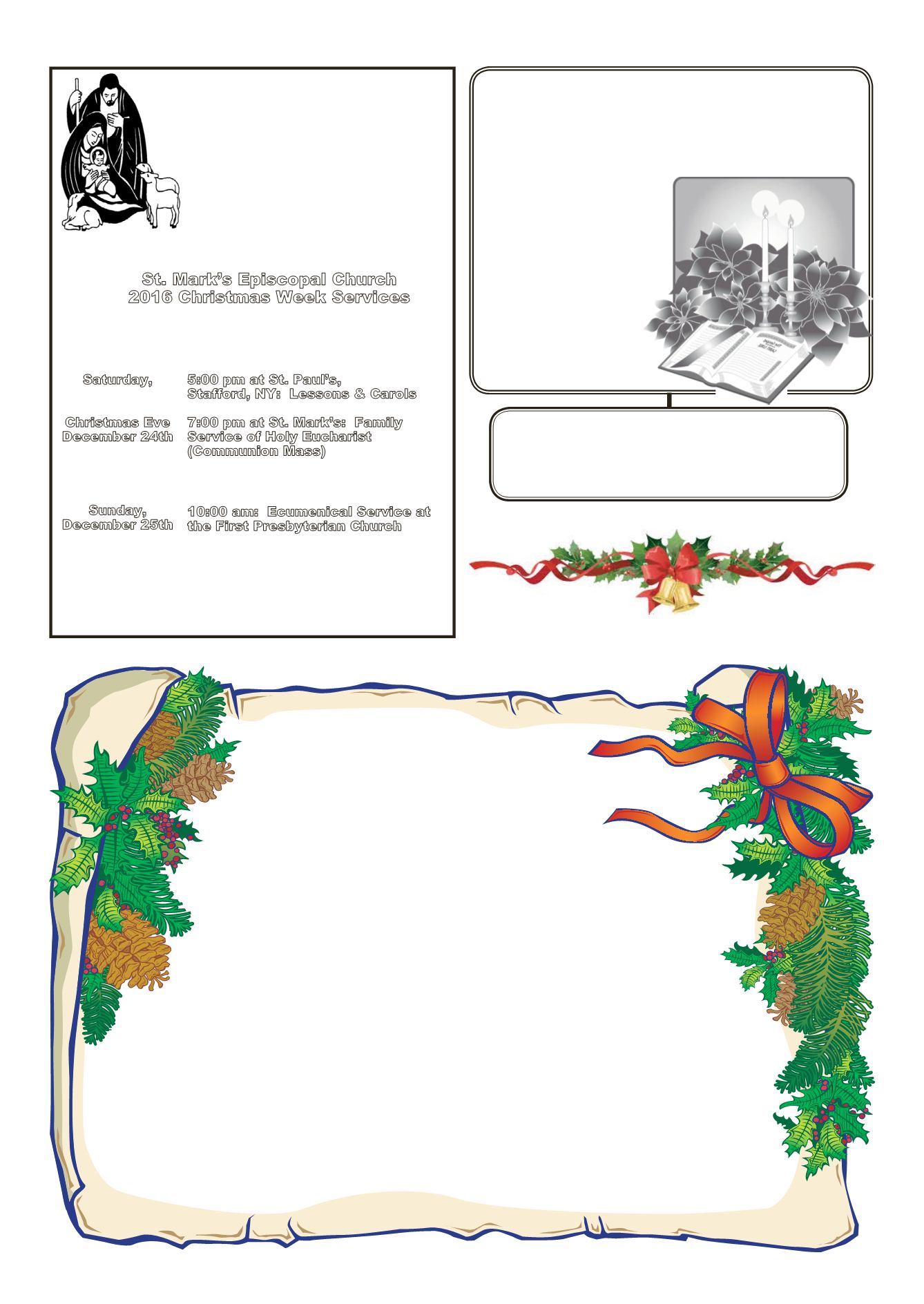 LE ROY PENNYSAVER & NEWS - DECEMBER 18, 2016
During this beautiful
Holiday Season of caring and thanksgiving
the Town of LeRoy Recreation Department
would like to take this opportunity
to thank all those who helped
make our summer parks
and pool programs so successful:
LeRoy Village and Town Boards
LeRoy Moose Family Center
LeRoy Rotary
Tompkins Bank of Castile
Village of LeRoy Police Department
St. Marks Church- Lunch Program
Joe Eschberger- Golf Program Coordinator
LeRoy Community Pool Association
Genesee County Youth Bureau
Town and Village Highway Departments
Park Personnel and Lifeguards
We thank you for your commitment to the youth of LeRoy and wish
everyone a very Merry Christmas and a happy healthy New Year!
We look forward to planning another wonderful season of
activities
and programs!
As we enter the Holiday Season, I would like to take
this opportunity to Thank You
for your patronage, but most of all for your friendship.
Have a Blessed Holiday season, Merry Christmas
and a Happy & Healthy New Year!
HOLIDAY HOURS
OPEN
Mon., Dec. 19 - Sat., Dec. 24 closing at 1
Will
RE-OPEN
Tues., Dec. 27th- Sat. Dec., 31.
ROSSI'S
BARBER
SHOP
5 Mill Street, Le Roy, NY
768-4537
I look forward to
serving you in 2017!
Worship
with us this
Christmas
St. Mark's Episcopal Church
2016 Christmas Week Services
Saturday,
Christmas Eve
December 24th
5:00 pm at St. Paul's,
Stafford, NY: Lessons & Carols
7:00 pm at St. Mark's: Family
Service of Holy Eucharist
(Communion Mass)
Sunday,
December 25th
10:00 am: Ecumenical Service at
the First Presbyterian Church
St. Mark's: A community centered in Christ;
Loving and serving one another through Christ;
Reaching out into the world by opening doors,
minds, hands and hearts with Christ
1 East Main Street
Le Roy, New York 14482
585-768-7200
www.stmarks-leroy.org